United have set out to reclaim the title this season by bolstering their attack. They have shown that they can use more than one system to break down oppositions.
Brendon Netto

Analysis | Premier League

Follow on

"GOALS win games" - a statement so true, it simplifies the objective of the sport like no other. Whether you elect to punt the ball forward or emulate the 'tiki taka' style of play, at the end of the day its the end product that counts. We, at Goal.com, have an obssession with goals and their importance as our name suggests. While doing our best not to over-complicate things with our infatuation with this partucluar aspect of the game, we will be presenting a statistical as well as tactical evaluation of all the top teams in Europe and will try to render a verdict on where these teams lie in the goal scoring department. Today, we analyse the fortunes in front of goal for a team which has always been prolific and indeed successful. Manchester United are keen to reclaim their Premier League crown from their neighbours and being ruthless in front of goal seems to be the way Sir Alex Ferguson has chosen to go about doing that.
Manchester United's
2.07
goals per game average over the past three seasons is the best in England. Contrary to popular belief, United's goal scoring prowess has actually improved following Cristiano Ronaldo's departure. In the Portuguese star's last three seasons at United which were his most prolific, the Red Devils averaged
1.97
goals per game which has since improved by
.10
.
At home, United have been simply irresistable, scoring at a luxurious rate of
2.43
goals per match while their travels have been fruitful as well as a
1.72
goals per game average would suggest. With the addition of Robin Van Persie to their ranks, the goals won't be drying up for United anytime soon.
| | | | | | | |
| --- | --- | --- | --- | --- | --- | --- |
| Season | GS Home | GS Away | Home Avg. | Away Avg. | Total | Total Avg. |
| 2009-10 | 70 | 47 | 2.50 | 1.80 | 117 | 2.16 |
| 2010-11 | 66 | 44 | 2.27 | 1.57 | 110 | 1.93 |
| 2011-12 | 63 | 50 | 2.52 | 1.79 | 113 | 2.13 |
| Total | 199 | 141 | 2.43 | 1.72 | 340 | 2.07 |
Manchester United enjoyed a fairly strong strike force last season with Wayne Rooney, Danny Welbeck and Javier Hernandez featuring regularly while Dimitar Berbatov and Michael Owen were a couple of great options to have on the bench. However, Berbatov did not suit the style of play Sir Alex wanted to enforce while Owen's injury issues made him a liablity and both strikers left the club this summer. Robin Van Persie was widely regarded as one of the best striker in Europe last season and his addition to the squad adds a bit of star dust in the striking department.
Wayne Rooney and Van Persie were the two top scorers in the Premier League during the last campaign and the prospect of the two playing together is exciting as the combination has already shown dividends in the Champions League game against Cluj when Rooney provided both assists for Van Persie's brace. Welbeck's maturity has added volume to United's strike force while Hernandez always has a goal in him as well.
a>
Wayne Rooney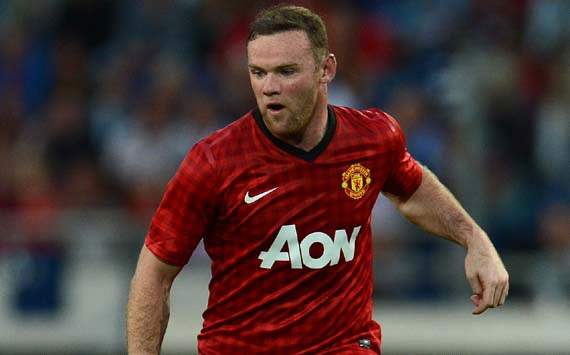 A year wise representation of Wayne Rooney's contribution, in terms of goals and assists, for Manchester United..
| | | | |
| --- | --- | --- | --- |
| Season | Apps | Goals | Assists |
| 2004-05 | 43 | 17 | 5 |
| 2005-06 | 48 | 19 | 9 |
| 2006-07 | 55 | 23 | 15 |
| 2007-08 | 43 | 18 | 14 |
| 2008-09 | 49 | 20 | 12 |
| 2009-10 | 44 | 34 | 7 |
| 2010-11 | 40 | 16 | 14 |
| 2011-12 | 44 | 35 | 10 |
| 2012-13 | 4 | 0 | 5 |
| Total | 370 | 182 | 91 |
Key Figures -
1) Throughout his United career, Rooney has either scored or assisted a goal every 1.35 games. That figure speaks volumes of the consistency with which he is involved in attack.
2) Last season the England international scored 35 goals for United in all competitions and averaged a goal every 104 minutes.
In the 2009-10 season following Ronaldo's departure, Rooney had the goal scoring responsibility thrust upon him and found himself leading the line despite normally being played as the second striker or even out wide to accomodate Ronaldo. The former Evertonian responded in tremendous fashion, scoring 34 goals to mark his most prolific season at the time.
The following season, Rooney had a terrible time struggling with injuries and off-field controversies but came back strongly in the second half of the campaign to silence his critics. His jaw-dropping overhead kick that proved to be the winner in Manchester derby epitomized his quality while a hat-trick to overcome a two-goal deficit against West Ham United stood testament to his character as he helped United over the final few hurdles in the race for the title.
Last season, Rooney was played in the hole behind the striker in a 4-4-1-1 formation. He seemed to thrive in that role as he registered 35 goals and 10 assists but his position in the starting eleven this season is yet to be clearly defined. While Rooney missed most of the action early on in this campaign, Van Persie has flourished as the lone striker in a 4-2-3-1 system with Shinji Kagawa showing encouraging signs as the creator behind him.
However, off late Sir Alex has turned to a diamond midfield in a bid to protect the injury-ravaged defence and that formation has seen Rooney operate as an attacking midfielder at the top of the diamond. Although he may not get on the end of too many chances from that position, his performances in the two games in which he has featured in that role has been sublime. With Van Persie ahead of him, the two seem to have struck up a good understanding already.
Rooney has a great range of passing and good vision which makes him suited to his current role between midfield and attack. He possesses a lethal shot from range and can make late runs into the box as well.
Strengths - Vision, Passing, Shooting, Finishing
Area Of Improvement - Dribbling, Temperament
Recent Form - We haven't seen too much of Rooney so far this season due to an early injury but his return has been impressive so far having provided 4 assists in 3 games. He was the catalyst for an inspired United performance in the second half against Tottenham and has scored thrice for England in two games during the international break. He appears to be returning to his best and that could spell danger for opposing defences.
b> Robin Van Persie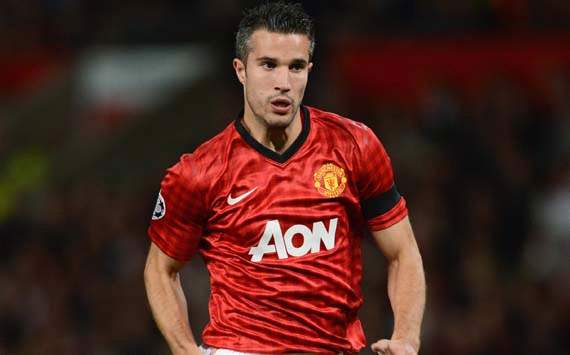 A year-wise representation of Robin Van Persie's contribution, in terms of goals and assists, for Manchester United..
| | | | |
| --- | --- | --- | --- |
| Season | Apps | Goals | Assists |
| 2012-13 | 10 | 7 | 2 |
| Total | 10 | 7 | 2 |
Key Figures -


1) Last season, Van Persie scored
38.14
% and directly contributed to
52.58
% of Arsenal's goals.
2) The Dutchman played
3334
minutes out of a possible
3612
minutes for Arsenal last season.
Van Persie was the heartbeat of an Arsenal team which was threatening to sink into mid-table obscurity at this stage last season. The Dutchman's scintilating form in front of goal almost single-handedly revived their season and the team pulled together to secure a very respectable third place finish.
One of the summer's biggest transfer saga's finally culminated when United signed Van Persie for £24 million. The 29 year old has effortlessly blended in with the rest of the team and served to soften the blow when Rooney was ruled out of action for a month through injury. Van Persie lead the line with great efficiency and his seven goals so far have put to bed any fears of him struggling to fit in with his new team.
He began his career as a left winger with great dribbling ability and pace to burn but Arsene Wenger recognized his talent in front of goal and gradually converted him to a striker. The Frenchman once described Van Persie as "Bergkamp with goals" owing to his vision and ability to link-up play and set up players around him. He is also accomplished in the air and has been known to score spectacular volleys and free-kicks over the course of his career. In addition, he is one of the most lethal finishers around.
Strengths - Finishing, Link-up play, Dribbling, Shooting
Area of Improvement - Temperament,
Recent Form - Van Persie has wasted no time endearing himself to the Manchester United fans. His first goal for the club came in spectacular fashion when he scored a half-volley from a difficult angle to equalize against Fulham on his first start. He went on to score a match-winning hat-trick away to Southampton to secure the three points late in the game. His penalty against Liverpool proved to be the winner while his brace against Cluj goes to prove that if United can keep him fit, he will score goals for fun this season.
c> Danny Welbeck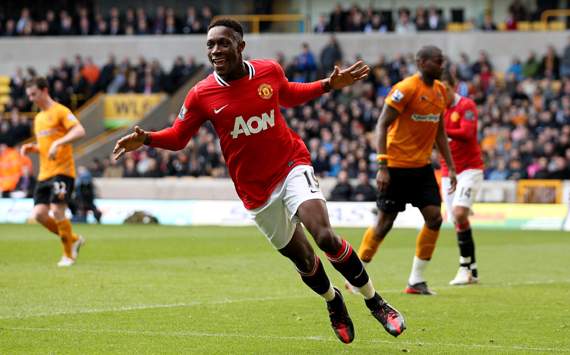 A year-wise representation of Danny Welbeck's contribution, in terms of goals and assists, for Manchester United..
| | | | |
| --- | --- | --- | --- |
| Season | Apps | Goals | Assists |
| 2008-09 | 13 | 3 | 2 |
| 2009-10 | 11 | 2 | 1 |
| 2011-12 | 39 | 12 | 7 |
| 2012-13 | 10 | 0 | 1 |
| Total | 73 | 17 | 11 |
Key Figures -

1) Last season, Welbeck either scored or assisted a goal every 2.05 games.
Danny Welbeck is a product of United's youth academy. His successful loan spell at Sunderland in the 2010-11 season gave the youngster valuable Premier League experience and he returned to Manchester as a far more accomplished striker.
Last season Welbeck really came to the fore and established himself as regular in United's first team. He also won his first international cap and since then he has become a regular in the England set-up as well. He works very hard as the foremost striker but is also capable of playing as a winger. He's got good pace, strength and is a threat in the air. At his current rate of progression, he could go on to be a top striker for United and England.
Strengths - Work rate, Link-up play, Pace
Area of Improvement - Finishing, Composure, Shooting
Recent Form - Welbeck hasn't played particularly badly for United this season but he is yet to get off the mark. With Van Persie, Rooney and Kagawa all in the side, it has and will continue to be difficult for him to secure a starting spot. He has scored twice for England in one game during the international break.
d> Javier Hernandez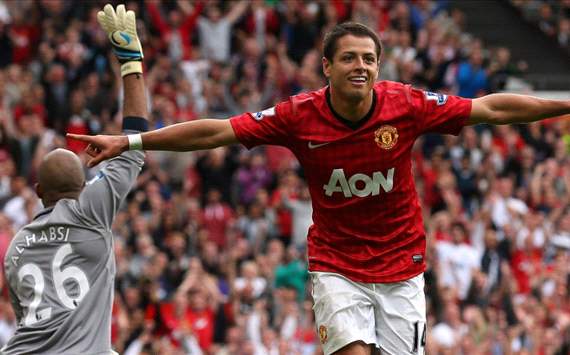 A year-wise representation of Javier Hernandez's contribution, in terms of goals and assists, for Manchester United..
| | | | |
| --- | --- | --- | --- |
| Season | Apps | Goals | Assists |
| 2010-11 | 45 | 20 | 5 |
| 2011-12 | 36 | 12 | 3 |
| 2012-13 | 7 | 1 | 1 |
| Total | 88 | 33 | 9 |
Key Figures -

1) Hernandez scored once every 2.25 games during his debut season for Manchester United.
Hernandez joined United as a virtually unkown commodity but experienced a meteoric rise to fame in his debut season. The Mexican quickly made a name for himself as a goal poacher as his movement inside the box has been of the highest order.
Last season, 'Chicharito' failed to replicate the goal scoring form he showed in his first owing to injury issues and the emergence of Danny Welbeck. With the arrival of Van Persie, the 24 year old has dropped down the pecking order but is a valuable player to summon from the bench when in search of a goal. He has a good turn of pace and plays on the shoulder of the last defender, always looking to beat the offside-trap. He has a sixth sense in the 18 yard box and his movement helps him peel away from his marker to get on the end of crosses.
Strengths - Movement, Finishing, Pace
Area of Improvement - Link-up play, Holding up the ball, First touch
Recent Form - Hernandez has been a little out of sorts this season. He hasn't been afforded too many chances but when they have come along, his normally clinical finishing deserted him. He has managed to start just three games this season and scored a solitary goal.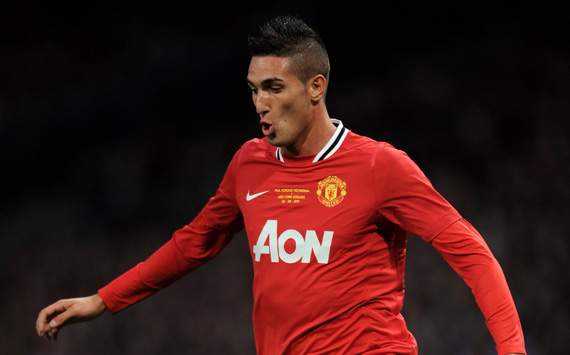 Kiko Macheda

Kiko Macheda has very much become the forgotten man at Mancheter United. He burst onto the scene when he scored a spectacular late winner in a 3-2 victory over Aston Villa in the 2008-09 season that proved to be vital in United's title retention. A poor loan spell at Sampdoria and then Queens Park Rangers (QPR) has seen the striker take a couple of steps back in his development process.
Angelo Henriquez

Angelo Henriquez officially joined Manchester United this summer but the club have had an eye on him for some time. The Chilean striker was just 15 years old when United reached an agreement with Universidad de Chile to purchase the rights to the player. He has even been to United on trials. The 18 year old made his debut for the U-21 side in a 4-2 win over Newcastle, scoring the final goal after coming on as a substitute.
Manchester United have a multitude of options in the striking department but they possibly have even more in midfield. With Sir Alex utilizing a diamond midfield over the past couple of games, it's difficult to guess his preferred line-up.
However, Nani and Valencia were among the best with regard to assists last season so they make it as part of our supporting cast. New signing Kagawa was intrumental for Borussia Dortmund last season and even though he hasn't quite hit his stride for United yet, it's only a matter of time before the Japanese international truly sparks into life. Kagawa should continue to be a regular starter for United regardless of the system in place but Nani and Valencia could find their places under threat should United play a diamond midfield more often than not.
Valencia's pace, strength and direct play makes him a lethal force down the right flank. His crossing is exquisite and that fetches him a lot of assists over the course of the season. Nani on the other hand is inconsistent to say the least but he retains the ability to whip in a good cross or pop up with a few goals. Kagawa has great control and is two-footed. He can dribble with the ball and operate in tight spaces but still needs to catch up with the pace and physicality of the English game. He has great vision and is very creative while he does have an eye for goal as well.
Nani

Shinji Kagawa

Antonio Valencia
Appearances: 201
Goals: 38
Assists: 70

Appearances: 7
Goals: 2
Assists: 2

Appearances: 113
Goals: 16
Assists: 36

1) Antonio Valencia made 14 assists in the league last season, a tally bettered only by David Silva, despite playing only 27 games.
2) Nani either scored or assisted a goal once every 105.2 minutes in the league last season.
3) Shinji Kagawa directly contributed to a goal once every 96 minutes for Borussia Dortmund in the Bundesliga last season.
| | |
| --- | --- |
| 4-2-3-1 | 4-3-3 |
It's exceedingly difficult to guess which combination Sir Alex will rely on the most with both having their pros and cons. The 4-2-3-1 system is one which has been expected of United and it does have a certain level of fluidity. More importantly, United have always been recognized for the width with which they attack and this system is tailor-made for ambitious wingers. It does leave them looking a bit light in the center of midfield and it doesn't take too much of effort for oppositions to get at their back four.
However, the 4-3-3 formations adds depth to the midfield and should give the Red Devils the advantage in that area. It could also serve to get the best out of the attacking trio of Rooney, Van Persie and Kagawa if Rooney is deployed as one of the strikers thereby allowing Kagawa to play in the hole. This would of course mean that Sir Alex would have to sacrifice natural width when using this system with the two strikers, advanced midfielders and full-backs all doing their bit to provide width to the attack from time to time.
Nevertheless, the diamond midfield is clearly a ploy to maintain more possession and take the pressure of a faultering back line. One would imagine then that with a fit defence in place and wingers available as well, Sir Alex could possibly revert to a 4-2-3-1 formation against the weaker teams at least against whom he could be confident of his two-man central midfield dominating proceedings in the middle of the park.
Manchester United have several permutations and combinations they could use and although it may seem like a hindrance for Sir Alex, he knows his team better than anyone and will be confident of picking the right team for every game. The confusion everyone else faces when trying to figure out United's starting eleven could well work in their favour. Opposing teams may be just as bewildered as the fans and media when it comes to guessing the combination the Scot will go with before every game.
One aspect which is pretty straight forward is that the Premier League giants have an abundance of talent in the striking department and will score plenty of goals this season. They have enough of cover to even deal with a few injuries without too much hassle. Van Persie will be the focal point of the attack and with so many goal scorers and creators around him, he may finally find the success he was looking for when he signed for the club.
Form: 3.5

Aerial Ability: 3.5
Finishing
:
4
Overall: 4
Do You Agree With Goal.com Ratings? Don't Forget Let Us Know About Your Views In The Comments Section..
How do you stay up with football when on the move? With http://m.goal.com –your best source for mobile coverage of the beautiful game.