Debjit Lahiri




Analysis

|

England




Follow on
Football is about goals and it is the goals that win you matches. Possession, shots, discipline, tackling or whatever be the aspect of the game one ponders upon; it all goes down the drain if you're unable to deliver the end product - The GOALS! Hence, it is imperative that one possesses a strong aggressive unit, if they are to harness any desire to achieve glories at the topmost level. A unit which would require the collective effort of the front-men as well as the ones supporting from the deeper areas of the pitch!So, we at Goal.com, will be presenting a statistical as well as tactical evaluation of all top teams in Europe and would try to draw a verdict on where exactly these teams lie in this particular aspect. Today we look into the current league leaders in England and the reigning European Champions Chelsea FC.
Chelsea had a paltry 1.71 goals per match ratio last year; however, this season it has seen a significant rise to 2.16; their best since the 2.71 they reached at the end of the 2009-10 season.
The Blues generally suffer a winter drought in goals, around late November to the end of December; their goal per match ratio being 0.40 in 2010-11, 0.67 in 2011-12 and even in their record breaking 2009-10 season, the ratio ranged only around 1.50!
Chelsea's 4-2-3-1 formation sees Fernando Torres leading the line ahead of the trio of attacking midfielders. With Didier Drogba making his way to China this summer and young prodigy Romelu Lukaku loaned to West Brom, Chelsea have very little option when it comes to an out and out forward; thus the strike-force being primarily over-reliant on Torres.
Daniel Sturridge is certainly an alternative but Chelsea have more often than not preferred to use him as an wide forward or an right winger; and despite his unparalleled desire to play at the centre forward role; the Blues have been reluctant to dethrone Torres from that position. To make matters worse, ever since Andre Villas-Boas' departure, the England international has found it difficult to make it to the starting eleven (even as a wide forward) under new manager Roberto Di Matteo; playing a very minimal role in Chelsea's late revival to win the FA Cup and the Champions League last season and further with a flurry of wingers joining into the Chelsea setup this summer coinciding with Sturridge's early season hamstring injury has meant that the 23 year old is yet to start a game for Chelsea this season.
a)
Fernando Torres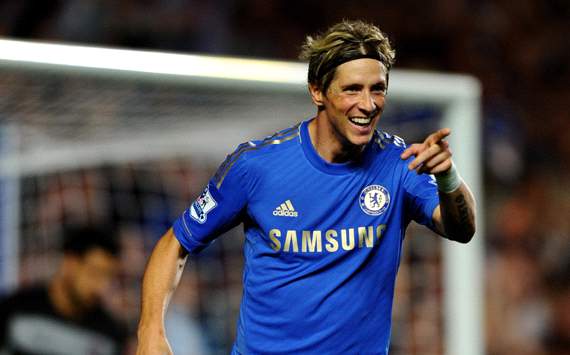 Year wise representation of Fernando Torres's contribution, in terms of goals for Liverpool and Chelsea..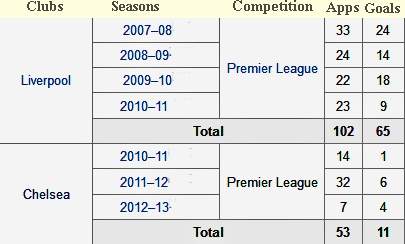 Key Figures -
1) Fernando Torres raked in 38 goals in his first 57 appearances for Liverpool in the league while for Chelsea, his 53 appearances account for a paltry 12 goals.
2) However, Torres already has an impressive 15 assists to his name for Chelsea during his little over one and a half seasons at the Bridge; which is a marked improvement to his 13 for Liverpool through out his 4 year stay at the club!

3) Torres has made 14 key passes this season; averaging around 2 per match.
Stamford Bridge is yet to see the best of Fernando Torres following his move from Liverpool a couple of seasons back and while the popular claim of "Fernando Torres no longer being the same Fernando Torres of Liverpool" is mainly based on his goal-scoring form; a deeper look into the statistics would reveal that is indeed the case for even more reasons than that; both in the bad as well as in the better sense.
Perhaps because he was initially starved of proper service from an ageing Chelsea midfield, Torres' gameplay over the past one and a half years has seen a marked change. With him now having to create chances for himself, Torres was often seen in deeper areas of the pitch last season, trying to carve out a decent opening by himself rather than waiting for a supporting player to play a killer ball for him. And now although he has a better "assisting team" at Chelsea following the summer overhaul, the trait has remained with him; evolving into his style of play. As a result, the Torres of Chelsea has a better work rate than he had at Liverpool. It is almost like the necessity during adversity has brought about a better aspect in his play.
Further almost in a similar way, his lack of confidence affected his shooting, and this led him to look for options around him more often than not rather than shooting straight away as he would have done earlier. Although again this was an deficiency, with him missing out on several goal-scoring opportunities, it also brought about a significant rise in his assists count.

Now the thing is, is all this resulting gain worth it's expense? Well perhaps not. While fans would be delighted to see his growth as a complete player, it is the goals that one is still looking for. And that is yet to be fulfilled. He has been slightly sharper this season, notching up 6 goals from 12 appearances but there is still an element of inconsistency in his finishing. Under careful observation one would notice that Torres has been adept in taking advantage of the "quick" chances; however has squandered several one-on-ones; which only suggests to the fact that he is messing it up when there has been more time to think. One thus feels it's all in the mind for Fernando Torres; it's all about the confidence!
Strengths - Work Rate, Participation in build up play, Agility (although not as par as before; but still quite handful)
Area Of Improvement - Inconsistent anticipation as well as finishing.
b) Daniel Sturridge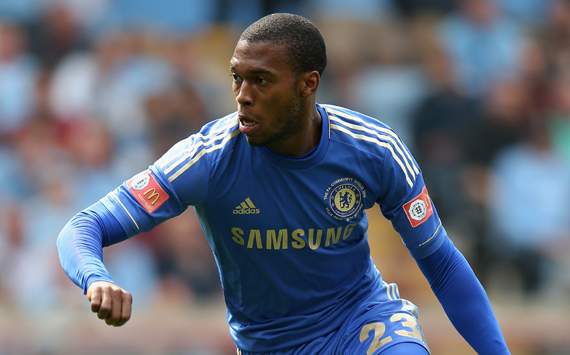 A Year-wise representation of Daniel Sturridge's contribution, in terms of goals and assists, for Chelsea..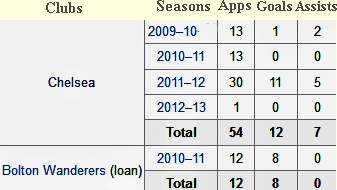 Key Figures -


1) Out of the 11 goals Sturridge scored last season, 9 of them were under the tenure of Andre Villas-Boas; while he could manage only 2 after the appointment of Roberto Di Matteo.
Known for his dribbling, pace and powerful shots from long range, Daniel Sturridge is a potentially tricky customer upfront. However, as mentioned earlier, Chelsea have deployed Sturridge primarily as a wide forward and to be fair he has had a decent amount of success in that position and it is yet to be seen whether he will be more effective as a centre forward or not. One can presume he should be; given his performances in the Great Britain and England U-23 teams as well as during his loan spell last year at Bolton, where he scored 8 goals in a mere 12 appearances, in that very position.
Strengths - Dribbling, Pace
Area of Improvement - Overall Selfish Play
Recent Form - Daniel Sturridge has had only 1 appearance so far this season in the league; and so basically it's all about Fernando Torres, who has been fairly decent so far; scoring 6 in 12 appearances.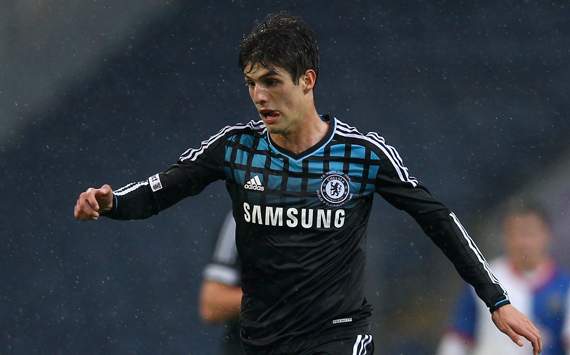 Not much striking depth is available for Chelsea. Young starlet
Lucas Piazon
is in the first team roster; who is basically an attacking midfielder, winger cum second striker. Voted Chelsea's best young player last season, Piazon, unlike other Brazillian forwards, is a more direct player; adept in passing, powerful shooting and clinical finishing; with minimal dribbling or flashy moves.
Victor Moses
, signed from Wigan Athletic this summer, although mostly used as an left winger so far, is also capable of playing as a forward up front.
For other possible options, we have to look down to as far as the youth team of Chelsea, where the likes of
Patrick Bamford
and
Islam Feruz
are two exciting striking options available.
Unlike for the centre forward role, Chelsea have a host of options when it comes to the supporting team behind the striker. While the trio of Eden Hazard, Juan Mata and Oscar are the preferred names behind striker Fernando Torres; Chelsea have apt replacement for all three of them with versatile attacking midfielders in the form of Victor Moses, Marko Marin and even Ramires.
Chelsea's Trio

Eden Hazard

Oscar
Juan Mata

Appearances: 7




Goals: 2




Assists: 4

Appearances: 5

(Including UCL)




Goals: 2


Assists: 1


Appearances: 6




Goals: 1




Assists: 4
1) Eden Hazard has accounted for 4 assists and 2 goals so far in the 7 matches he played in the league this season; also making 2.4 key passes per game on an average.
2) Oscar has an impressive 88.8 pass completion percentage playing in the hole behind the striker.
3) Juan Mata has 4 assists in 6 appearances with 90% of pass completion; making 2.3 key passes per match.
The Possible Combinations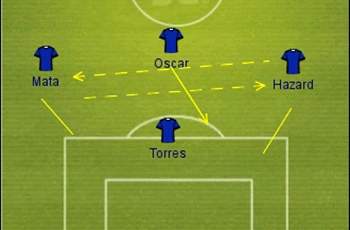 With lone man Fernando Torres upfront, Chelsea deploy a three man attacking trio behind him. Juan Mata and Eden Hazard efficiently exchanges flanks, running down at the opposition defense while Oscar sits in the hole behind the striker drilling in through balls for the striker to flourish.
Ramires has also been tried on the right hand side; so has been Ryan Bertrand on the left, but Di Matteo seems to have found his preferred line up at last. Victor Moses and Marko Marin are yet to get a lengthy run of games.
Chelsea has a exciting supporting team behind the main striker but their inability to sign another forward in the transfer window means the striking options are over-reliant on Torres. While Torres' decent form. coupled by an impressive start from the trio behind him, has meant that Chelsea hasn't quite been troubled; but given the Spaniard's on and off form, the Blues might suddenly struggle for goals as the season goes by.
Form:
Aerial Ability:
Finishing:
Overall:
(NB: Ratings based on only the performances of "out and out" strikers and not the supporting team.)
Do You Agree With Goal.com Ratings? Don't Forget Let Us Know About Your Views In The Comments Section..
How do you stay up with football when on the move? With http://m.goal.com –your best source for mobile coverage of the beautiful game.