Football is about goals and it is the goals that win you matches. Possession, shots, discipline, tackling or whatever be the aspect of the game one ponders upon; it all goes down the drain if you're unable to deliver the end product - The GOALS! Hence, it is imperative that one possesses a strong attacking unit, if they are to harness any desire to achieve glories at the topmost level. A unit which would require the collective effort of the front-men as well as the ones supporting from the deeper areas of the pitch!So, we at Goal.com, will be presenting a statistical as well as tactical evaluation of all top teams in Europe and would try to draw a verdict on where exactly these teams lie in this particular aspect. In this edition, we take a look at how the Champions Of Germany, Borussia Dortmund fare in their attacking department.


Dortmund have continued where they left off last season by getting off to a perfect start in the Bundesliga by beating Werder Bremen on the opening day of the season. Their attack is one of the most potent and exciting to watch in Europe. But they have also been on the fragile side as they have shipped in goals a lot more than they would have liked in the last few games. Dortmund have been very sharp when playing at home scoring an average of 3.33 goals per game and conceding a miserly 0.33 goals. However their away form is a sign of worry for Jurgen Klopp as the team has scored an average of 1.75 goals but it was overshadowed by the fact that they let in atleast 2 goals per game on the road. Their numbers from the past three seasons have been vacillating between the stable and fragile.
2009-10:

Home Average: 1.59
Away Average: 1.24

2010-11:

Home Average: 1.97
Away Average: 0.65

2011-12:

Home Average: 2.35
Away Average: 0.74
To add to these myriad of stats, Dortmund have scored in each of the last 20 matches that they have played. It was in a game against Augsburg that the Black Yellows failed to score, which dates back to March 2012. It is a testament to the firepower that Klopp has at his disposal.
Dortmund have generally made it a habit to put atleast 3 goals past their opponents in the early stages of the season, but lately that trend seems to have stopped as they have been part of two consecutive draws against Hannover and Manchester City. But yet they have racked up 17 goals in the months of August, September and October.
Polish international Robert Lewandowski has been the focal point of Dortmund's attacking unit for the last two seasons. The 24-year old's eye for goal and positioning has seen him attract potential suitors like Chelsea and the Manchester Clubs. Lewandowski plays as a lone striker in Klopp's standard 4-2-3-1 formation. His supply line is one to be envied with the likes of Jakub 'Kuba' Blaszczykowski, Mario Gotze and the outrageously talented Marco Reus charged with the task of teeing him up to finish off their attacks.
a) Robert Lewandowski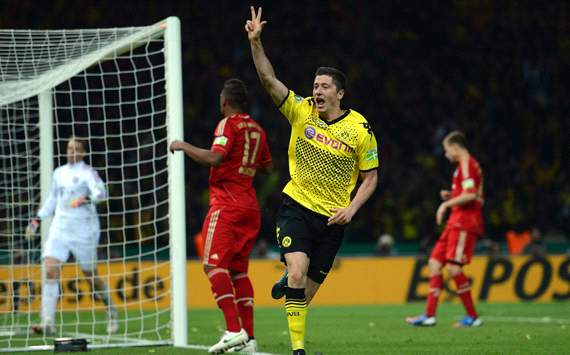 Club
Season

App

Goals
Assists

Borussia Dortmund

2010-11

33

8

1

2011-12

34

22

8

2012-13

6

2

2

TOTAL
73
32
11
Key Figures -
1) Lewandowski started
all 34 matches
in his breakthrough season in 2011-12 unlike in 2010-11 where he came off the bench
18 times
.
2) In the 2011-12 season, Lewandowski attempted 119 shots out of which 55 of them were on target with an accuracy of 46.21%.
Robert Lewandowski, is a traditional 'number 9' who banks upon good positioning sense and finishing skills, both with head and feet, to complete the job set up by the attacking three playing behind him. His movement around the 6-yard area is something that people like Miroslav Klose and Pippo Inzaghi have demonstrated over the years. He's not someone who would dribble past defenders unlike Gotze, Reus or Kuba. Instead he displays an ability to make a decisive run when he senses his teammates are about to deliver a cross or a defence splitting pass. He however is not very well known for his defensive side of the game and is not someone who would hold the ball up and bring his teammates into play. This is partially owed to the fact that Dortmund prefer to keep the ball on the ground and let the engine room of Reus, Gotze and Kuba supply Lewandowski.
Strengths - Finishing, Movement
Area of Improvement -Passing, holding onto the ball, defensive contribution
Recent Form - Lewandowski has been quieter this season as he has only scored three in the league and once in the Champions League. His finishing, especially in the Champions League game at the Etihad Stadium, was poor after he missed some gilt-edged chances to put the game beyond Manchester City's reach. He is not amongst the Bundesliga's top scorers so far this season, losing that honour to his teammate Marco Reus who has been prolific for Klopp's side.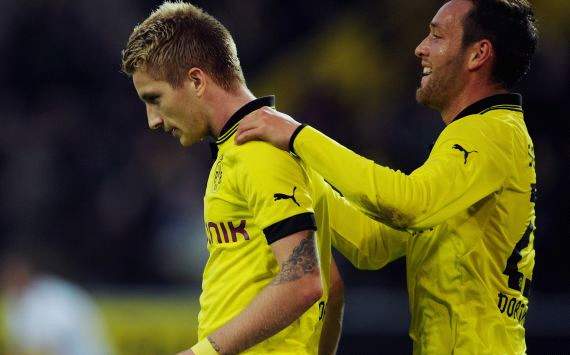 a) Marco Reus
Jurgen Klopp signed arguably the biggest talent in Germany, Marco Reus, from Borussia Monchengladbach. It was in fact a homecoming for the Dortmund youth product who had been sensational with Gladbach in the recently concluded season. His versatility to play as a central striker, 'number 10', or a winger has ensured that Dortmund will not be found wanting if regular centre forward Lewandowski is out to injury or is rested. He is already amongst the Bundesliga top scorers this season with 4 goals in 6 appearances and also includes an assist.
His performance for the Mannschaft against Greece in the quarter-final of Euro 2012, was a sign of just how much talent is abundant in Germany. Klopp's preferred 4-2-3-1 formation allows Reus to combine splendidly with fellow youth academy prodigy Mario Gotze. This is an exhibition of speed and skill which allows them to freely interchange positions and cause havoc amongst the opposition defence.
b) Julian Schieber
This Stuttgart youth product joined Dortmund with a low-key profile. Schieber had made 49 appearances for the Stuttgart senior team and scoring 6 goals in the process. He fully came on his own during his loan spell at Nuremberg in the 2010-11 season, where he started 28 games and scored 7 goals in addition to racking up 5 assists. Dortmund signed him primarily as a backup for Robert Lewandowski who is almost immovable from the Dortmund starting XI. Schieber will have to wait patiently for his opportunity and must grasp it with both hands.
Lewandowski thrives on the support he receives from the highly creative trio of Marco Reus, Mario Gotze and Jakub 'Kuba' Blaszczykowski. They have contributed 9 of the 17 goals that Dortmund have scored this season. To further supplement the attacking three is right full back Lukasz Piszczek whose combination with fellow countryman Kuba borders around the telepathic. It is no surprise that Dortmund's energetic full back has provided 4 assists and chipped in with a goal as well.
Lewandowski's Support Cast
Marco Reus

Mario Gotze

Kuba

Appearances: 8




Goals: 5


Assists: 1


Appearances: 61




Goals: 14




Assists: 19

Appearances: 147




Goals: 17




Assists: 13
1) In the 2011-12 season, of the 22 games Mario Gotze started, he had 40 shots out of which 21 were on target while his teammate Kuba had 49 shots, out of which 17 were on goal.
2) Marco Reus has taken 18 shots out of which 10 were on target in the 8 appearances he has made for Dortmund this season.
NB: Stats in this section are mostly based on Bundesliga appearances during the 2009-10, 2010-11, 2011-12 and the ongoing 2012-13 season.
The Possible Combinations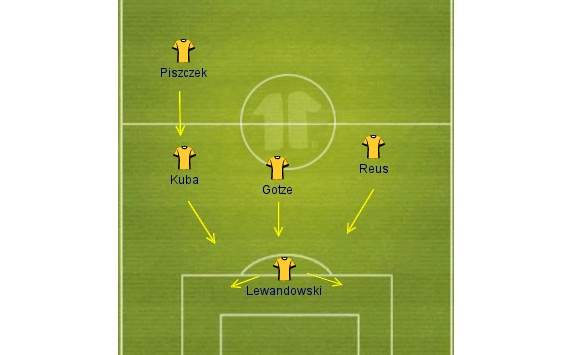 As discussed above, Klopp likes to stick religiously to his 4-2-3-1 formation with Reus and Gotze exchanging positions at will. Kuba usually tends to stick to the right side of the pitch owing to his superb understanding with full back Piszczek. In the eventuality that Lewandowski is rested or injured, Reus tends to fill in the void and his place is taken by either Ivan Perisic or Kevin Groskreutz.
Dortmund's attacking play tends to revolve around quick passing, and clever interchange of positions amongst the front four to unlock opposition defences and also makes their football pleasing to the eye.
Dortmund have an awesome array of attacking talent when they are at full strength. The likes of Reus, Gotze, Kuba and Lewandowski is a force any team would like to have amongst their ranks. However an injury to any of these players and Dortmund look labourious in breaking down oppositions. Julian Schieber, Ivan Perisic and Kevin Groskreutz are all talented but do not strike the same level of fear in the minds of opposition defences. In addition, Lewandowski's inability to hold the ball up to bring others into play results in Dortmund resorting to keeping the ball on the ground and can lead to teams figuring a way to circumvent their style of play.
Klopp's tendency to stick to his strongest XI as much as possible has not given the likes of Perisic, Groskreutz and Schieber enough space to showcase their talents.
Form:
Aerial Ability:
Finishing:
Overall:
(NB: Ratings based on only the performances of "out and out" strikers and not the supporting team.)
Do You Agree With Goal.com Ratings? Don't Forget Let Us Know About Your Views In The Comments Section..
How do you stay up with football when on the move? With http://m.goal.com –your best source for mobile coverage of the beautiful game.