In an all new series of Goal.com articles, we look into the striking department of the top clubs in Europe. In this edition, we take a look at the Catalans...
Kishen Patel

Analysis | La Liga

Follow on

Football is about goals and it is the goals that win you matches. Possession, shots, discipline, tackling or whatever be the aspect of the game one ponders upon; it all goes down the drain if you're unable to deliver the end product - The GOALS! Hence, it is imperative that one possesses a strong attacking unit, if they are to harness any desire to achieve glories at the topmost level. A unit which would require the collective effort of the front-men as well as the ones supporting from the deeper areas of the pitch!So, we at Goal.com, will be presenting a statistical as well as tactical evaluation of all top teams in Europe and would try to draw a verdict on where exactly these teams lie in this particular aspect. In this edition, we take a look at how Barcelona's strikers have fared so far...
Barcelona couldn't have gotten a better start to the season than they have at the moment. Apart from the 2-2 draw against Real Madrid at home, they have managed to win all their games and sit on top of the league table with 19 points from 7 games.
While playing at the Nou Camp, the Catalans have found the net 13 times in 5 games and have scored 11 goals in 4 games they played away from home. Surprisingly, they average 2.6 goals per game at home and 2.75 goals per game away! They have conceded 5 goals at home and 4 goals when playing away. They concede one goal per game regardless of the venue in which they are playing. These are good stats for any team as it shows a stable defense and a sure firing attack. So far this season, they haven't failed to score a goal in any game.
2009-10:

Home Average: 3
Away Average: 2.16
2010-11:

Home Average: 2.42
Away Average: 2.58
2011-12:

Home Average: 3.84
Away Average: 2.16


During the 2009-10 season they scored 24 goals in their opening 9 matches, 19 during the 2010-11 season while it increased to 32 from 10 games during the 2011-12 season. So far they have managed 19 goals in the first seven matches of the season and look set to maintain their 3 monthly aggregate. They may not be anywhere near their tally from the previous season but they are near the average set during the 2009 and 2010 seasons.
Tito Vilanova uses the same 4-3-3 system that his predecessor Guardiola used. Unlike other teams, Barcelona doesn't play with an outright striker but use a 'false nine' strategy. David Villa is the only recognized striker in the team while Pedro, Sanchez and Tello can all operate as wingers and forwards. Messi is the only forward who has been a regular feature in the starting lineup while Vilanova has experimented with Pedro, Sanchez, Tello and even Fabregas starting alongside the little Argentine up front.
A large chunk of goals are scored by Messi with a marginal contribution from the midfield. The Argentine has been the leading scorer for the Catalans since the 2008-09 season with a mammoth 211 strikes over four seasons! He set the world record for most goals in a single season (73) and most number of goals in La Liga with 50 strikes. He is currently joint top scorer in the league with 8 goals alongside, Falcao and Cristiano Ronaldo.
a)
Lionel Messi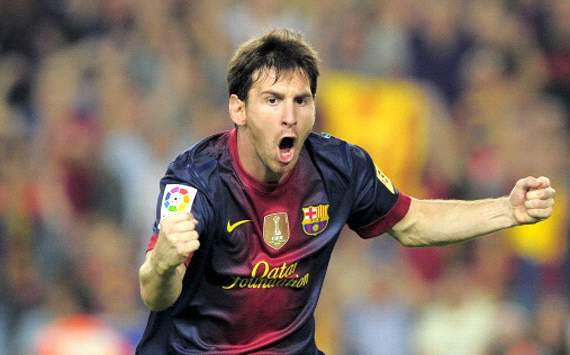 Year wise representation of Lionel Messi's contribution, in terms of goals for Barcelona.
| | | | |
| --- | --- | --- | --- |
| SEASON | APPS | GOALS | ASSISTS |
| 2004-05 | 9 | 1 | 0 |
| 2005-06 | 25 | 8 | 1 |
| 2006-07 | 36 | 17 | 3 |
| 2007-08 | 40 | 16 | 13 |
| 2008-09 | 51 | 38 | 16 |
| 2009-10 | 53 | 47 | 10 |
| 2010-11 | 55 | 53 | 21 |
| 2011-12 | 60 | 73 | 26 |
| 2012-13 | 11 | 12 | 5 |
Key Figures -
1) The Argentine scored a record 50 goals in 37 appearances for the Catalans during the last season to set a new highest tally.
2) Has 10 goals and 5 assists to his credit already and has scored 52.6% (10 of 19) of Barcelona's goals so far.
Lionel Messi has been compared to former Argentine great Diego Maradona due to their similar playing style and physical frame. With a low centre of gravity unlike other players, Messi has the ability to change direction more quickly and is extremely agile which helps him to evade tackles.
He began his career playing predominantly on the left wing but former coach Frank Rijkaard decided to play him through the middle as he could easily cut through defenses rather than crossing balls for other teammates. Guardiola used Messi in the highly successful 'false nine' role as he would feature anywhere along the forward line drawing defenders to him while he feeds the balls to other teammates making runs.
Strengths - Finishing, Dirbbling, Passing, Free-kicks
Area Of Improvement - Aerial Duels
b) Pedro Rodriguez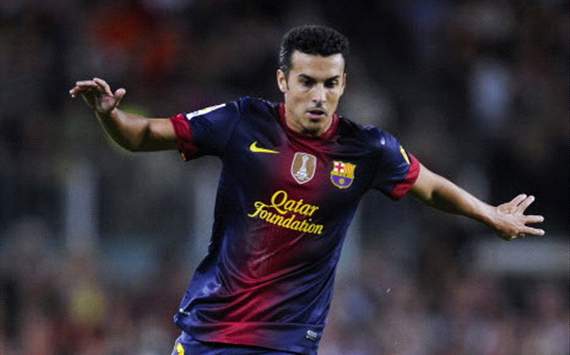 A Year-wise representation of Pedro's contribution, in terms of goals and assists, for the Catalans.
| | | | |
| --- | --- | --- | --- |
| SEASON | APPS | GOALS | ASSISTS |
| 2007-08 | 2 | 0 | 0 |
| 2008-09 | 14 | 0 | 0 |
| 2009-10 | 52 | 23 | 4 |
| 2010-11 | 53 | 22 | 10 |
| 2011-12 | 48 | 13 | 3 |
| 2012-13 | 11 | 2 | 1 |
Key Figures -
1) He is the only player to score in six different club competitions in one season - his three domestic tournaments, the UEFA Champions League, Super Cup and the Club World Cup.
2) Scored 13 goals in 35 starts last season and managed to provide 6 assists.
3) Already has 1 goal and 2 assists this season from 7 starts and 2 substitute appearances
A product of Barca's famed academy, Pedro can play as a winger or a target man up front as well. His electric pace combined with his off the ball movement makes him a difficult player to mark. Pedro won six titles with Barcelona in his first ever season as a first team player during the 2009-10 edition.
The Spanish international also has excellent dribbling skills and often likes to run with the ball at the opponents. He has developed a terrific understanding with fellow players and often picks up spaces between defenders. He however needs to fine tune his finishing skills a little as he sometimes fluffs his lines at the crucial moment like his two chances in the second leg of the Super Cup against Real Madrid and against Murcia. With a little improvement, he can cause real trouble for defenders.
Strengths - Passing, Movement off the ball, Pace
Area of Improvement - Aerial Duels, Crossing, Finishing
c) Alexis Sanchez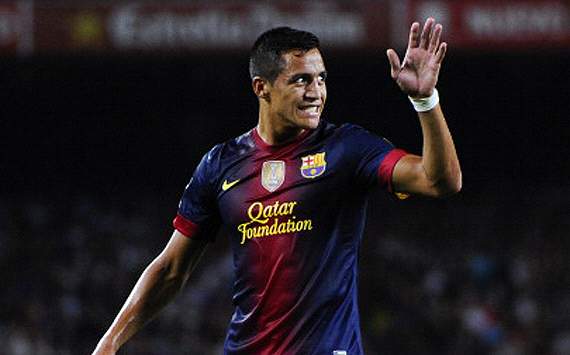 A Year-wise representation of Alexis Sanchez's contribution, in terms of goals and assists, for the Catalans.
| | | | |
| --- | --- | --- | --- |
| SEASON | APPS | GOALS | ASSISTS |
| 2011-12 | 41 | 15 | 5 |
| 2012-13 | 9 | 1 | 2 |
Key Figures -

1) The Chilean isn't known for his goal scoring ability but he did manage to score 15 times from 31 starts. An improvement from the 12 goals he scored for Udinese before joining the Catalans.
2) He is yet to open his scoring account for Barcelona in the league. He has one goal to his name in the Champions League so far.

Sanchez became the first ever Chilean to play for the Blaugrana last summer when the Catalans snapped up the 23 year old from Udinese. Touted to become an instant success, Sanchez endured a somewhat difficult first year at the Nou Camp as he was constantly plagued by short term injuries.
With seven appearances, no goals and two assists, the Chilean has flattered to deceive in 2012-13 and admits he has a lot more to give. He has already been injured once after returning with a thigh injury from the first international break. The Chilean was forced to sit out of the Getafe clash. Alexis has gained a reputation for diving and is seen by some as too much of an individualist for Barca's collective unit.
Strengths - Through-Balls, Dribbling, Strength and Pace
Area of Improvement - Crossing, Theaterics
Tito Vilanova has no concerns whatsoever with the striking department as it is functioning well. With the likes of David Villa and Cristian Tello to choose from the bench, Vilanova is spoilt for options. However, his biggest concern would be the over reliance on Messi to score. If the Argentine fails to shine, he needs someone to pop up with a goal or two. Cesc Fabregas has been shouldering the burden of scoring by providing three strikes and two assists in nine appearances. El Guaje has also managed to score three goals in six substitute appearances. It is only a matter of time before Villa retains his place in the starting XI. With the consistency of Pedro, he has been the preferred choice for the coach to start alongside Messi with either Sanchez or Fabregas playing as the third forward. Andres Iniesta can also play in an advanced role up front if Vilanova decides to field Fabregas alongside Xavi in the midfield. Youngster Isaac Cuenca is yet to feature under the new boss as he recovers from an injury picked up late last season. Alexis Sanchez needs to find some consistency with the form or he will lose out on a regular starting berth. The Chilean himself has said in a press conference that he needs to improve his performances and gave himself a 5/10. Another academy product, Cristian Tello is also an exciting prospect for Barcelona and is a worthy backup player if Tito decides to rest Pedro. Tello was the man of the match in the Champions League fixture versus Spartak Moscow as he scored one and setup Messi for another. He has featured eight times so far, mainly as a substitute.
With plenty of depth and variety of combinations to choose from, Vilanova has the luxury to rest any forward and can still manage to field a competitive lineup. As Villa and Cuenca recover from their respective injuries, expect the coach to rotate the players in order to keep them in the fight for three trophies this season.
As the stats speak for themselves, Lionel Messi is the club's Plan A and Plan B as he has scored (73) and created (23) more goals than any other player. With a world class midfield comprising the likes of Xavi, Iniesta and Busquets; Barcelona have had little trouble creating or scoring goals as full backs like Adriano and Dani Alves have contributed with strikes and assists regularly. One can label Barca as a team driven forward by Messi but the Argentine's work rate and efficiency enable him to contribute such figures.
With two of the best midfielders in the world playing in the centre, Barcelona hardly have a problem there and they also have enough talent on the bench like Thiago Alcantra, Alex Song etc. Barca's style of play often sees the two full backs bursting forward and crossing balls across the penalty box of the opponents. Dani Alves has been extremely influential in going forward as the Brazilian often plays as the fourth midfielder. Jordi Alba had been sensational for Spain at the Euros and he continues his fine form for the club. Alba has built a good understanding with Pedro and Iniesta on the left as the trio together wreak havoc in the final third with intricate one-twos.
Andres Iniesta

Xavi Hernandez

Dani Alves
Appearances: 47
Goals: 8
Assists: 10

Appearances: 51
Goals: 14
Assists: 9

Appearances: 52
Goals: 3
Assists: 18
1) During the 2011-12 season, Messi contributed with 50 of the 114 goals (43.85%) scored by Barcelona in the league.
2) Xavi, Iniesta and Alves together have 37 assists among them during the 2011-12 season. Surprisingly, Alves is the leader among providers as he has 18 assists to his name compared to Xavi (9) and Iniesta (10).
3) However, they do not contribute much with goals as the trio has only 24 goals (21%) among them during the previous season.
4) Despite being a midfielder, Sergio Busquets chipped in with only 1 assist and 2 goals during whole of last season.
5) Iniesta has taken the most number of shots among the midfielders with 72 but features nowhere near Messi's 284.
The Best Possible Combination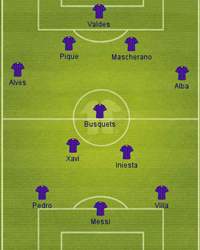 As discussed earlier, Vilanova has singled out Pedro and Messi as regular starters in the team and one among the likes of Fabregas, David Villa, Alexis Sanchez and Cristian Tello to feature in the vacant third forward role. With the poor form of Sanchez and inexperience of Tello, it becomes a direct competition between Fabregas and Villa to start up front. The former Valencia man is yet to regain full match fitness but once he does expect Vilanova to field him often. Fabregas is another option but the former Gunner's pace is a bit of a concern as Tito prefers pacey forwards especially on the wings. Fabregas' versatility will come in handy as he can easily start in place of/deputize for Andres Iniesta or Xavi in the midfield.
Whatever starters that Vilanova decides, its always going to be Messi plus two unless Messi is rested or injured. It is extremely likely that David Villa will regain his berth in the starting lineup as he adds the lethal threat Barca had been missing somewhat in his absence. A recent argument with Messi in the 2-0 win over Granada set the alarm bells ringing, but the two celebrated together in the 3-2 success at Sevilla on Saturday and all appears back to normal. Tello offers an attractive alternative and Pedro can also switch over to the left if Sanchez starts too.
In conclusion, Vilanova is likely to continue to rotate his forwards as Barca attack on three fronts this term. But, despite the emergence of Tello and Cuenca, the arrival of Alexis and the possibility of starting Cesc or Iniesta in advanced roles, it is still Messi plus two. And the much-heralded MVP (Messi, Villa, Pedro), still looks like the best bet.
Barcelona have had a terrific start to the season as they lead the Spanish League table after seven rounds of matches. The consistency shown by their forwards, especially Messi and Pedro has been remarkable and extremely influential on their excellent start to the season both on a personal and the team's level.
Sanchez and Villa need to quickly retain form and fitness respectively as the season progresses and the squad's depth will be tested. As long as Messi is fit, there is no concern whatsoever but the other forwards must improve their performances to stake their claim on a starting berth.
Form:
Aerial Ability:
Finishing:
Overall:
(NB: Ratings based on only the performances of "out and out" strikers and not the supporting team.)
Do You Agree With Goal.com Ratings? Don't Forget Let Us Know About Your Views In The Comments Section..
How do you stay up with football when on the move? With
http://m.goal.com
–your best source for mobile coverage of the beautiful game.