Brendon Netto




Analysis

|

Premier League




Follow on

"GOALS win games" - a statement so true, it simplifies the objective of the sport like no other. Whether you elect to punt the ball forward or emulate the 'tiki taka' style of play, at the end of the day its the end product that counts. We, at Goal.com, have an obssession with goals and their importance as our name suggests. While doing our best not to over-complicate things with our infatuation with this partucluar aspect of the game, we will be presenting a statistical as well as tactical evaluation of all the top teams in Europe and will try to render a verdict on where these teams lie in the goal scoring department. Today, we analyse the fortunes in front of goal for a team which has been on the fast track to success. Manchester City are the champions of England and their richly assembled strike force has had a big part to play in achieving that.
Manchester City have endured a stuttering start to this season but that must be credited to their faulty defence rather than their ability in front of goal.
At home, the Citizens have averaged a respectable
2.16
goals per match, while they have managed
1.75
per game on the road. While their goal scoring statistics in the current campign are well in keeping with those of the past three seasons, their defensive record has crumbled significantly. At home, they have conceded an average of
1.5
goals per game while that figure rises to
1.75
away from home. The table below shows that City had a productive season in an attacking sense last year and going by their goal scoring form this time around, they haven't quite hit their stride yet but their goals are still compensating for their defensive frailties.
| | | | | | | |
| --- | --- | --- | --- | --- | --- | --- |
| Season | GS Home | GS Away | Home Avg. | Away Avg. | Total | Total Avg. |
| 2009-10 | 54 | 41 | 2.25 | 1.70 | 95 | 1.97 |
| 2010-11 | 58 | 35 | 2.06 | 1.25 | 93 | 1.57 |
| 2011-12 | 71 | 52 | 2.62 | 1.92 | 123 | 2.27 |
| Total | 183 | 128 | 2.23 | 1.62 | 311 | 1.93 |
It has been an incredible 17 games since the Premier League champions have last failed to get themselves on the score sheet and that was in their away game against Arsenal last season. That particular fact speaks volumes of their goal scoring ability.
Manchester City's mega-rich owners have graciously provided the funds for Roberto Mancini to assemble a phenomenal strike force capable of rivalling any other in Europe. The Blues have normally operated with two strikers up front in a 4-4-2 or 4-4-1-1 formation which are far more attacking than they may seem. The players on the flanks regularly tuck inside to create havoc in the final third while the full backs push forward down the outside to provide width and deliver crosses into the box. One of the two central midfielders also makes it a point to support the attack.
a>
Sergio Aguero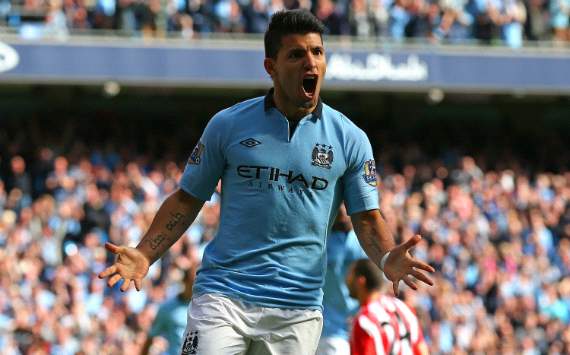 A year wise representation of Sergio Aguero's contribution, in terms of goals and assists, for Manchester City..
| | | | |
| --- | --- | --- | --- |
| Season | Apps | Goals | Assists |
| 2011-12 | 48 | 30 | 12 |
| 2012-13 | 4 | 2 | 0 |
| Total | 53 | 32 | 12 |
Key Figures -
1) Sergio Aguero scored 23 goals during last season's Premier League campaign which was his very first. His tally was only bettered by seasoned Premier League strikers Wayne Rooney (27) and Robin Van Persie (30).
2) Last season the Argentine averaged a goal every 115.3 minutes for Manchester City.
Even though Aguero has been in the blue half of Manchester for only a year, he has already etched his name into the club's history by scoring the dramatic late winner with virtually the final kick of last season's league campaign which won the Blues the title for the first time in 44 years.

The little Argentine possesses a good turn of pace, neat close control and mobility. He consistently turns defenders inside-out with his exceptional dribbling ability while regularly finding an end product to his mazy runs. His introduction meant that City did not have to be over reliant on Carlos Tevez anymore and the 24 year old proved to be a livewire up front all season long. His agility and movement makes it difficult for defenders to track him. The diminutive striker holds the title of being the club's most expensive purchase at a whopping £38 million.
Strengths - Dribbling, Movement, Finishing
Area Of Improvement - Aerial Ability, Hold up play
Recent Form - Unfortunately a knee injury in the opening game of this season has limited Aguero's appearances. However, the striker returned to action a month later and has scored twice in four games since and should be back to his best once he gets a good run of games.
b> Carlos Tevez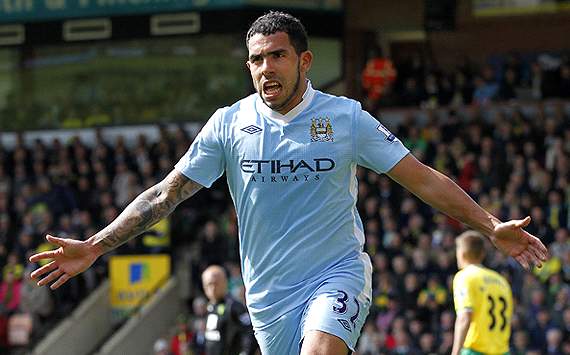 A year-wise representation of Carlos Tevez's contribution, in terms of goals and assists, for Manchester City..
| | | | |
| --- | --- | --- | --- |
| Season | Apps | Goals | Assists |
| 2009-10 | 42 | 29 | 7 |
| 2010-11 | 44 | 23 | 11 |
| 2011-12 | 15 | 4 | 3 |
| 2012-13 | 10 | 4 | 4 |
| Total | 111 | 60 | 25 |
Key Figures -


1) In his first two seasons at Manchester City, Carlos Tevez directly played a part in
37.23%
of the team's goals, scoring
52
goals and assisting
18
.
2) Since his return to the side in March this year following his fall-out with Mancini, Tevez has played
1307
minutes for the club scoring
8
goals and providing
6
assists. The striker has since either scored or assisted once every
93.3
minutes.
Before Sergio Aguero burst on to the screen, Carlos Tevez was very much City's go-to man. He was the joint top scorer in the Premier League in the 2010-11 season and was widely regarded as City's talisman. A falling out with the manager and the subsequent rise in form of other attacking players have seen Tevez's 'indespensable' status wane.

However his return to the side for the run-in last season coincided with the team delivering the decisive surge required to end the campaign as champions.
Tevez is the kind of player who is capable of the extraordinary. His work-rate is among the very best and he is most effective when dropping into the hole behind the more advanced striker. He is an intelligent player and links up with the midfield well to create openings. Being an accomplished dribbler by nature, comparisons with Aguero are often made.
Strengths - Creativity, Work rate, Dribbling
Area of Improvement - Aerial ability, Composure
Recent Form - Tevez has started this season well, scoring and assisting four times in his opening ten appearances. With Aguero getting injured in the first game, much of the responsibilty fell on the older Argentine to deliver and he has to good effect. He has looked a lot more lean and sharper this off late after losing some weight over the summer.
c> Edin Dzeko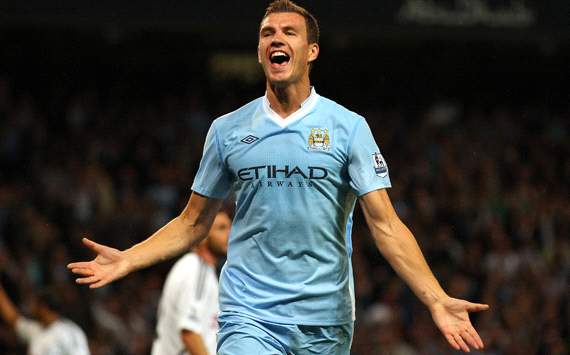 A year-wise representation of Edin Dzeko's contribution, in terms of goals and assists, for Manchester City..
| | | | |
| --- | --- | --- | --- |
| Season | Apps | Goals | Assists |
| 2010-11 | 21 | 6 | 3 |
| 2011-12 | 43 | 19 | 9 |
| 2012-13 | 10 | 4 | 1 |
| Total | 74 | 29 | 13 |
Key Figures -

1) Dzeko has been used as a substitute 30 times out of his 74 appearances for the club. The striker has scored 13 goals from the bench and averages a goal every 2.3 games he plays as a substitute.

2) 3 of the 4 goals he has scored this season have come as a substitute.
Edin Dzeko was a goal scoring machine at Wolfsburg and although his prowess in front of goal has slightly dwindled since his arrival in Manchester, he remains a significant threat to opposing defenders and Mancini can always count on the Bosnian international to put in a shift for the team and add a different dimension to the attack.
When Dzeko is included in the team, City possess a genuine aerial threat. With Aguero and Tevez being the preferred strike partneship at the moment, the attack loses the advantage in the air but Dzeko's inclusion makes them more competitive in that regard and offers them a diffent route to goal. He is competent while playing the role of the target man and does well to hold up play while still having the pace to get in behind the back line.
Strengths - Aerial ability, Strength, Consistency
Area of Improvement - Dribbling, Movement, Link-up play
Recent Form - Edin Dzeko has been in fine form at the start of this season. He may struggle to start games when Tevez and Aguero are both fit and available but the fact that he seems to score everytime he's summoned from the bench will do his chances no harm at all.
d> Mario Balotelli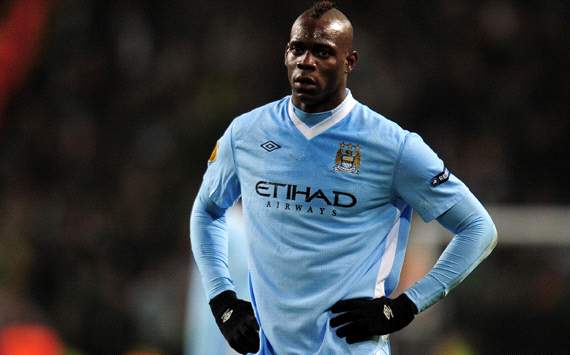 A year-wise representation of Mario Balotelli's contribution, in terms of goals and assists, for Manchester City..
| | | | |
| --- | --- | --- | --- |
| Season | Apps | Goals | Assists |
| 2010-11 | 28 | 10 | 3 |
| 2011-12 | 32 | 17 | 2 |
| 2012-13 | 8 | 2 | 1 |
| Total | 68 | 29 | 6 |
Key Figures -

1) In his time at City, Balotelli has had 139 shots while 49 were on target. That works up to a Shots on Goal % of 35.3.
If you had to sum up Mario Balotelli in a word it would most likely be, 'unpredictable'. The young Italian has bundles of natural talent but has always been an enigma. His eccentricity far exceeds his genius on the ball. When he does take to the playing field, everyone has learnt to simply expect the unexpected. He could either prove to be the match winnner or the villain in a sending off.
Mancini has always seemed perpetually infuriated with the striker's antics but is well aware of his phenomenal ability. Even though he may seem distant and uninterested for long periods of the game, it takes but a split second for him to spark into life and produce a moment of magic. He has a good turn of pace, he's very strong and he can unleash a stinging shot at goal. In spite of him being a liability at times, Manchester City seem to have benefited from the mercurial talent so far.
Strengths - Aerial Ability, Strength, Shooting, Clinical from Free-kicks and Penalties
Area of Improvement - Link-up play, Concentration, Work Rate
Recent Form - Balotelli hasn't played enough this term to make an impression yet but he did come on as a substitute in the Champions League encounter against Borussia Dortmund to score a decisive late penalty to salvage a draw and keep City's hopes of progressing from their group well and truly alive.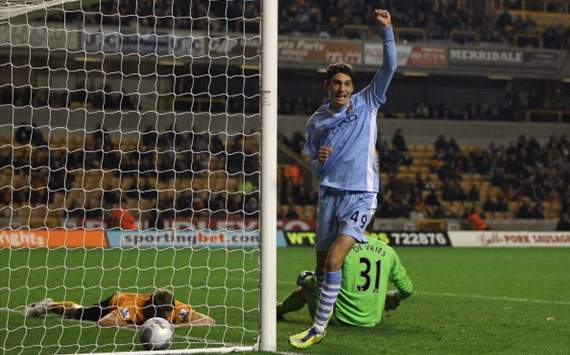 Luca Scapuzzi

With four quality senior strikers in the squad, there aren't too many opportunities for a youngster to get a look in. Luca Scapuzzi is a young Italian who plays as a striker or attacking midfielder. He has made only two appearances for the senior team both of which came in the League Cup last year. On his second outing he put on an impressive display, scoring a goal and assisting twice against Wolverhampton Wanderers.
The 21 year old is not blessed with blinding pace or an overpowering physique but he makes up for it in craft and guile. He is a technical player who is capable of linking up with others around him intelligently. The forward will be hoping to feature in this season's League Cup in a bid to enhance his reputation as a contender for a spot in the first team.
Manchester City may have a wealth of talent in the striking department but they are equally blessed with a plethora of creative ability in midfield. The star men have to be Samir Nasri, David Silva and Yaya Toure.
Silva has been a revelation ever since he burst on to the Premier League scene following his arrival from Valencia. He is the creative hub of the team in the final third and in Nasri, he has found an able partner in his endeavours to create goal scoring opportunities. Both players also have an eye for goal and chip in with their contributions. Yaya Toure is an absolute powerhouse in the center of midfield and is the driving force for Manchester City. He is equally competent in an attacking or defensive role. He is often given licence to push forward when the team is in search of a goal as his strength and pace gives him a significant advantage when powering through the opposition.
Samir Nasri

Yaya Toure

David Silva

Appearances: 47




Goals: 8


Assists: 11


Appearances: 102




Goals: 22


Assists: 21


Appearances: 112




Goals: 14


Assists: 39

1) David Silva made 15 assists last season, the most by any player in the Premier League.
2) Nasri and Silva came in 4th and 2nd respectively for key passes per game last season with the Spaniard registering a figure of 2.9 against the Frenchman's 2.5. Juan Mata took top spot with an average of 3 key passes per game. (Source: WhoScored.com)
3) Yaya Toure scored just 6 times in 117 appearances at Barcelona but has scored 22 goals for City in 102 appearances. This season, he has either scored or made an assist every 180 minutes.
The Preferred Combination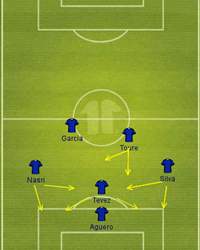 Roberto Mancini normally elects to play a 4-4-1-1 or 4-4-2 formation and above is the most preferred combination up front. Silva and Nasri start on the flanks but they drift inside regularly and almost play as attacking midfielders rather than right or left midfielders. They link up with the deep-lying striker, Carlos Tevez and the trio work together to unlock the defence.
Aguero makes intelligent runs and stretches the defence while Javi Garcia and Yaya Toure operate as the two central midfielders with the latter occasionally bombing forward to add more thrust to the attack. The ball is spread wide to the full-backs when the attack is in need of some width.
Manchester City certainly have a star-studded strike force and should never have to complain about lacking quality up front. Mancini has the luxury of rotating his strikers according to form and indeed strategy. Apart from Tevez, none of the other strikers have enjoyed a consistent run of starts in the team this season but despite that, they have all been in relatively good form. Balotelli has perhaps been the least involved but has shown that he is up to the task when he is called upon.
The quartet perhaps could do a little better as far as their finishing is concerned but the real problem lies at the back for City and if they can stabilize their defence, they will be able to replicate the dominating form they showed last season. There's no question that this attack will always yield goals.
Form: 3.5

Aerial Ability: 2.5
Finishing
:
3
Overall: 3
Do You Agree With Goal.com Ratings? Don't Forget Let Us Know About Your Views In The Comments Section..
How do you stay up with football when on the move? With http://m.goal.com –your best source for mobile coverage of the beautiful game.