Debjit Lahiri




Analysis

|

Spain




Follow on
Football is about goals and it is the goals that win you matches. Possession, shots, discipline, tackling or whatever be the aspect of the game one ponders upon; it all goes down the drain if you're unable to deliver the end product - The GOALS! Hence, it is imperative that one possesses a strong aggressive unit, if they are to harness any desire to achieve glories at the topmost level. A unit which would require the collective effort of the front-men as well as the ones supporting from the deeper areas of the pitch!So, we at Goal.com, will be presenting a statistical as well as tactical evaluation of all top teams in Europe and would try to draw a verdict on where exactly these teams lie in this particular aspect. Tonight, in our very first article of this series we look into one of Europe's biggest clubs and the reigning Spanish Champions Real Madrid.
Real Madrid has had an indifferent start to the season but it has been mostly because of their slightly leaky defense and other casual mistakes on the park. As for their attack, they have actually been doing pretty well.
At home, the Los Blancos have been averaging 3 goals per match, while away it ranges around 1.2 per game. Unfortunately, away from home, their goals conceded per match also points to the figure of 1.2(a jump from 0.89 over the past 3 seasons); thus suggesting to the fact that it is the defense more than the attack prowess that has been currently letting them down. However again having said that, although the goal-scoring average appears very impressive, their statistics over the past 3 seasons, have been even better.
2009-10

:
Home Average:
3.16
Away Average:
2.21
2010-11:
Home Average:
3.21
Away Average
: 2.16
2011-12:
Home Average:
3.68
Away Average:
2.68
Moving on, in the last 20 league matches, there has been only one instant where Real Madrid have failed to score and that was at Sevilla last month, while on 14 occasions they have managed to put 3 goals or more past the opponent!
There hasn't been any particular trend in their scoring pattern during the past 4 seasons, but what has been strikingly noticeable is that they generally have started the season well, easily notching up more than 20 goals in the first 3 months (August,September and October). This season, they currently stand on 14!
Jose Mourinho's attacking disposal primarily consists of Frenchman Karim Benzema and Argentine Gonzalo Higuain. However, with the Portuguese preferring a 4-2-3-1 formation, only one of the two have been able to manage a spot in the starting line up; being shuffled according to the nature of the opponent. The fact that both strikers have remarkably different style of play (will be discussed later), Mourinho has been able to use this versatility to do the same.
However, one must keep in mind, that a larger percentage of their goals comes from their illustrious attacking midfield, comprising of the likes of Cristiano Ronaldo, Mesut Ozil and Angel Di Maria. In fact, Ronaldo has been the leading scorer for Madrid in the past 3 seasons (scoring a massive chunk 120 league goals out of 349 in total), even leading the charts in La Liga this time around, with 8 goals, tied with Barcelona's Lionel Messi and Atletico Madrid's Radamel Falcao.
a)
Karim Benzema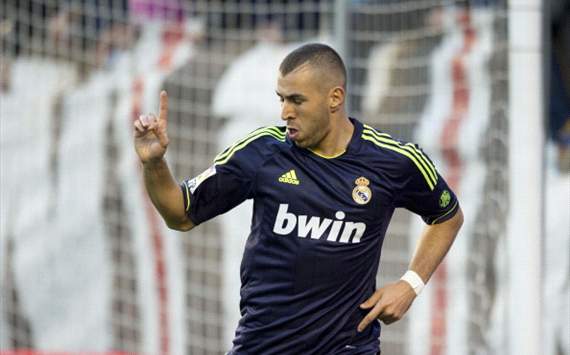 Year wise representation of Karim Benzema's contribution, in terms of goals and assists, for Real Madrid..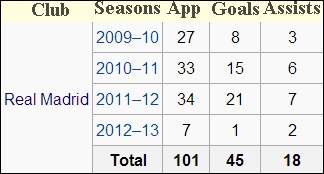 Key Figures -
1) Karim Benzema had raked in 21 goals in the La Liga last time around and was decidedly first choice for the Los Blancos. Of his 34 appearances in the La Liga 26 had been starts.
2) The Frenchman had 82 shots at goal during the 2010-11 season, with a shots per goal average of 5.4. The same however improved the following season with an average of approximately 4 shots per goal.
After a difficult start to his Real Madrid career, Karim Benzema revived his goal-scoring touch after the arrival of current manager Jose Mourinho, and thus one can see the gradual improvements in the statistics as the years have gone by. Initially, tipped as very talented but "not working" enough, Mourinho's arrival proved to be shot in the arm as it is now his very tireless work upfront that often earns him the nod ahead of Higuain.

Benzema possesses a quick turn of pace and the much needed agility. He often tracks back and does make himself available in the build up play along side the attacking trio playing behind him, thus allowing the likes of Ronaldo and Ozil to run down the channels and make a greater attacking impact. Not particularly known for his positioning sense, but Benzema has more than made up for it with his tireless work rate; one of the main reasons Mourinho prefers him during the crunch matches.
Strengths - Aerial ability, Work Rate, Agility
Area Of Improvement - Positioning sense, Finishing
b) Gonzalo Higuain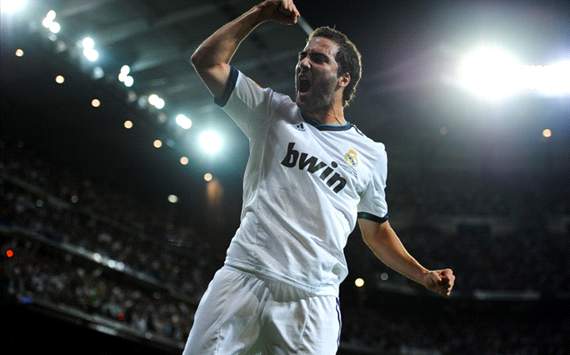 A Year-wise representation of Gonzalo Higuain's contribution, in terms of goals and assists, for Real Madrid..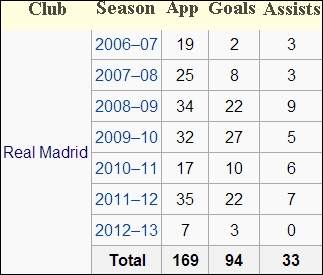 Key Figures -


1) Gonzalo Higuain had scored
22 goals
last season. What adds further significance to this number is that he had been mostly used off the bench, with only
18 starts out of his 35 appearances
.
2)
In the 2010-11 season, Higuain had taken 49 total shots at goal, averaging 4.9 shots per goal. The following season however, the shots per goal was reduced to approximately 2.4.
Gonzalo Higuain, in a lot of terms, is almost everything that Karim Benzema is not. He is a traditional goal poacher but he lacks the agility and movement of Benzema. However, he has a tremendous anticipation and would always be the first one to make that decisive run. He is perhaps a tad better finisher and is one person you can rely on to score the dirty goals from in and around the 6 yard area.

He thrives on crosses drilled into the box and restricts his movements at the periphery of the penalty area; and quite understandably you do not get to see too many of track-backs from him.

Higuain, unlike Benzema, did have a tremendous start to his career, even finishing the top scorer at Madrid during the 2009-10 season. A hernia surgery in early 2011 saw him miss a large chunk of playing time, and has since then not been at his sharpest. One of the reasons he has slightly gone down the pecking order.
Strengths - Anticipation, Finishing
Area of Improvement - Movement,Agility,Work Rate
Recent Form - Nothing much to write about, with Benzema managing only a solitary goal in his 7 appearances in the league so far. And he was rather erratic during his time at the El Clasico last week. Higuain, on the other hand, has been slightly better with 3 goals from same number of appearances; with all goals coming during the first 3 matches of the season.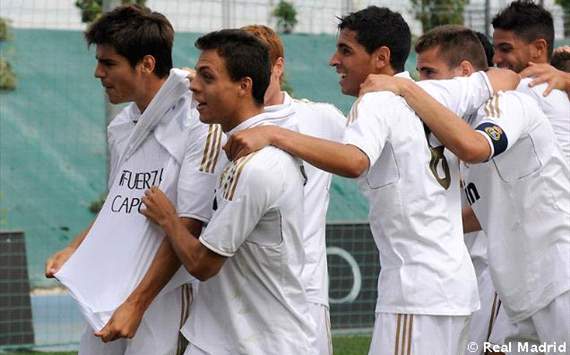 a) Álvaro Morata
The only other out and out striker in the Real Madrid first team roster is currently Alvaro Morata. Highly rated by the Spanish press, Mourinho is yet to put faith on the 19 year old, with him having made only 3 appearances so far in the senior team. He has, however, already raked up 34 goals in 60 odd appearances for the B side and played a pivotal role in Spain's victorious 2011 UEFA European Under-19 Football Championship campaign in Romania, finishing the top scorer in the tournament with 6 goals.

Apparently, the youngster is pretty good in the air and at holding up the ball, with clinical finishing ability and excellent movement. So much so that he has often drawn comparisons with former Real Madrid talisman Fernando Morientes. Thus in a way, and perhaps very much on theoretical grounds as of now, Morata's playing style comprises of the strengths of both Real Madrid's primary forwards - Higuain and Benzema. However, it's a different ball game all-together, to emulate and find one's feet in the big league, and one will have to wait to see how the youngster evolves. Mourinho, for one, hasn't yet been rushed; quite evidently suggesting to the fact that he feels the time isn't quite right to consider the forward 'ready'.
b) José María Callejón
Primarily a wide forward, Mourinho often employs him at a central role when he reverts his formation into a traditional 4-3-3. The 25 year old is a product of the Castilla but has plied his trade at Espanyol for 3 years, making him an experienced campaigner in the La Liga.
On his return to Real Madrid last season, he has been very much within the scheme of things, having notched up 29 appearances and scoring 5 times.
As mentioned earlier, a major chunk of Real Madrid goals come from the attacking trio behind the forward. The likes of Ronaldo, Di Maria and Mesut Ozil have proved a handful in front of goal and the forwards have thrived on their service. It is because of their exploits there hasn't been much pressure on the 'sometimes under-performing" centre forwards, as more often than not the illustrious trio have bailed them out.

If one goes slightly deeper into Madrid's midfield, it is difficult to ignore the role of Xabi Alonso, who has been a lynchpin in most Madrid moves; initiating the attacks and playing the simple balls for the attacking trio in-front to exploit and provide the killer touches; delivering the very crucial "second to final balls".
The Holy Trinity
Angel Di Maria
Mesut Ozil
Cristiano Ronaldo

Appearances: 65




Goals: 12




Assists: 29

Appearances: 78




Goals: 10




Assists: 35

Appearances: 79




Goals: 94




Assists: 13
1) Over the past two seasons, including the current campaign, Real Madrid has scored a total of 242 goals, with the trio contributing a massive 47.98% of it.
2) Out and out strikers (including Emmanuel Adebayor) over the same period, have contributed 77 goals, only 31.81% of the total goals scored. In fact, Ronaldo himself has managed more than that, 38.84% to be precise.
3) In last year's Champions League, Mesut Ozil had created a total of 25 chances - more than any other player, yet 17 players had more assists than him. Reason? Lacking the killer finish perhaps?
4) Not an striker, but it is Ronaldo once again who leads the number on shots on goal this season (6.4 per match) ! In the 2010-11 season, the figure was 7.4 per match for Ronaldo, while Benzema and Higuain accounted for a paltry 2.5 and 2.9 respectively. Same trend continued a season later as Ronaldo led with 6.2 while the duo managed 2.3 and 2.1 respectively.
5) Di Maria is second to Ozil in terms of key passes per game (2.1 to the German's 2.6) last season but his eye for a pinpoint through ball has proved far superior; an average of 0.9 is almost double Ozil's 0.5 and is the fourth most impressive average across Europe. (Source: WhoScored.com)

NB: Stats in this section are mostly based on La Liga appearances during the 2009-10, 2010-11 and the ongoing 2011-12 season.
The Possible Combinations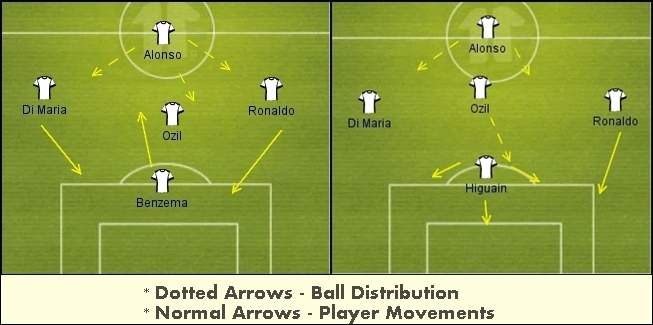 As discussed in earlier sections, Jose Mourinho generally shuffles with his two primary forwards, in his preferred 4-2-3-1 formation. Although apparently it looks the same system irrespective of the forward used, with Benzema there is a different dimension to the attacking setup. The Frenchman with his work-rate often tracks back and takes part in the build up play, allowing the likes of Di Maria and Ronaldo more space to move into the channels.
Higuain, on the other hand, will more or less restrict his movements in and around the penalty area, and will thrive on through balls from the attacking midfielders, especially Mesut Ozil.
It would be fair to say that Real Madrid does have a decent duo of front-men; but mind you only decent! Perhaps in no other team in the world, the forwards would be provided with such luxury of an "ideal" support system than in Real Madrid and possibly in that circumstance, one would like to see more goals from them.

Partly because of Mourinho's regular shuffling, which hasn't quite allowed either of the duo to settle in, and partly because of their own inconsistent finishing, Real Madrid can certainly afford to have a better end product to what they are managing now. More often than not, one feels the likes Ronaldo and Ozil are often burdened a tad too much for the want of goals at crunch situations and although they are more than living up to it, given the presence of a complete target man upfront, Madrid could provide an even more lethal brand of football.
Form:
Aerial Ability:
Finishing:
Overall:
(NB: Ratings based on only the performances of "out and out" strikers and not the supporting team.)
Do You Agree With Goal.com Ratings? Don't Forget Let Us Know About Your Views In The Comments Section..
How do you stay up with football when on the move? With http://m.goal.com –your best source for mobile coverage of the beautiful game.