Debjit Lahiri




Feature

|

Germany




Follow on
He was barely nineteen; but his remarkable authority over both legs was something that struck incredibly unusual for his young age. A sense of calmness dawned over his play; marked with the ruthless German efficiency, sharped and polished through flawless militarized discipline. Growing up in the historic town of Görlitz, in East Germany, Michael Ballack was quickly evolving into an illustrious but fast diminishing breed of hard-working midfield players; yet technically astute.
So, when the young starlet notched up his first professional contract with Chemnitzer FC in 1995, the German press was quick to pick up on him; naming him the "Little Kaiser", in reference to the legendary Franz Beckenbauer, who was famously nicknamed as "Der Kaiser". Little did they know then, he would end up being almost everything that Beckenbauer was not.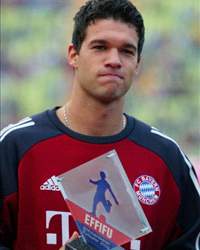 A couple of years later, Ballack was making inroads into the German U-21 setup. His tireless efforts, however, wouldn't be enough to stop his club being relegated to the multi-tiered, regional third division that very season. In the lower division, Ballack was slowly but steadily establishing himself as a top player, but his exploits would once again go fruitless as Chemnitz fell agonizingly short of sealing an immediate berth into the top flight.
The time had come for the next big step and when FC Kaiserslautern came calling, Ballack's moment with the big boys had finally come. He played his share with the new team, as they became the first-ever newly promoted team to lift the league title and by the following season, Ballack had registered himself as one of the side's leading players, orchestrating, Kaiserslautern's run to the quarterfinals of the Champions League.
A year later, Ballack had moved on to Bayer Leverkusen; where under the guidance of Christoph Daum and Klaus Toppmöller, he had a notable change in his style of play. Under their preferred systems, both felt it was better to employ Ballack in a more attacking role, and much to his credit, the young midfielder showed the resolve of seasoned campaigner, as he seemingly eased into the role, notching an impressive tally of 27 goals.
Meanwhile, he was now very much among the national scheme of things, even making the squad for Germany's Euro Cup campaign in 2000. In 2002, he would manage the same for the World Cup in Japan and South Korea, but would be arriving into the extravaganza at the back of a heart-breaking season at Leverkusen, where his side remarkably finished just one step short of winning the League, the German Cup as well as the big one - the Champions League. The script, however, seemed to be different this time around, or atleast for a while!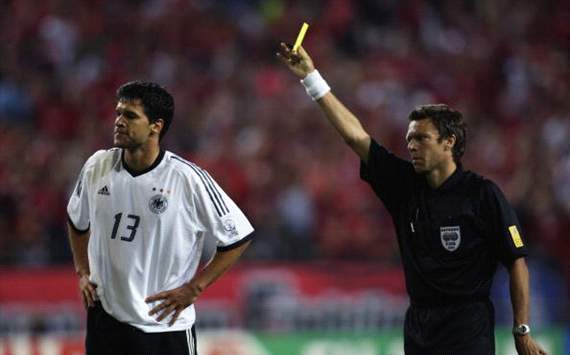 It was the perfect script for Ballack, well until....
Ballack scored twice in the knock-out rounds against United States and South Korea to lead Germany to the final. But a tactical foul in the semis against South Korea, would also see arguably one of the best players of the tournament, Ballack, suspended for the final. His team-mates, sans Ballack, couldn't find a way past the mighty Brazilians, as Germany slumped to a 2-0 defeat in the ultimate encounter.
He was left distraught and disappointed; but amidst that defeat, he had managed a slight tinch of glory - By now he had won over hundreds and thousands of fans and admirers across the world. His exploits in the World Cup caught the imaginations of many, and he was slowly turning into a global brand; an icon!
At the domestic level, Ballack made the move to rivals Bayern Munich, and despite enormous success at home, continental success always eluded him. Choking at the big moments were catching up with him more often than not, and his relationship soared with the club officials, including with Beckenbauer himself.
Following a disappointing Euro 2004 campaign, Jürgen Klinsmann replaced Rudi Völler at the helm of the national team and Ballack took over from Oliver Kahn as captain. Ballack was a natural leader, there wouldn't have been any better alternative filling into the big boots. Two years later, it was for the world to see as he inspired an unfancied German squad to a memorable run in the World Cup at their own backyard. Counted out by many before the tournament, the Germans displayed some delightful brand of football, while Ballack formed the backbone of the team; the core that kept the young talented bunch together.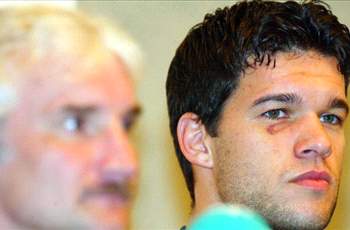 They brisked into the semi-finals until they ran into their old nemesis and eventual winners Italy. A third place finish was all they could manage; for Ballack, it was just not enough.
Yet about four decades back, there was someone who was following this familiar path. Franz Beckenbauer was a pivotal part of the team that had narrowly lost in the finals of the 1966 World Cup against England at the Old Wembley, before crashing out of the same tournament 4 years later; this time as a captain, and ironically against Italy in the semis (in a match they dubbed as the "match of the century"). But for all the pain and heart-break, he would eventually be rewarded, as West Germany would then go on to win the World Cup in 1974, beating the invincible Netharland team, led by Johan Cryuff.
Surely, Ballack would too have his time, or would he?
Following the 2006 World Cup, Ballack joined the blue revolution as he signed for cash rich Chelsea, in a quest to grab the ultimate club honour - the Champions League. At London, within months, he worked his way into an increasingly influential figure in the dressing room. While some credited it as the result of his leadership qualities; others found his growing presence a wee bit disturbing as one felt he was becoming too big a distraction in club's internal matters.
However, regardless of his off-field controversies, Ballack was one player who was as passionate as any one could be on the field. He never fulfilled his full potentials at Chelsea; and it would be a mistake to refer him as a "club legend", but it was for his determination and cent percent effort at the club, that made him an cult hero at Chelsea. Very few would achieve such a status, despite having not been at their best for a larger chunk of their time at the club. Ballack was able to manage just that!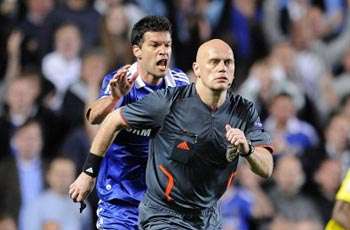 In an infamous night at Stamford Bridge, Michael Ballack, oozing with emotions, disgusted to have been robbed, chases down the referee. The EPIC run is still remembered by the Chelsea faithfuls as a mark of his passion for the club.
He won every bit of domestic silverware with Chelsea; narrowly missing out of the Champions League in 2008. During that run, he reverted back to a defensive outlook and formed an formidable partnership with Frank Lampard and Claudio Makelele in the Chelsea midfield; giving the team a massive lift in physicality. Months later, he would again finish runners up in the European Championships.
But there was still the scope for the final shot! A shot, which many believed, was to be his best.
By early 2010, a supremely exciting bunch of German players were evolving around Ballack in the national setup. The team was heading to the World Cup in South Africa as huge pre-tournament favourites and one felt for Ballack's sake that this was FINALLY it!
Yet, fate had something else written for him. For once "Beckenbauer's 1966 to 1974 fairy-tale script" was not to be repeated for Ballack; twitched at the most significant of times. A twitch that would make him everything that Beckenbaeur was not!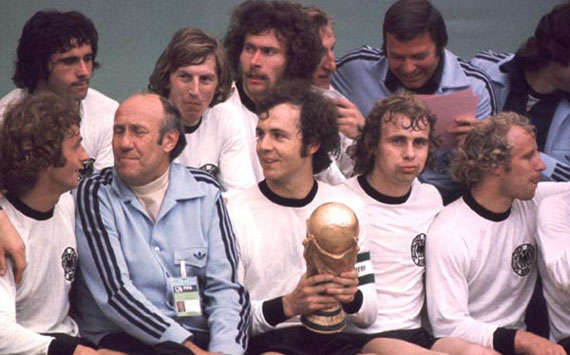 It was to be the climax of Ballack's tale; but the "Beckenbauer script" was twitched at the pivotal moment!
A month before the tournament, Ballack would be the victim of a freak injury, while playing in the FA Cup final for Chelsea against Portsmouth. With age catching up, the injury got the better off him and he would be eventually ruled out of the World Cup.
His coveted arm-band was handed over to his former Bayern Munich team-mate Phillip Lahm. And quite unceremoniously, after the World Cup, it wasn't to be returned, as the board, all of a sudden, found him as an liability.
Refusing to fall for the cowardly act of an
"farewell series offer"
by the board that would have also seen him reach the prestigious 100 national caps, Ballack decided to resurrect his career by returning to Leverkusen and shrug himself back into the reckoning. At a age of 34, the burning desire was astonishingly still there. It was at this point of his career, and not when he was controlling midfields at will, that one finally felt he was indeed something even more greater; something that makes him find his place among the league of the best and stamps himself as a undying fighter.
However, after two decades of wear and tear, his body was eventually giving up, and after a couple of years with Bayer, he was released by club and by now disowned by the national team. An incredibly talented lot had established their ways and Ballack was no longer needed; and sadly very much on footballing grounds itself. Perhaps, Germany deserved a leader of his stature, but now he was having to make way for a rejuvenated lot.
As the sun seemed to set on his footballing career, the great Beckenbauer would go on to relish his big "American Dream", donning the colours of New York Cosmos; getting an opportunity for a one final hurrah. Well for Ballack, perhaps almost fitting to his trend, even the final farewell would remain elusive.
When Ballack finally called it a day this Monday, he did so as one of the most iconic players of his generation; as one of the greatest German leaders of all time but also as an under-achiever marred with heart-breaks; loved and adored by the masses and thousands of fans; yet not so by the men who mattered at the top offices. At a time when he was probably still the most passionate, but perhaps not so much needed...
Going by the Christopher Nolan trilogy of Batman, it wouldn't be hard to draw a remarkably striking analogy --
While Beckenbauer's legacy is that of a "white hero"; a perfect role model with flawless exploits; an example of a fulfilled career; Ballack ends his as a 'Dark Knight'; as Germany's silent hero!
How do you stay up with football when on the move? With http://m.goal.com –your best source for mobile coverage of the beautiful game.