Kishen Patel




Analysis

|

La Liga




Follow on
The Spanish season is barely 6 games old and we have upon us the first league Clasico of the 2012-13 season. One of the biggest matches in Europe, the Clasico usually takes place somewhere in November but this time around its earlier to give one of the Spanish giants a reality check. Will it be a lesson for a struggling Madrid or will it be the Catalans who will be reminded of a certain shortcoming in the transfer market?
Real Madrid were smart in the transfer market as they snapped up Luka Modric and Michael Essien over the summer to reinforce the midfield. To be honest, it was really necessary to "update" the likes of Lass Diarra and Esteban Granero because they weren't Grade A material. A lot of people would agree to the fact that the Blancos didn't really need to add anything to their arsenal as they had a good, balanced and more importantly, a fit squad.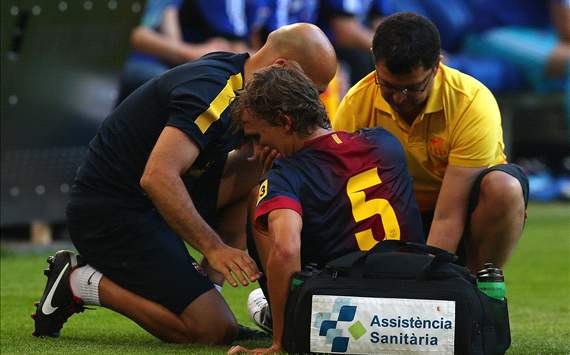 Plan A limps off...
On the other hand, Barcelona were expected to shore up their defense and bring in a central defender to provide cover for the injury prone Carles Puyol. Instead of reaching in their pockets, the Catalans reached out to their famous academy to provide them with a couple of players. It seemed as the right decision that time as the promising Marc Muniesa and Marc Bartra were promoted to the first team squad. A lot of hype surrounded Marc Muniesa as he was labeled to be an able and reliant cover for Pique and Puyol but the youngster tore his anterior cruciate ligament in a pre-season friendly against Hamburg and is currently out till February. Plan A rendered obsolete, what was Plan B?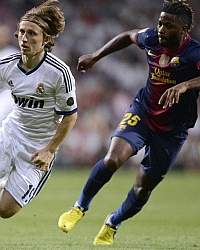 Plan B for Barcelona was signing one from the likes of Javi Martinez, Daniel Agger, Thiago Silva, Mats Hummels or Alberto Botia. Signing Silva or Hummels was rather a long shot so the Catalans focused their attention on fellow Spaniard, Javi Martinez. The Basque had been an influential presence for Bilbao in their ultimately unsuccessful but far reaching Europa League campaign and had been a consistent performer for Bielsa even when playing as a centre back. Martinez's versatility coupled with his familiarity with the tiki-taka style could have been an excellent signing for the Blaugrana but Bavarian giants, Bayern Munich was to be the Basque's final destination. Plan B rendered obsolete, what was Plan C?
The departure of Seydou Keita left an absence in the midfield so to plug in the gap at the back and in the centre, Barcelona signed Alex Song from Arsenal. Song usually played as a defensive midfielder when he started his career at Arsenal but slowly evolved as a central midfielder who was quite handy with assists. Although he has provided cover for Arsenal in defense, that is not his preferred or most comfortable position. Critics have pointed to the signing of a utility player like Song who, whilst a first-team regular at Arsenal, is unlikely to feature in a midfield that already boasts Xavi, Andres Iniesta and Cesc Fabregas, along with Busquets and Mascherano blocking Song's path to his position. Maybe now is Song's chance to make his name at Barcelona perhaps as a central defender.
PUYOL'S INJURY HISTORY SINCE 2011

Period
21/1/2011 to 15/4/2011
2/6/2011 to 15/8/2011
5/5/2012 to 20/6/2012
2/10/2012 to January'13?
Reason
Knee Problems
Anthroscopie
Knee Injury
Dislocated Elbow
Vilanova faces a conundrum in his rearguard, with both preferred centre backs Puyol and Pique out, he has converted Mascherano and Song into centre-backs with Busquets playing as the most defensive of the midfield trio. With the Clasico on the horizon, things aren't looking good for the Catalans. They might have gotten away with defensive frailties against weaker opponents but in Real they face one of the most dreaded attacks in the continent and Jose Mourinho would surely be looking to capilatize on Barcelona's misfortune.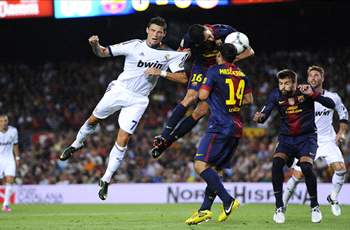 Mascherano and Song cannot provide the same assurance that was provided by Pique and Puyol. The Argentine was a big blunder in the return leg of the Spanish Super Cup at the Bernabeu and Alex Song is still to play against Madrid as a defender. With the Spanish duo out, Barcelona would be hopelessly exposed from set pieces as they have hardly anyone left to challenge the likes of Sergio Ramos, Pepe and Cristiano Ronaldo in aerial duels. Busquets? He was culpable for Ronaldo's opener in the first leg of the Super Cup. Barcelona still have a chance to win this encounter if they score more than they concede. With a certain Lionel Messi around, anything is possible but this will by far be the toughest Clasico for Barcelona in a couple of years. The good thing is they are playing at home and have an eight point cushion over their fierce rivals.
A lot is at stake over the weekend as Madrid will be looking to find their stride in La Liga again and what bigger occasion to prove themselves then beating Barcelona at the Camp Nou again. Will Barcelona's failure to sign a recognized centre-back in the transfer window come to haunt them or will the Catalans be on "Song" at the Nou Camp on Sunday night? By the end of the week, we may very well see a new leader of the La Liga since quite some time as Atletico Madrid would be hoping for a favour from their Madrid counterparts. If the Catalans lose and Atletico Madrid manages to beat high flying Malaga, the Rojiblancos will sit on top of the league table with 19 points.

How do you stay up to date with football when on the move? With http://m.goal.com – your best source for mobile coverage of the beautiful game.