"Sometimes in football you have to score goals."
Modest words coming from a person who has scored more than two hundred goals and is widely regarded as one of the greatest centre forward's to have graced a football pitch.
Thierry Henry was blessed with exceptional speed and skill. He could mesmerise the best of defenders, the biggest of crowds and would often leave opponents begging for mercy.
When the World Cup winner started his football career at A.S Monaco in 1994, a five year old named Theo Walcott was presumably kicking a football somewhere in the fields of Compton oblivious to the fact that eighteen years later he would compare himself to the great Frenchman.
The dire need for comparison has arisen due to recent comments made by Theo Walcott citing the reason for not signing a new contract with Arsenal wasn't money, but a desire to play as a striker.
"I want to be the next Thierry Henry", commented the 22 year old winger when asked about his future.
It is justifiable to have aspirations of emulating your childhood idol but backing those dreams with credibility is the real deal.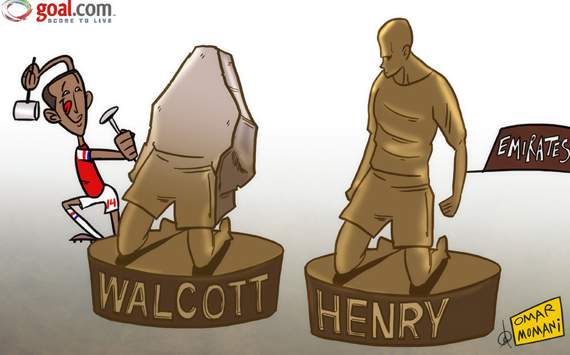 Can Walcott Emulate Thierry Henry's Legacy At Arsenal?...
Playing an out and out winger as a striker might seem impertinent to many but given the seamless transition made by his predecessor, a certain Thierry Henry from an average winger at Juventus scoring only thrice in sixteen matches to a sensational striker at Arsenal netting 228 goals in 377 matches, Walcott has plenty to fantasize about.
But in order to become a good striker, one needs certain mandatory qualities.
The greatest weapon in a striker's artillery is his first touch. Henry had one of the most immaculate first touches in world football. He could put the ball exactly where he wanted to at will. In Walcott's case, his first touch is inconsistent, ranging from brilliant to at times downright awful. He definitely needs a lot of improvement in that department to have the credentials of a good centre forward.
The next prerequisite to be a striker is pace and in this department Theo Walcott is almost in a league of his own. With scintillating pace, he is a handful for wing backs all over the world. When it comes to speed, Walcott can match the biggest names in world football including Henry. His pace makes him a more than a perfect fit for Arsenal's movement based style deployed by Arsene Wenger.
In the Premier League, sometimes speed is not enough. The physicality of the league makes it mandatory for strikers to have a strong build, especially lone strikers. With Wenger playing one upfront, Walcott would have to take that role, if he hopes to fulfil his dream of playing as a forward. Jermaine Defoe, this season for Tottenham, has already shown that clever movement and off the ball running is a more valuable virtue than mere strength. Walcott certainly lacks the strength of a conventional centre forward but he could make up for it with clever movement, if he has any!
A centre forward should have good aerial abilities. The likes of Didier Drogba and Peter Crouch have emphasised on the need of physicality and aerial strength in the league. This is though, not a term one would associate with Theo Walcott. He lacks any sort of presence in the box from set pieces and his heading ability is almost light years away from the man he hopes to emulate.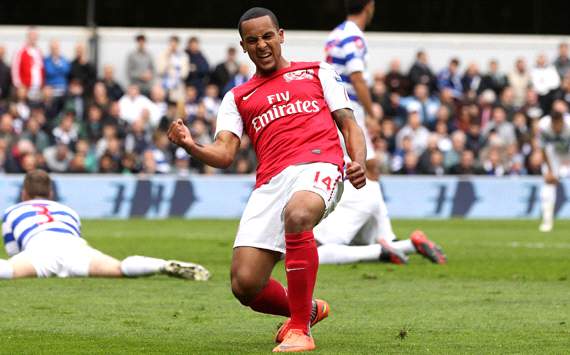 Is Walcott The Deadly Finisher That Arsenal Need?
A lot of the credit for the immense success of the Arsenal team of 2003 -04 goes to Thierry Henry but forgetting the contributions of the immensely creative midfield would be foolhardy. The creativity of Dennis Bergkamp, Robert Pires, Fredrik Ljungberg and the leadership of Patrick Vieira led that Arsenal team to be voted as the Premier League's best ever team.
By the successful signings of a similar brand of players in the current season, Wenger has hopefully laid the foundation to recreate the 'Invincibles'. Mikel Arteta, Santi Carzola, Abou Diaby, the returning Jack Wilshere and the mercurial Alex Oxlade-Chamberlian have certainly got the credentials to emulate the greats. They could definitely provide Theo Walcott with support equivalent to the service Henry received.
Over the years, Walcott's finishing and final delivery of a cross has been criticised heavily and often termed as errant and 'just not good enough'. Although recent statistics show that his scoring rate has improved. 13 goals in the 2010 season and 11 goals in the following season, along with goals in Euro 2012 and one against Southampton in the 6-1 mauling clearly indicates an improvement in his scoring abilities.
In total, he has scored 45 goals for Arsenal, which is quite a useful tally for a winger. If played as a striker, Walcott's need to cross the ball would no longer exist and thus instead of giving the ball away with an errant cross he could score, being on the end of a good cross from one his team-mates.
By far the biggest quandary that Theo Walcott will face in his quest of becoming Arsenal striker is instantly replicating the miraculous feats of his predecessor Robin Van Persie. To replace someone who had scored such a chunk of the team's goals in the previous season is a mammoth task and can overwhelm many. If Walcott fails initially in his attempt to replace Van Persie, the pertinent question that would arise is whether Arsene Wenger will have the patience or the faith to continue playing the English international for a sustained period of time as a centre forward.
Although the fact of the matter remains that with Wenger devoid of striking options with an inconsistent Gervinho and a misfiring Giroud, the decision to play Walcott as a striker might just be another one of the Frenchman's unintentional masterstrokes .
Thus we can summarize that with a lot of improvement Theo Walcott can certainly replicate some of Henry's feats but for that to happen he needs to sign a new contract soon or else in the January transfer window he might well be sold off by Wenger.
And yes, an advice for Walcott: If he thinks that by wearing the same jersey number as Henry would help him become a legend at the Emirates, he is mistaken for sure!
How do you stay up with football when on the move? With http://m.goal.com –your best source for mobile coverage of the beautiful game.