Akarsh Sharma




Analysis

|

Premier League




Follow on
A key aspect of Rodgers' philosophy is continuity – the benefits of which he wished to exploit through his team selection on Saturday. It would be unjust to say that the stunning win against Norwich was entirely a result of the events spanning those ninety minutes at Carrow Road.
Three days prior to this league meeting, a relatively young Liverpool side that was carrying the mantle of being defending champions in the League Cup fell behind at The Hawthorns – a place where the seniors were thumped on opening day. Instead of letting their heads drop, the players dug in, maintained their discipline and scored twice to complete a come-from-behind triumph. For a team whose scoring woes have been well documented, that was an impressive achievement.
All of a sudden, Liverpool went into their next league match not at the back of an upsetting home defeat to United but inspired by a difficult away win in mid-week. A breath of fresh air and optimism flowed through the club as the young brigade left supporters rubbing their hands in anticipation.
On the back of performances at The Hawthorns, Andre Wisdom, Suso and Nuri Sahin were given starts on Saturday. With Joe Allen and Raheem Sterling in the line-up as well, the starting eleven was notably a Brendan Rodgers team – wherein the previous manager's underperforming regulars were absent and faith was placed in players that fit the style better irrespective of experience, age or transfer value.
Suso, primarily a central midfielder, was deployed on the right flank. He is a classic Spanish midfielder who has the technical ability and intelligence to adapt his game to virtually any position. Nuri Sahin began at the top of the midfield trio but often switched with Steven Gerrard to play in a deeper role. Andre Wisdom was very solid in his customary right-back role, allowing Glen Johnson to continue at left-back.
The performance at Carrow Road was loaded with positives, seamless cohesion between the front six being the biggest of them.
The protagonist, however, was Luis Suarez who, aided by a fluent midfield, completely ran the show in the first half in a near flawless performance. The Uruguayan was virtually playing dual roles, that of a striker and a playmaker, dropping ever so deep to collect the ball. He linked up with midfielders and forwards by roaming all over the pitch. He popped up on either channel making it near impossible for Norwich defenders to stick to a definite game plan to counter him.
Suarez was denied a clear penalty when fouled in the box by Leon Barnett which the Canaries crowd naturally adjudged to be a dive; kicking off a personal duel with the Carrow Road faithful. But such was his brilliance that by the second half, even the spectators had stopped booing him, quite possibly out of respect.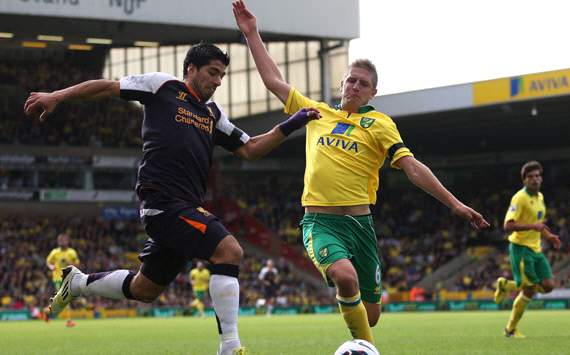 Suarez troubling Michael Turner
Most importantly, he finished off three of his chances in uncharacteristically clinical fashion which made you wonder why he doesn't do it more often. As Rodgers aptly put it – "It was a masterclass in finishing." Michael Turner, who was replacing an injured Bassong in Norwich's central defence, in particular was given a torrid time by the Liverpool striker. After Suarez' opener in the first minute, Norwich never really had a look in.
Yes, it was Norwich – the only team to have a worse chance conversion rate than Liverpool and a team that had won only one of their last ten Premier League encounters – but the performance was so dominant that you'd be silly not to give it due praise. Last season, Liverpool had triumphed at the same venue fuelled by a similar Suarez hat-trick. But the way Liverpool stamped their authority using Rodgers' doctrine in this match reached an altogether different level of dominance.
Liverpool hogged a massive 67.1% possession away from home and attempted over 700 passes – the most in Liverpool's league history, according to statisticians – at an accuracy of 90.1%. Rodgers had talked about 'death (of opponents) by (passing) football' and this was it. Last season, Dalglish's side attempted 568 passes at an accuracy of less than 80% and also conceded 12% more possession to Norwich.
Liverpool's midfield trio was the same one that started against Arsenal but with a tactical tweak. Rodgers has realized that he needs his skipper to see the ball more often. Gerrard started his third game in a row in a deeper role alongside Allen, while Sahin (like Shelvey before him) played a more attacking role. The fluidity in Liverpool's play was wonderfully impressive with Gerrard and Allen taking turns in dropping deep to collect the ball out of defence and Gerrard and Sahin taking turns to move forward.
With a double in mid-week, Sahin's tail was up and confidence was flowing. You could finally see glimpses of a player that was crowned the best in Germany a couple of seasons ago. Exquisite ball control, little flick passes, creation of chances, wonderful vision and arriving late in the box – all the characteristics which Liverpool have been crying out for were there to be seen.
Many questions had previously been raised on whether Gerrard will be able to curtail his love for long balls (he completed most by an outfield player, 10 out of 13 attempted) but long balls are also a key part in Rodgers' game; used when either switching flanks after sucking the opposition in a corner or releasing a forward behind the opposition defence after sucking them into moving higher up the pitch. Raheem Sterling and Luis Suarez were recipients of such long balls and it was a clear tactic.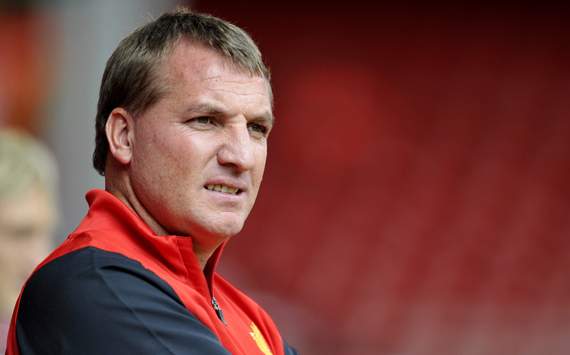 The plan falling into place for Rodgers
Sterling was often seen playing through the centre when Suarez was elsewhere. Both Liverpool's flanks were set up to cut inside and leave space for the full-backs to exploit (Johnson more than Wisdom). Sterling had a relatively quiet game by his recent standards, only because Liverpool clicked into gear, were better balanced and didn't require his services all the time. Both Suso and Sterling were much involved in the 'tiki-taka' style on display and you sense that they'll soon be regulars in the side.
Even Daniel Agger, who has repeatedly given his approval to such style of play, seemed to be enjoying himself, carrying the ball forward into threatening positions and attempting a fancy skill or two when he was moved to left-back after the introduction of Jamie Carragher. Agger would've had a well-crafted assist in the first half had it not been for a woeful finish by Suarez.
Unfortunately for Liverpool, no game has passed without individual errors and two horrendous ones gifted Norwich a couple of goals. The defending, in general, was relatively sound throughout the match. Norwich's crosses are the team's main threat but Liverpool's defence, barring a couple of nervous moments in the penalty area, dealt with them comfortably. But then again, when you've kept the ball for two-thirds of the time, you'd expect minimal danger. So, to still concede two goals is a major cause for concern.
Reina's mishandling gifted Norwich the first and schoolboy misjudgment on Skrtel's part gave Norwich their second. These errors are piling up the pressure on the rest of the team, particularly the forward line, who now go into the match knowing that at least two goals are required to counter the average number of individual errors made in defence per game.
After tough and demoralizing opening fixtures though, to show such poise in a virtual must-win game was incredibly heartening from the Reds' perspective.
Only four days ago, Liverpool were looking down the barrel at West Brom. That's when the youngsters gathered speed for the seniors to take off a few days later.
Brendan Rodgers' first league win was made in The Hawthorns and finished off at Carrow Road. It wasn't just a team effort, but a squad one.
Do you agree that the younger faces are the inspiration behind Liverpool's first league win? Discuss with Akarsh on twitter or in the comments section below.
How do you stay up to date with football when on the move? With http://m.goal.com – your best source for mobile coverage of the beautiful game.