With Sir Alex edging closer to retirement, he has identified two managers in particular to succeed him and one of them is Guardiola. We discuss the pros and cons of hiring Pep..
Brendon Netto

Analysis | England

Follow on
Goal.com exclusively reported that Sir Alex Ferguson ranks Pep Guardiola and Jose Mourinho as the two managers who, in his mind, are capable of succeeding him as manager of Manchester United. Both candidates would be impressive replacements but each comes with their pros and cons as well. Having already discussed Mourinho's claim to the Manchester United throne, we now move on to Pep Guardiola…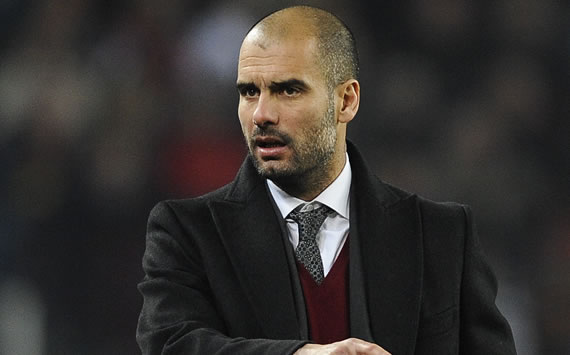 The Beginning:
Pep Guardiola was put in charge of the FC Barcelona B team in 2007. He achieved promotion with the help of his assistant, Tito Vilanova. He was subsequently made manager of the first team for the start of the 2008-09 season as Frank Rijkaard vacated the position.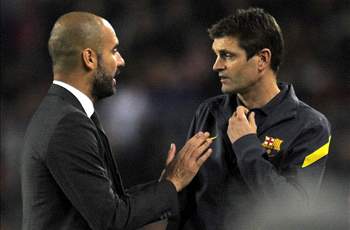 He achieved promotion with the 'B' team with Tito Vilanova at his side

The former Barcelona midfielder made wholesale changes to the personnel in an attempt to freshen up and rejuvenate the squad. Established players like Ronaldinho, Deco, Gianluca Zambrotta and Oleguer were all deemed surplus to requirements and their transfers were sanctioned. He recruited key players like Dani Alves and Gerard Pique while promoting Sergio Busquets and Pedro Rodriguez to the first team squad.
Credentials:
In his four years at the helm for Barcelona, he has won 14 trophies to earn the title of being the club's most successful manager while maintaining a 72.47% win rate. In his first season, he delivered the treble and became the youngest manager to win the Champions League. The Catalans retained the La Liga title in his second season in charge and had established themselves as the best team in the world.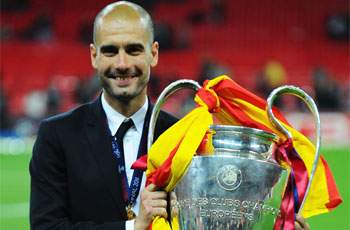 He won the Champions League at the age of 38

The following season, he led Barcelona to their third consecutive La Liga title and beat Manchester United in the finals of the Champions League once again. However, on the domestic front he was challenged by a determined Jose Mourinho and a replenished Madrid team. Although they held them off in the league, Los Blancos got the better of them in the finals of the Copa del Rey to lift the trophy.
His fourth and final season in his tenure with the club proved to be his least successful. Jose Mourinho and his troops had finally outdone Barcelona in the league and the La Liga title headed to the Bernabeu. A stubborn Chelsea side thwarted them in their attempts to reach the Champions League final and Pep's side had to settle for the Copa del Rey trophy, UEFA Super Cup and the Club World Cup titles.
Personality:
Guardiola has always been a winner and a good one at that. He is repectful in victory and gracious in defeat. He distances himself from verbal battles or mind games with opposing managers and prefers to get down to business.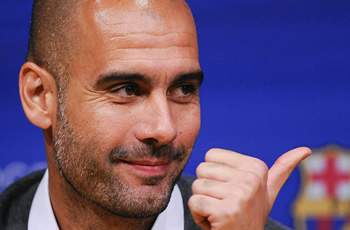 His conduct is impeccable

He maintains a proper demeanour and his behaviour on the touchline is far from the erratic and unpredictable nature of Mourinho's. His flawless conduct is an example to his players.
Why he could work:
Having been an accomplished professional footballer himself for over a decade with Barcelona and the Spanish national team, he immediately commands the respect of his players. They find it easy to relate to him since he has gone through everything that they encounter themselves. The fact that he is only 41 years old, enables the players to feel more connected to him and accept him as part of the group while respecting him for his accomplishments and experience.
He has a strong desire to succeed while also remaining true to his philosophy. He enjoys playing attacking football centered around a neat passing game and he strives to implement that system into his team. He wants to play an attractive brand of football and will settle for no less. What makes him a great manager is that he couples the attractive play with positive results.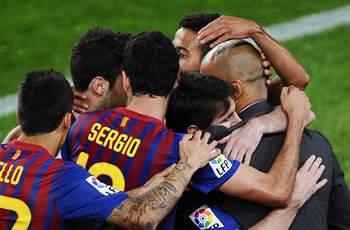 He maintains a great relationship with the players

He is tactically proficient. Following his employment as manager of Barcelona, the side became more disciplined and focussed heavily on possession. He introduced an agressive style of pressing high up the pitch that forced opponents to succumb to the pressure and surrender possession. The defensive line was shifted to a much higher position and the full-backs were encouraged to bomb forward to support the attack. Last season, he demonstrated his side's flexibility by employing a 3-4-3 formation on numerours occasions.
One of the things that Sir Alex has done incredibly well is to maintain a hunger and desire in his players that is never satisfied. Players like Paul Scholes and Ryan Giggs have won an amazing number of medals between them but they continue to strive to achieve more. Guardiola kept his Barcelona clan hungry for more as well. He won everything in his first season in charge but his side refused to fade away thereafter. Regardless of the silverware that kept coming their way, they kept plugging away to achieve more.
He is an ardent supporter the youth system and always looks to promote from within; something that Sir Alex and United in general have done so well in the past. The successes of Sergio Busquets, Pedro, Tello and Thiago Alcantara stand testament to his faith in youth.
He is an admirer of Sir Alex and Manchester United as a club and would understand the importance of the job. He would be able to relate to the ethos of the club and perhaps build on it by implementing a more successful style of play while maintaining the core values of playing an attacking brand of football.
Shortcomings:
The most obvious doubt in hiring the Spaniard would be his ability to embrace the longevity that the job demands. United will not be looking for a mere 4-year stint but for someone to take up the mantle for at least the next decade. Guardiola admitted to being drained from his commitments with Barcelona at the end of last season after a gruelling but successful 4-year term. His sabbatical has definitely raised doubts over his ability to cope with the demands of being the boss at United where he may find it even harder considering the global impact of the club and the unrelenting eye of the British media with which he would have to deal with.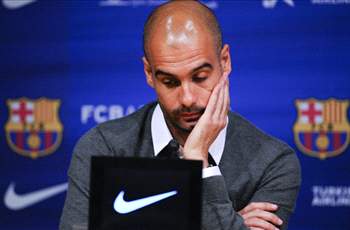 He was left drained after just four years with Barcelona

Sir Alex has operated on a budget far less extravagant than the ones available to the managers at Chelsea or Manchester City in recent times. Although Guardiola has done well to promote from within, he has spent heavily in the transfer market. The acquisition of Zlatan Ibrahimovic is one that immediately comes to mind. The deal was largely considered a failed experiment as the Swede never truly embraced the style of play at Barcelona and inevitably struggled to fit into their system.
Ibrahim Afellay is another player who did not blend in well at the Camp Nou. Alexis Sanchez, Cesc Fabregas, David Villa and Javier Mascherano have all been successful in Catalonia but all of those deals had hefty price tags attached to them.
Guardiola prefers a system where his players have to keep the ball, something which the La Masia graduates could adapt easily as it was very much part of their DNA. At United and most English clubs, that isn't really the case and hence it would take time for them to get used to the tactics he employs. Also at Barcelona he had the luxury of a wealth of talent coming through their youth team which isn't really the case at United lately.
The fact that he hasn't managed a club apart from Barcelona has raised doubts in the minds of cynics that whether he is equipped to succeed with other teams too as other teams wouldn't have the talent pool available that he had at Catalanya.
Conclusion:
Pep Guardiola's desire to win and passion for the game goes unquestioned but his ability to sustain that state of mind over a lengthy period remains a doubt. His philosophy and methodology would definitely be an asset to the club and would be in keeping with their values.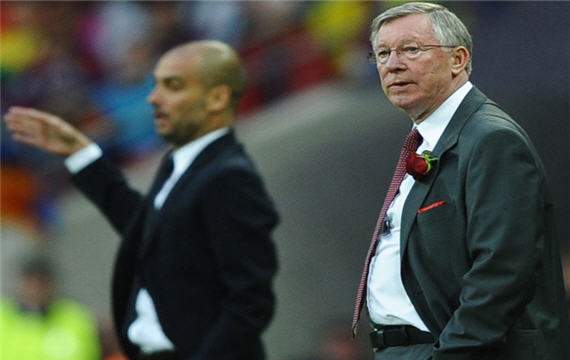 Guardiola would fit in well with the club's values

Guardiola could definitely be entrusted with promoting the image of the club with the poise and dignity with which Sir Alex has upheld Manchester United's name for over a quarter of a century. He would be the perfect candidate to not only operate under the current ideology of the club but to also take it a step further.
Appointing Guardiola would not only ensure success in trophies but also the promise of conducting the club in a manner that is dignified and admirable. He is not one to hog the limelight and always gives credit to the players and the backroom staff. Apart from the lack of a guarantee to fill the seat for the forseeable future, Guardiola is probably the most equipped candidate to replace Sir Alex.
But whether he has the temperament and longevity to stay on at the job is something does raise a few doubts. For now, we just have to wait and watch!
How do you stay up with football when on the move? With http://m.goal.com –your best source for mobile coverage of the beautiful game.