ANALYSIS
By Brendon Netto
Goal.com exclusively reported that Sir Alex Ferguson ranks Pep Guardiola and Jose Mourinho as the two managers who, in his mind, are capable of succeeding him as manager of Manchester United. Both candidates would be impressive replacements but each comes with their pros and cons as well. First, we discuss Jose Mourinho's claim to the Manchester United throne…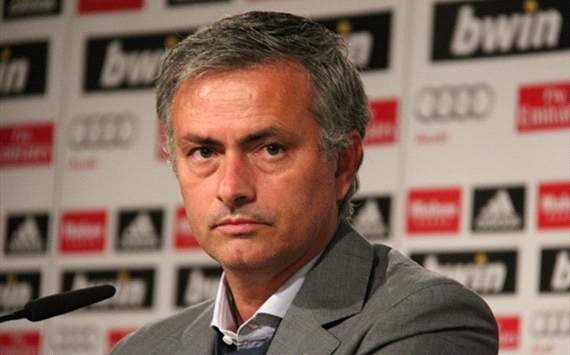 The Beginning:
Jose Mourinho has been one of the most diligent students of the game. He got his big break in top-flight football when he took up a job as an interpreter for Sir Bobby Robson at Sporting Lisbon. He began discussing tactics with the legendary manager and even followed him to FC Porto and then to Barcelona two years later. The duo's different coaching styles complemented each other and brought success to the Catalan club but when Sir Bobby moved away from the Nou Camp, Mourinho stayed to work under Louis Van Gaal.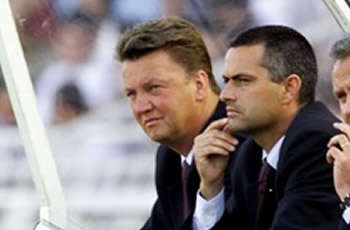 Louis Van Gaal was one of Mourinho's mentors
The Dutchman immediately identified the promise the Portuguese showed as a tactician and put him in charge of the Barcelona 'B' side and even allowed him to take charge of the first team for certain tournaments. Later, Mourinho set off on an amazing career path that saw him manage the likes of Benfica, FC Porto, Chelsea, Inter Milan and his current club Real Madrid.
Credentials:
Mourinho has an exceptional record and has proved himself in different leagues. He has assembled a phenomenal CV that is unparalleled to anyone else's in regard to the number of clubs he has achieved success with and in such a short time. 'The Special One' has won it all during his remarkable career that isn't likely to come to an end any time soon.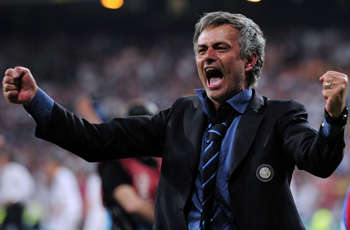 Mourinho won the Champions League in his second season with Inter
His Champions League success with FC Porto remains one of the shock results in club football. His dominance of the English league with Chelsea transformed the fortunes of the club where he got the better of Sir Alex. He substantiated his claim as one of the best coaches in the world when he pulled off a treble-winning season with Inter Milan in just his second year in charge. With that treble victory, he became one of only three managers to win the Champions League with two different clubs.
His appointment at Real Madrid has seen the Spanish giants compete once again with Barcelona who had undisputedly dominated proceedings prior to his arrival. He delivered silverware in his first season by defeating the Catalans in the Copa del Rey final. He pulled of the unthinkable in the following season as he led Los Blancos to their first La Liga title in four years. He also guided them to the semi-finals of the Champions League where they were eliminated by Bayern Munich in a penalty shootout.
Personality:
Mourinho has the mentality of a winner. His ego and arrogance may not be endearing qualities but it's what makes him a phenomenal manager. His desire to win takes precedence over everything else.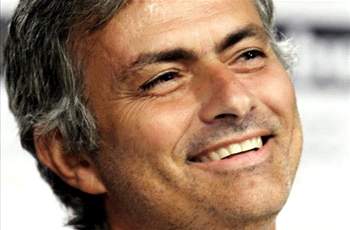 His eccentricity is well documented
His big personality and eccentric behaviour keeps the press focussed on him and relieves the pressure from his players. The team is focussed on winning games while he steers the media away from them. His press conferences are always entertaining and the British media took to him immediately and would be delighted to see him back in the Premier League.
Why he could work:
Even though Mourinho never played top-flight football, he commands the respect of his players. His commitment in training and the results on the pitch win him the trust of his troops. His man management skills are exceptional as every player who played under him testifies to the attention he gives to every member of the squad.
He has an insatiable desire to be the best. His philosophy is simple – win. He does not abide by the laws of a possession-based game or a strict defensive approach. He is not stubborn in the way he wants to play football, he only insists on winning. He's prepared to have only 25% of possession against Barcelona if it enables victory. He is flexible with his tactics and will deploy the ones that give his team the best chance to emerge victorious.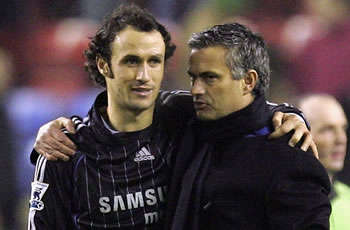 His man mangement has always been top-notch
As far as his coaching methods go, a Jose Mourinho team is always well prepared and drilled to perfection. At Chelsea he adopted a pragmatic approach as he worked extensively on their organization and work-rate that made them very difficult to beat. He coached them into being a side that wouldn't let a lead slip very often and made them invincible on their home ground. His team mastered the art of closing out games and invariably won games by one or two goals.
There is no manager in club football who is more proven than the Portuguese tactician. He guarantees results every time he accepts a job and he always delivers. If Manchester United are desperate to keep winning trophies without breaking a stride, appointing Mourinho is a sure shot way to do just that.
He has repeatedly stated his desire to return to England for the long-haul once he leaves Madrid and is already touted as a favourite to succeed Sir Alex with whom he enjoys a good relationship built on mutual respect. He has made no secret of his admiration of Manchester United and the incredible history of the club.
Shortcomings:
Although appointing the current Real Madrid boss would instantly yield results, his ability to sustain that success at one club remains a doubt. Mourinho has never spent more than three seasons at a single club and a long-term commitment would be a priority for United.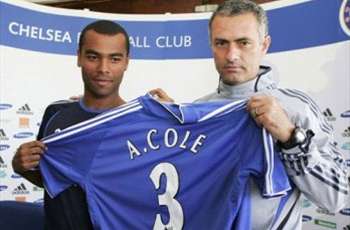 He is known to spend big
Sir Alex has operated on a budget far less extravagant than the ones available to the managers at Chelsea or Manchester City in recent times. Although Mourinho did well with a limited budget at Porto, he has spent heavily during his stints at Chelsea, Inter Milan and Real Madrid. The United board and owners may not be forthcoming in giving him the funds he normally requires to assemble a formidable side.
Manchester United pride themselves on their values and traditions but Mourinho may not be the man to fit into the club's ethos which remains an integral part of their identity. The club have always believed in promoting youth while the Portuguese has never given the impression of a manager who offers young players many opportunities. He normally goes about recruiting talent instead of promoting from within.
Conclusion:
To manage a club of Manchester United's stature, you have to understand what a privilege it is to not only take up the mantle but also to follow a class act like Sir Alex. Appointing Mourinho may be a bit of a gamble because although he would relish the challenge of succeeding Ferguson, he may not be the ideal candidate to truly comprehend the enormity of the job and the responsibilities that go with it.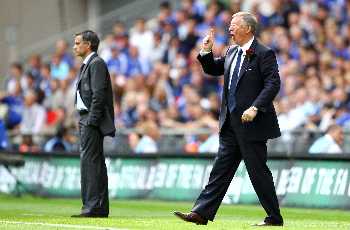 It would be a challenge for Jose to rise the club's high standards
Sir Alex is a global brand ambassador for Manchester United and has been for 26 years. There is a level of dignity that the job demands and Mourinho's antics and controversial comments may not reflect well on the club's image. He certainly has the passion and drive to be successful at United but embracing the essence of the club and the responsibilities of the post may be slightly out of his reach.
But appointing Mourinho shall definetely guarantee Manchester United sporting success which after all aids the club financially and increases the fan base. No two individuals are similar and Mourinho may bring his own personality to the job. The fact that Sir Alex admires Mourinho's tactical acumen and respects the Portuguese, speaks volumes of his ability.
How do you stay up with football when on the move? With http://m.goal.com –your best source for mobile coverage of the beautiful game.