It does no good to keep dwelling on the past in football. Arsenal and Chelsea needed to look beyond their departed strikers and they have. But how well?
Arkaprabha Chakraborty

Analysis | Premier League

Follow on
At the end of May when Drogba lifted for Chelsea 'Ole Big Ears', the Champions League trophy and Robin van Persie won the Premier League Golden Boot with Arsenal, the fans sat back in contentment. They wished and believed that those moments would be frozen in time and those strikers would be frozen in time at the clubs. One could not imagine them in any other colours, kissing any other crests. Well, in the middle of August their colours may have remained the same but the crests have been irreversibly altered. A hero's exit for one, a perceived betrayal by the other. Shanghai for one and Manchester for the other.
After the torrents of tears and abuses flowed, we need to get back on the matter at hand. Football. It's not a game that stands still. Therefore it is not one where the club can sit and dwell on dreams of times past. And so Chelsea must look to life beyond Drogba as Arsenal must beyond van Persie. A new identity must be found for both these clubs and so a-shopping they did go. Chelsea were extensive buyers this summer while Arsenal didn't do too badly for themselves either. With highlights such as Eden Hazard, Oscar and Victor Moses to name pitifully few for Chelsea and Olivier Giroud, Lukas Podolski and Santi Cazorla at North London, we can see that the focus on both teams was firmly on attack.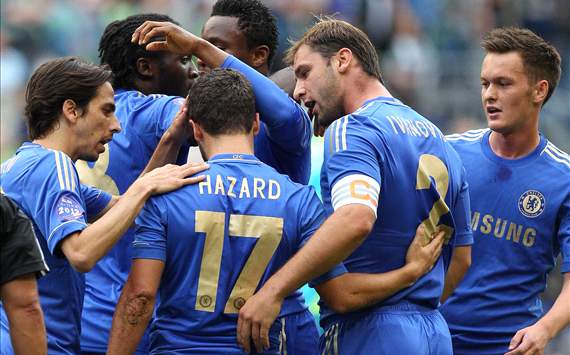 Refurbished|
Chelsea are going for new look and new playing style
But it is really easy to upset a team when you make too many changes to an established order. Both these clubs do therefore require to maintain a delicate balance between what was, what is and what will be. And so, 5 games into the season and about to face each other this Saturday, how well have these new teams of this new era gelled together? How are they performing as a unit? Can everyone play together? Where are the chinks in their respective armours?
To answer the first two questions, the answer is very, very well for both teams. Eden Hazard has lit up the Premier League with his virtuoso yet unselfish displays and there is yet to be found an attacker to be labelled 'not good enough' in the Chelsea squad. Everyone from Romeu to Ramires seems to be able to score or assist in the final third. Juan Mata has allayed all fears of second season syndrome so far. Even Fernando Torres is scoring almost every other game. He's even scored twice in a single game. All things that seemed like once in a blue moon incidents for the Spaniard as late as this pre-season. Nine goals scored and only two conceded in the league speaks for itself.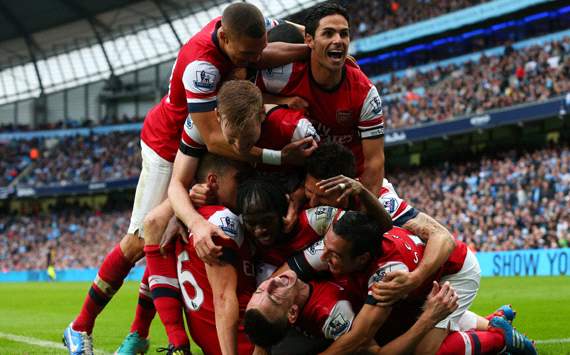 Restructuring|
But Arsenal are sticking to their tried and tested philosophy
But there's another team that's scored nine with two conceded in the same number of games. Arsenal. After a slow start in the first two games, garnering only draws, the Gunners seem to have exploded, beating Liverpool without reply at Anfield, dismantling Southampton and coming from behind for a point against Manchester City at the Etihad. With Podolski being destroyer-in-chief and Cazorla the architect of the slick, ping-pong, tippy-tappy moves from the Arsenal midfield, it is safe to say that the Gunners are getting as much return from their signings as Chelsea are from theirs. With Mikel Arteta revelling in his new deep playmaker role, we're seeing a new look Arsenal packing the same old attacking ethos.
But an important matter to consider at this point is that while Arsenal are past masters in slick, passing, defence splitting, attacking football, Chelsea are completely new to this game. And it might not have shown in domestic competition yet, but in Europe, they have been leaky at the back time and again. Other than the Atletico humiliation, Chelsea let slip a two goal lead at home to draw with Juventus. Strange, when you consider that defence was the foundation they built a large portion of the previous decade on.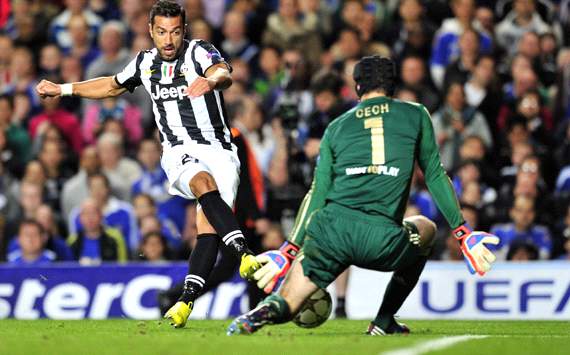 Porous| Continental opposition have brutally exposed Chelsea's defence
Arsenal, surprisingly enough, have shown more defensive solidity than they have in years. A proper stopper and covering defender partnership in Vermaelen and Mertesacker, the two have gelled quite well. And they have passed quite the acid test to boot. Anfield is never easy to go to. To beat Liverpool away with a clean sheet is not easy. To concede only one against one of the most expensively assembled attacks in the league in Manchester City is something when Koscielny stepped in for the injured Vermaelen. Promising signs for the North London outfit.
Both teams have had perfect warm-ups for the game as well, dismantling Championship opposition in the Capital One Cup. While Chelsea had six different scorers in their 6-0 win over Wolves, Arsenal had five of them and a missed penalty in a 6-1 win against Coventry. Two very similar forces are about to go head to head at the Emirates Stadium this weekend.
Can Chelsea snatch the 'most entertaining team' crown from under the Gunners' noses at their home ground? Will Arsenal's defence continue to be rock solid? This game is not going to be like any previous Arsenal vs. Chelsea clash in recent memory, that's for sure.
Follow Arkaprabha Chakraborty on

How do you stay up with football when on the move? With http://m.goal.com –your best source for mobile coverage of the beautiful game.