Aditya Bajaj




Comment

|

Serie A



Follow on
The Euro 2000 semifinals between Italy and the Netherlands played in Amsterdam went down as one of the most one sided contests ever in the history of European Championships where a very attacking Dutch side led by Patrick Kluivert couldn't get past the Italian wall led by the likes of Paolo Maldini, Fabio Cannavaro and Alessandro Nesta. More incredible was the fact that the Azzurri played with 10 men for a good 85 minutes (the match went into extra time), conceded two penalties and yet came out unscathed after two hours of excruciating defending forcing the match to go into penalties where a 24-year-old completely overshadowed the legends around him.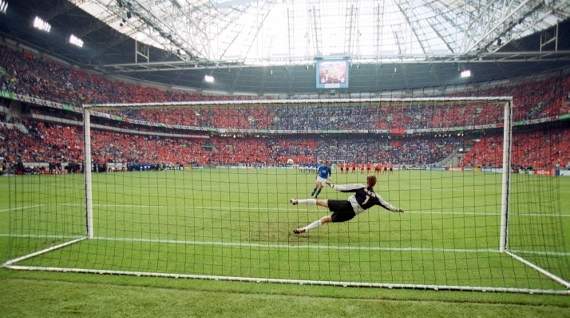 Italy vs Netherlands Euro 2000 | The 'panenka' that gave rise to the next star of European Football
He entered the field in the 83rd minute and didn't have much to do for the rest of the duel, but then came the shoot outs and calmly he walked towards the spot to slot in a 'panenka' beating Edwin Van Der Sar oozing oodles of confidence. Italy went on to the finals, but more importantly Francesco Totti, a star, was born.
Twelve years on, against Sampdoria on Wednesday, he struck his 216th Serie A goal to become the third highest goal scorer in the history of Italian football sitting alongside greats like Giuseppe Meazza and Jose Altafini. All this on the eve of his 36th birthday!
Serie A's Top 10 leading goalscorers
| | | | |
| --- | --- | --- | --- |
| Rank | Player | Goals | Appeareances |
| 1 | Silvio Piola | 274 | 537 |
| 2 | Gunnar Nurdahl | 225 | 291 |
| 3 | Giuseppe Meazza | 216 | 367 |
| 3 | Jose Altafini | 216 | 459 |
| 3 | Francesco Totti | 216 | 505 |
| 6 | Roberto Baggio | 205 | 452 |
| 7 | Kurt Hamrin | 190 | 400 |
| 8 | Giuseppe Signori | 188 | 344 |
| 8 | Alessandro Del Piero | 188 | 478 |
| 10 | Gabriel Batistuta | 184 | 318 |
Top 10 Serie A goalscores of all time | El Pupone is the only active player on the list
What's amazing about Totti's career is the fact that he has played more than half of his footballing career as a classic trequartista and yet, has managed to score more than greats like Alessandro Del Piero, Roberto Baggio and Gabriel Batistuta who had more freedom to score upfront as forwards and have played more or less the same number of matches as the Roman captain.
Who can forget his 113th strike back in the 2005-06 season at the San Siro against Inter, where his sublime chip from outside the box went past a hapless Francesco Toldo? That goal is beyond any doubt one of the greatest goals ever scored in football, but having suffered a career threatening injury a few months later, many feared that they'd seen the last from a star who was destined to become a legend in the world of football.
But his love for the game helped him recuperate in time to be selected by Marcello Lippi for the 2006 World Cup in Germany where he played every match and having contributed 4 assists and that crucial last minute penalty against Australia in the second round, was one of the protagonists of the world conquering Italian side. Now that was some comeback and for his never ending fight to stay fit even after the age of 30, he deserves nothing but respect.
A symbol of loyalty all throughout his career, Totti never relished the prospect of leaving his boyhood club in Rome to ply his trade in more fancy sides like Manchester United or Real Madrid that promised silverware, every player dreamt about. Such was his unconditional love for Roma that he was happy enough to play in an average team which apart from the short lived Capello-era at the turn of the millennium, has never really stood shoulder to shoulder amongst the elites of both Italian and European football.
When it comes to club football, all he has is a single Scudetto to boast of, won a decade ago in the 2000-01 season. He has been runners up more than a dozen times since then, but in all fairness Roma never really had the quality to give the champions a run for their money. He has never won the Champions League, often considered the greatest prize in European football, and he probably never will, but not once has he complained about the lack of trophies in Roma's cabinet that a player of his caliber certainly deserves.
Real Madrid made no secret of its desire to sign this talisman on numerous occasions to make him one of the famed Galacticos that boasted the likes of Zinedine Zidane and Luis Figo, but each time there was an approach, it was rejected with a simple 'Thank you'.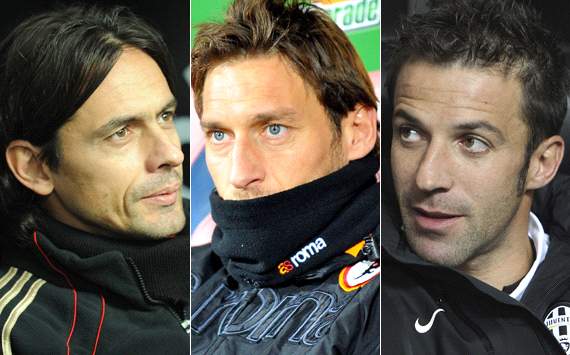 Inzaghi-Totti-Del Piero | A league of extraordinary gentlemen
Clubs may have given up on their chase for this Italian forward, but not once did he give up on his team carrying it literally on his back, season after season helping it retain pride, while friends and legends like Del Piero and Inzaghi raked in one winner's medal after another in the more fancier clubs of the league. But he holds the respect and love of his faithful like no other player on the planet, and that's always been his greatest trophy.

He's amongst the very few players to have stuck with the same club for the entirety of their careers joining the likes of Paolo Maldini, Ryan Giggs, Paul Scholes and Carles Puyol but while these legends were fortunate enough to play in great teams like Milan, Manchester United and Barcelona, Totti was rather unfortunate. Yet he has still managed to acquire the same status as his contemporaries, and for that it's arguable that he is only one of his kinds and there will never be another one.

Probably the only blot in his illustrious career is the argument that he never really carried his club form with the national team. Between the man of match in the European Championship finals in 2000 (despite Italy losing out on the trophy to France), and the selection in the all-star Fifa World Cup team in 2006, there was always a red card in Korea in 2002, and the spitting incident against Denmark at the Euros back in 2004, that made him a villain with the famous blue shirt of Italy. His return of 9 goals in 58 appearances never really stood a chance against his 216 in 505 for Roma, enough for sections of media to somewhere downplay his legendary status in the world but that doesn't take away from him his contribution to world football.

The ever condescending English media, never really admired him the way they did other players, but their silly knack of judging foreigners based on their performances against English sides has done little to disparage the Italian who according to IFFHS was the most the popular footballer in the whole of Europe as late as 2011.

The winner of the European Golden Shoe in 2007 at the age of 31, he has continued to be an integral part of a Roman side that has gone many a transition over the past few years and even at 36, is a starter for Zdenek Zeman's young side this season. Players around him have fallen in and out of the Olimpico like a deck of cards, but ask any Roman fan even today and the first name he'd want on the sheet will be that of Francesco Totti.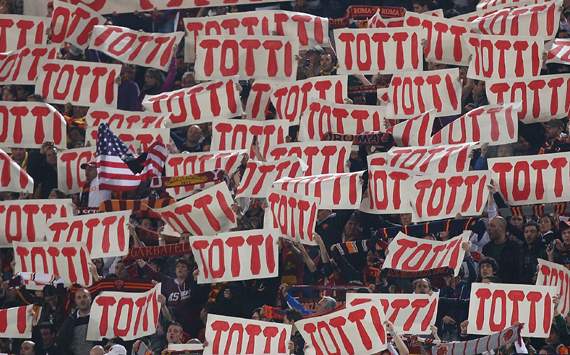 Francesco Totti | A career totally dedicated to the city and people of Rome
He eats, breathes and sleeps Roma. No, he is AS Roma! A player is what he is because of his team, but in his case Totti has made Roma what it is today and that's an achievement no footballer can ever boast about.
He is a living legend, and many will criticize this article for not calling him a living God, but none will criticize it for openly stating that the trademark 'thumb-sucking' celebration is not done yet because Francesco Totti has already identified Milan legend Gunnar Nordahl as his next target, as he continues to rise up in the eyes of the fans as one of the greatest players to have ever played the game.
Nothing else, but respect for the only remaining 'bandiera' of Italian football.



"Winning one league title at Roma to me is worth winning ten with Real Madrid or Juventus"

- Francesco Totti
How do you stay up with football when on the move? With http://m.goal.com –your best source for mobile coverage of the beautiful game.