Akarsh Sharma explains why Rodgers' brand of football could aid Sir Alex Ferguson's plans on Sunday...
Akarsh Sharma

Analysis | Premier League

Follow on
Off the field, there is an air of unfamiliarity leading up to what is branded as the biggest game in English football. An uncharacteristic harmony in the voices coming out of both clubs seems to have almost softened the animosity, at least temporarily. The Hillsborough verdict, and its despicable findings, has revealed why 23 years of petitions, protests and suffering at Merseyside weren't without reason. It has stunned clubs around Europe into paying respects to those who were deeply connected with the unfortunate incident, and Manchester United will be no different.
But as far as on-field matters go, there is plenty of familiarity in the build-up. Liverpool, as ever, are in crisis mode as they prepare to hold the fort when Sir Alex's army comes invading. They might even succeed in fending off United's advances in this particular battle, but once again, they aren't even part of the bigger war, that is, the title race.
The explosive and volatile nature of the match has always suited Liverpool more than United. 'Desperation' has been the Reds' favourite weapon on such occasions and they have plenty of it to fall upon this time around as well. In a purely football-based fight, with a few exceptions such as in Rafa Benitez' most prolific season and Kenny Dalglish's interim one, the Reds have nearly always failed to come out on top against a United side possessing more ability and squad depth. This is why Liverpool have found it so hard to get results at Old Trafford since it becomes unfavorably closer to a pure football contest, whereas their record against United in the battleground of Anfield has been impressive.
Without sounding disrespectful towards the Merseyside club, United's visit has had a 'cup final' feel attached to it for many years now. It is one match where the players raise their game and expend every ounce of their energy; so much so that it has consequences on the next few matches. Liverpool have only twice won the league match that follows United's visit in the last ten seasons. The three wins in recent years have been followed up with a win, a draw and a loss each, which goes to show that expectations such as "it could kick-start the campaign" usually lead to disappointments.
But there is a possibility that the match on Sunday might not have the usual amount of blood and thunder, and thus, it is natural to fear a bit for Liverpool. Can Brendan Rodgers actually channel the excessive enthusiasm felt during such a fixture to his benefit?
Rodgers has been cultivating a more cultured, methodical way of football with the Reds. For the players to immerse themselves emotionally into the fixture would mean to, more or less, abandon his way. Sticking to the values and believing in the style of play is of utmost importance for Rodgers. His Swansea City side never took on the big boys with the intention of ruffling their feathers up in a physical battle – not even against Arsenal.
Liverpool's build-ups will be more patient than direct compared with previous contests. The emphasis will be on steady ball retention which will take the usual level of aggressiveness and tempo down a notch. Although this contest will be an emotionally charged one and fans will be looking for players to get stuck in, this mindset will conflict with Rodgers' plans.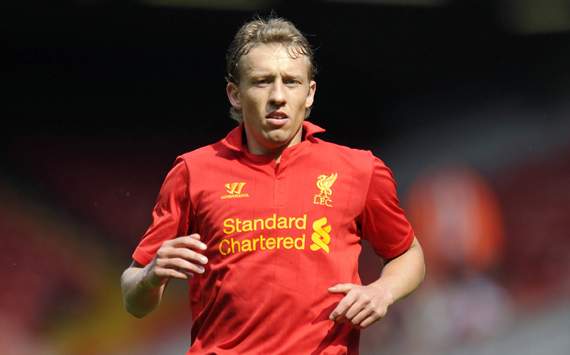 The absence of Lucas could hurt Liverpool
The presence of an out-and-out ball winner such as Javier Mascherano or Lucas has aided Liverpool in this contest in past seasons. With Lucas sidelined, the current team will desperately miss a defensive midfielder as duties are shared between Steven Gerrard, whose positional discipline has been questionable and Joe Allen, who is physically unimposing.
All of this is likely to be inviting enough for Sir Alex to unleash a set up with a more natural (attacking) mindset than he did last season. A year ago, he started with five defenders on the teamsheet besides including Park Ji-Sung and Darren Fletcher, while benching Wayne Rooney, Nani and Javier Hernandez (all three coming on for a twenty-minute dash in the end). He paid too much respect to Dalglish's side and it almost cost him as United were trailing with nine minutes to go. On Sunday, Fergie would be advised to allow United to play their natural game.
While Liverpool's troubles are clear judging by the club's league position, United haven't been convincing this season either. Like Liverpool, the Manchester club has been missing a destroyer in midfield which has enabled opposition to have a go at them. Galatasaray were unlucky not to take points off United on Wednesday, and so were Fulham and Southampton before that. Even Wigan threatened before capitulating after half-time.
To say the midfield battle will be decisive on Sunday may undermine the prowess of Van Persie, but the fight for overall control in the game is likely to be decided by the battle between Allen-Gerrard and Cleverley-Carrick (or even Scholes). This suggests that both sides will have sustained periods of possession; Liverpool more than United since the match is at Anfield.
The difference in league positions of both clubs is a direct result of the huge difference in attacking options – both in terms of quantity and quality. Liverpool have had as many shots on goal per game as United (average of 19 shots per game), but have scored two goals less per game. Rodgers' side will create plenty of chances, while United may create less but will probably convert more. And Liverpool, of late, have made a habit of gifting clear-cut chances due to basic errors, which won't go unpunished with Van Persie sniffing around.
The one thing that has been a trademark of Sir Alex Ferguson's era is the threat of goals from virtually any position, whether it is from the wings (Nani, Young and Valencia) or from midfield (Scholes, Kagawa, Cleverley and Carrick). In contrast, looking at Liverpool's strongest line-up, you'd struggle to find even a single remotely reliable goal-scorer.
While Liverpool's ball-retaining style has been talked up before matches, United's isn't particularly shabby. Fergie's men have made more short passes per game than Liverpool (526 to 485), have crossed more times than Liverpool (31 to 23), have played lesser long balls (51 to 65) and have retained possession much better as well (59% to 56%). The figures don't suggest that Rodgers' style of play is superior (yet) to what United has on offer.
Arsenal's win at Anfield showed the advantages of being a team that has an established style of play when facing a team that is still struggling to come to terms with their own. Arsenal focused on exploiting Liverpool's weaknesses, even if it meant compromising their own methods a little. Liverpool, on the other hand, were too busy organizing themselves fundamentally to make adjustments. Earlier in the season, Manchester City couldn't take similar advantage since they were deploying a new system of their own and couldn't come to terms with it. United are going to be well prepared to exploit Liverpool's Achilles heel – whether it be through the wings to exploit spaces or between the lines, like Cazorla did, with Kagawa.
But Rodgers' first taste of a Liverpool-United derby has come at a time like no other. With Hillsborough emotions running high and carrying the burden of the club's worst start in over a century, it'll be interesting to see whether his team will be able to stick to the game plan or resort to derby-like desperation. The problem is that the desired game plan could actually suit Fergie and his men.
Discuss with Akarsh on Twitter @Akarsh_LFC.
How do you stay up with football when on the move? With http://m.goal.com –your best source for mobile coverage of the beautiful game.