COMMENT
By Brendon Netto
Over the better part of the last decade, Arsenal have made a habit of selling their best players which has rendered it impossible for them to assemble a title-winning squad. Their fans are repeatedly left frustrated by having to bid farewell to players just as they begin to embrace them as club legends. The recent and most notable departures of Cesc Fabregas, Samir Nasri, Robin Van Persie and Alex Song, have prompted ex-Arsenal captain and legend, Tony Adams to launch a stinging attack against the Gunners by labelling them a 'feeder club'.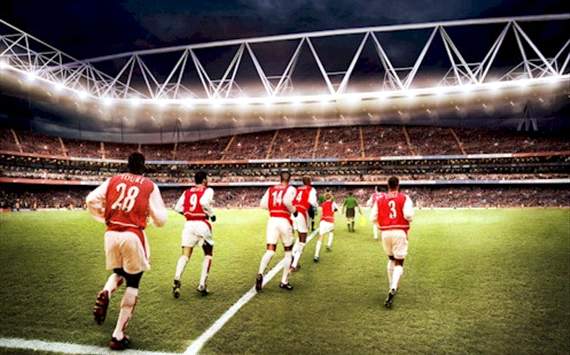 At Manchester United, Sir Alex Ferguson has been able to sustain the club's dominance in England and high standards in Europe by assembling strong squads time after time. He manages to consistently find the right balance in the team with a good number of experienced players present while also ushering in plenty of youngsters. In that respect, Arsene Wenger has lost the plot to a certain extent by indulging in his vision of leading a group of young boys to domestic and European success.
| | | |
| --- | --- | --- |
| Players | Age Joined | Age Left |
| Ashley Cole | 17 | 25 |
| Mathieu Flamini | 20 | 24 |
| Alexander Hleb | 24 | 27 |
| Emmanuel Adebayor | 22 | 25 |
| Kolo Toure | 21 | 28 |
| Gael Clichy | 18 | 25 |
| Samir Nasri | 21 | 24 |
| Cesc Fabregas | 16 | 24 |
| Emmanuel Eboue | 22 | 28 |
| Robin Van Persie | 21 | 29 |
In the 1997-98 Arsenal side that won the league title, the defence was anchored by the likes of Nigel Winterburn, Lee Dixon and Tony Adams who were of the ages 34, 33 and 31 respectively. At the time, a 21 year old Patrick Vieira and an 18 year old Nicolas Anelka were exceptionally young to feature in the first team set up but they were shepherded along the way by players like Dennis Bergkamp and Ian Wright who were 28 and 34 years old respectively.
Furthermore, the youngest regular starter during the 2003-04 'Invincible' season was a 23 year old who went by the name of Ashley Cole. When experience brought so much success to Arsenal during Wenger's golden period in his tenure at the club so far, it remains a mystery as to why the Frenchman has abandoned the practice of forming the core of his team with seasoned veterans.
Even though the departures of Patrick Vieira, Robert Pires or Thierry Henry were not easy to deal with, they were largely accepted since the trio were all past their prime when they decided to move on. However, allowing all of them to leave the club in such quick succession when they still had plenty to offer was a poor judgement call because when they walked out the door, they took a wealth of experience with them as well.
In retrospect, for all the success and glory the three French stalwarts brought to Arsenal during their time in the capital city, it's conceivable that they might have inadvertently initiated their beloved club's demise as well.
Vieira's departure to Juventus in the summer of 2005 just after their unbeaten season triggered a chain reaction. The following summer Robert Pires and Ashley Cole followed suit while Fredrik Ljungberg and Thierry Henry finally called time on his Arsenal careers as well in 2007. All of a sudden, in the span of a couple of years, Arsenal were left with only Gilberto Silva as their experienced outfield player and he didn't last too long either. Thereafter, Wenger was forced to bestow the captain's armband on William Gallas and thereafter to a 21 year old Cesc Fabregas.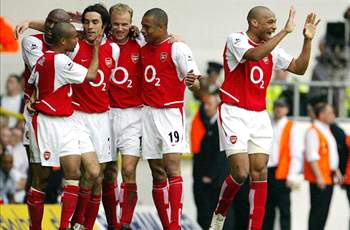 With the club failing to win any silverware along the way, several players in their prime who were expected to take on more senior roles in the team, lost faith in the club's ambitions and moved elsewhere. Players like Alexander Hleb, Mathieu Flamini, Kolo Toure, Emmanuel Adebayor, and Emmanuel Eboue were all within the 25 to 30 year old bracket when they made for the exits.
Arsenal may have started off by selling players who were in the twilight of their careers but somewhere along the way, it cost them their immediate stars as well. That trend has since continued with Fabregas, Clichy, Nasri, Van Persie and Song all calling it quits over the past couple of years while still in their prime.
On that note, one can't blame Tony Adams for his criticism of the club. A feeder club is one that nurtures young players and gives them the experience required to develop into a finished product for another club to recruit. In that respect, it's exactly what Arsenal have been doing in the recent past even though they may have done so unintentionally.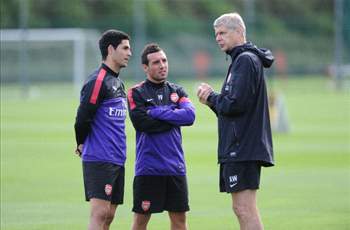 The signings of Lukas Podolski, Olivier Giroud and Santi Cazorla this summer, stand testament to the notion that Wenger may be ready to ditch his youth policy and focus on achieving success in the present. Last season's acquisitions of Mikel Arteta, Per Mertesacker and Andre Santos further justifies that claim.
If Arsenal are to ditch their undesirable tag of being a 'feeder club' then keeping this batch of players will be pivotal. The squad have a good blend of age groups at the moment but keeping it that way for years to come is something that they will have to work on.
How do you stay up with football when on the move? With http://m.goal.com –your best source for mobile coverage of the beautiful game.