The Blues need a deep lying playmaker like Andrea Pirlo in Di Matteo's 4-2-3-1 and Frank Lampard can never fit into that position for the club...
COMMENT
By Aditya Bajaj
He is 34 and certainly not getting any younger. He still has the heart of a 20-year old but no longer has the legs to match its intensity and commitment towards the club's cause on the field. He's Frank Lampard, one of England best central attacking midfielders and set piece specialists, and it's not like he hasn't got it in him to still perform at the top most level. But that's not the point.
Roberto Di Matteo is playing him as a deep lying playmaker this season and the point is that he looks totally alienated in that position in the Italian's much effective yet defensively bleak 4-2-3-1 formation.
On Wednesday, Stamford Bridge will welcome the beautiful Champions league night to kick off the defending champions' European surge this season. This team is definitely stronger than the one that conquered Munich in May. They have had a brilliant start to their premier league season, where they sit at the top of the table after four match days. They certainly deserve to bask in the glory of having signed the next big thing in football in Eden Hazard who has more than justified his hefty price tag that the club shelled out to acquire his services.
But it's the globe's biggest club competition and they must not forget that they kick off against Juventus, the champions of Italy, who have been unbeaten since last May in the Serie A and are raring to surge a challenge on the continental stage, not long ago their own hunting ground.
Once the referee blows the whistle, all will be forgotten and when Andrea Pirlo slowly gathers momentum to pull the strings for his side, the home fans will realize what they've been missing and how their talismanic no. 8 looks totally out of position when he comes up against the best in the business of playmaking.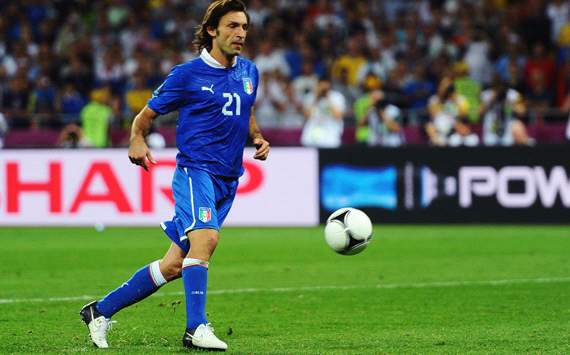 Andrea Pirlo | Will the Maestro himself teach Frankie a lesson on playmaking?
The deep lying playmaker, or the "regista" as it's so called in Italy is a position which requires a player who can dictate the game from a deep lying withdrawn position. The player often requires having great vision but most importantly the ability to pick out his striker from an area deep into his own half along with the distribution of passes to open up channels for the attacking midfielders and wingers in the final third. Make no mistake, he is not a defensive midfielder by any standards and is often deployed with a hard tackling midfielder who covers him well, yet his ability to hold possession is his secret weapon of defense as he seldom gives away the ball to the opponents.
Xavi and Xabi Alonso play that role to perfection for Spain and their respective clubs, and so does Andrea Pirlo who very well gave a tutorial on what these "registas" do on the field when he single-handedly made the English team stand up and take notice of his great control over the game in the Euros back in June. But while Xabi Alonso is very capable defensively as well, the other two more or less make up for their weak defensive abilities with their great control over the ball and this is where they are very important while protecting their defense.
Luka Modric and Bastian Schweinsteiger are two other midfielders who pretty much fit the bill as players who play in a deep lying playmaking role, thanks to their similar attributes to the aforementioned greats, and that's exactly where Frank Lampard has failed for Chelsea.
It's not his fault. He is very much important to Chelsea even at 34, but when deployed as a regista in Roberto Di Matteo's 4-2-3-1 alongside Obi Mikel as the second of the midfield duo, he has failed miserably so far this season and what better example than the game against Atletico Madrid back in August where the Londoners were thrashed by a very vibrant Los Rojiblancos in Monaco by four goals to one.
Radamel Falcao and co. wasted no time in exposing the side's liability while tracking back on the counter, ultimately resulting in the Colombian's superbly taken hat trick putting the match to rest in the first half itself. Lampard is a great passer of the ball with a ferocious shot, no doubt about that, but his inability to protect his defense either by backtracking or controlling the possession and dictating the play sitting infront of his defense, cruelly exposed the Chelsea back line and we all know what happened next.
Lampard scores goals, Chelsea fans may argue, and absolutely is still capable of producing moments of magic every now and then with his ferocious shots on goal and his set pieces. But it's high time he realizes that this is not what his current role in the team requires him to do.
José Chilavert, the famous Paraguay goalkeeper, scored a lot of goals for his country but that didn't make him a great player as he was always judged on his ability as a goalkeeper and that's what made him great. How a player performs his primary duty, is what defines him, everything else is a bonus!
Frank Lampard since 2008-09
| | | | |
| --- | --- | --- | --- |
| Season | Appearances | Goals | Assists |
| 2009-10 | 50 | 27 | 20 |
| 2010-11 | 32 | 13 | 6 |
| 2011-12 | 49 | 16 | 10 |
| 2012-13 | 6 | 2 | 1 |
Frank Lampard | The declining number of assists over the past three seasons
For most of his career at Chelsea, he thrived in his natural position as a central attacking midfielder with minimal defensive responsibilities gifted with oodles of freedom upfront resulting in great numbers when it came to scoring goals and creating the same for his teammates but with advancing age, and the presence of a very young and creative trio of Eden Hazard, Juan Mata and Ryan Bertrand or Oscar ahead of him behind lone striker Fernando Torres, his main job is now to be the channel of ball distribution from the defense to the attacking third and that's where he has looked very clueless.
The only reason Torres did well at Liverpool was because he had Xabi Alonso supporting him from the back, and how the Spanish striker would wish he had Pirlo on his team to do exactly the same. Ask Pippo Inzaghi who scored almost regularly when at his peak, only to find himself lost when his supplier would be out with injuries.
Juventus will certainly line up in a very attacking 3-5-2 at the Bridge, and have built a strong reputation over the last year or so, as a team known to dominate possession with every move going through the Italian maestro, who is very well shielded by two of the best hard hitting midfielders in Arturo Vidal and Claudio Marchisio. If Chelsea fail to dominate and instead 'park the bus' after the first quarter of the match, Andrea Pirlo will certainly take away the midfield battle away from the home side and hence the game.
The transfer of Raul Meireles will slowly grow on the team as the season progresses, as with his departure the side looks very bleak while on the defensive, because even though the Portuguese was no way near Lampard when it came to class, he was perfectly suited to play the role the English midfielder currently plays. One will agree that Chelsea's best performance this season was against Newcastle, and it was Meireles and not Lampard who started alongside Mikel in midfield. Even Michael Essien has been sent to Madrid on loan, to further reduce options at the centre of the park.
What about the Brazilian midfielder Ramires? Yes, he scored that goal against Barcelona, but there is absolutely no doubt about the fact that he's a total waste of talent when fielded upfront as one of the three midfield trios alongside Mata and Hazard. Oscar or Bertrand can pretty much fill that gap, and wasn't Ramires a central midfielder pretty much accustomed to playing as one of the two midfielders both at Benfica and the national team when Chelsea signed him back in 2010?
| | |
| --- | --- |
| Probable line up against Juventus | How Ramires can replace Lampard |
| | |
He is little box of energy, who works tirelessly in midfield and certainly a much better option than Lampard. The answers are right there, and now is the time to try out new combinations as it's only September and not much can go wrong, and even if it does there is ample time to look for alternatives rather than hitting the panic button during the January transfer window.
The failure to lure Luka Modric, and instead crowding the attack with players in excess of $80m was no doubt a failure on the part of the strategists at the club and though they are performing well domestically, the continental stage will expose that sooner rather than later.
The Croatian in all honestly, like it was mentioned earlier, was the only player who could have filled the void that Lampard has been unable to fill so far and with lack of bench strength in midfield means a real test lies ahead for the Italian coach who won the club their first Champions League after taking over from Andre Villas-Boas. He has to make a choice, either be brave and drop an icon or play along to the tunes of the biggies and jeopardize his own position as the head coach considering how fickle minded Roman Abramovich has been as a boss ever since his takeover.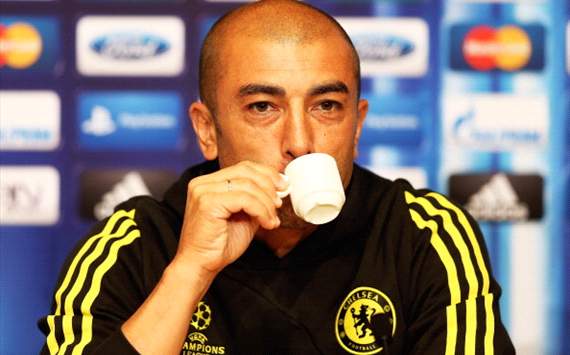 Roberto Di Matteo | Time to get serious about the tactis and not the espresso?!
It's one thing to take over in March, and coach a team on a short term basis when the real picture and goals for the club are clear enough, but it's all together a different ball game to manage a side on a full time basis with no less than 50 games still to go in the campaign and that's where Di Matteo's mettle will be tested and he needs to ask himself some really tough questions and act accordingly rather than basking in the glory a great start to the Premier League season which is nothing but an aberration from the challenges that lie ahead for the 'European Champions'.
How do you stay up with football when on the move? With http://m.goal.com –your best source for mobile coverage of the beautiful game.