ANALYSIS
By Arkaprabha Chakraborty

With the Champions League set to get underway, we zoom in on Group E for the clash between two very different types of powerhouse. If you want a historical powerhouse that combines present success with decent leverage in the transfer market, look no further than Turin's Old Lady, Juventus FC. If you want a brash, billionaire bankrolled new kid on the block who is slowly establishing itself on the continental scene, Chelsea is your club. We take a look at the parity and disparity of the market values of their squads to try and guess where they might stand.

The sparkling Eden Hazard, valued at €40m, tops the value charts for both teams combined, and if he keeps up the kind of form he is in, that can only increase.

MARKET VALUES | Goalkeepers
MARKET VALUE

MARKET VALUE


€25m


€1.5m
€0.5m

CECH


TURNBULL
HILARIO

BUFFON
STORARI
RUBINHO
BRANESCU


€16

m
€1m
€0.8m
€0.4m
€27m
TOTAL

TOTAL
€18.2m
(Data from transfermarkt.co.uk)

We have Chelsea winning out in the first round of comparisons, with age playing a decisive role in the value of the respective first choice keepers. At the age of 30, Petr Cech should be in his prime as a keeper, with the right blend of reflexes and experience for three more years at least. Buffon, on the other hand, should be just marginally on the decline now. But after you cross the age of 30, it is very much up to you to belie your transfer value. Chelsea have better depth in them as well, being just €0.7m behind in combined value of reserve keepers despite having a player less.
MARKET VALUE

MARKET VALUE

€23m
€21m
€17.5m


€16.5m


€12.5m
€9m
€2.5m
€1m
DAVID LUIZ


IVANOVIC


TERRY
CAHILL
COLE
AZPILICUETA
BERTRAND
FERREIRA

CHIELLINI
BONUCCI
LICHTSTEINER
BARZAGLI
CACERES
DE CEGLIE
LUCIO

€28.5m
€15m
€14.5m
€12.5m
€9.5m
€5.5m
€4m

€103m
TOTAL
TOTAL
€89.5m
(Data from transfermarkt.co.uk)

Yet again Juventus come close but miss out in squad depth, even if Chelsea's having an extra man definitely helps. Although Chiellini is the most valuable defender in the two sides, worth €5.5m more than David Luiz, the deficit is already made up for and even exceeded through the difference between Ivanovic and Bonucci. It's all in Chelsea's favour from then on, except for the sudden crash in values of Bertrand and Ferreira, who are roughly half and a quarter of the values of Juventus' least valued defenders, De Ceglie and Lucio, respectively.


MARKET VALUE | Midfielders
MARKET VALUE
MARKET VALUE

€40m
€32m
€30m
€19m
€13m


€

8m


€

5.5m


€

5.5m

HAZARD
OSCAR
RAMIRES
MIKEL
MARIN
ROMEU
LAMPARD
MALOUDA

MARCHISIO
ARTURO VIDAL
ASAMOAH
ISLA
PIRLO
SIMONE PEPE
GIACCHERINI
PADOIN
POGBA
MARRONE


€28m


€24m
€15m
€14m
€12.5m
€11m
€8m


€

4.5m


€3.5m




€2.5m



€153m
TOTAL
TOTAL
€123m
(Data from transfermarkt.co.uk)

Chelsea score a proper decisive victory in this department,
notching an €30m difference despite having fewer players
. Eden Hazard and Oscar with a combined value of
€72m are far and away above Juve's top midfielders, Marchisio and Arturo Vidal, valued at €52m. Other than that, there is a decent tapering of values for both side with no alarming drops. Chelsea are more valuable man-for-man (with Ramires being a real difference maker) for all except two of the head-to-heads.

Ultimately, it is the over-30s who should be the greatest uncertainty factors in this. Andrea Pirlo's influence you just cannot attach a value to and the same goes for Frank Lampard, who is tied with Malouda as Chelsea's least valuable midfielder. People who know what they can do would laugh at the evaluation, but the truth is that this is the amount he would be likely to fetch if Chelsea did indeed try to sell him. Malouda though is as good as a non-entity after being frozen out by di Matteo, simply being there for depth's sake.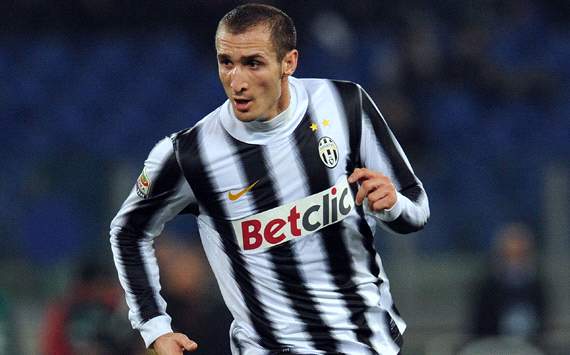 Rock solid | Surprisingly, it is the centre-back who is Juventus' most valued player
MARKET VALUE

MARKET VALUE

€38m
€35m
€16m


€15m



MATA
TORRES
STURRIDGE
MOSES

VUCINIC
GIOVINCO
MATRI
QUAGLIARELLA
BENDTNER (on loan)

€20m
€19m
€15.5m
€12m
€8.5m
€104m
TOTAL
TOTAL
€75m
€387m
FINAL TOTAL

FINAL TOTAL
€305.7m
(Data from transfermarkt.co.uk)
And even in the final department, Chelsea score a comprehensive
€29m victory over Juventus
. Despite the extra man, Juan Mata and Fernando Torres (with a surprisingly high value) are €2m off being worth Juve's entire forward line and that says something. There is more of a semblance of parity going lower down, with Sturridge and Moses having comparable values to Matri And Quagliarella, still managing to edge both out.
With a total squad value of
€
387m, Chelsea have a comprehensive value advantage over
€
305.7m rated Juventus, but this is to be taken with a pinch of salt. Aging contributors like Pirlo and Buffon who put in top shifts week-in week-out are the ones who belie their values most. Adding to that, co-ownership clauses and generally lower spending keeps values low in Italy, although other leagues pay far beyond projected values to buy the players, like PSG breaking the bank for Milan's Thiago Silva who was reportedly worth around €30m but bought for €42m.



Did you know ...





…while Chelsea have 5 representatives in the top 50 most valued players in the world (although none in the top 10), Juventus do not even have one



Looking at cold, hard numbers, it should be a comfortable home win for Chelsea, who have an
€81.3m advantage, but especially for Juventus, numbers are deceptive. Other than the fact that values in Italy are deceptively low in general and the Bianconeri have several aging, undervalued big performers, they are feeding off a 42 game unbeaten streak. They also have brilliant chemistry about them while Chelsea are most decidely a team in awkward transition. Several plots and subplots churning in this clash of the titans. You wouldn't want to miss it...
Follow Arkaprabha Chakraborty on

How do you stay up with football when on the move? With http://m.goal.com –your best source for mobile coverage of the beautiful game.