Nick Powell's impressive cameo on debut that included a stunning goal prompted Sir Alex to suggest that he could succeed Paul Scholes. Brendon Netto discusses..
COMMENT
By Brendon Netto
With Manchester United shooting blanks against Wigan into the second half of their home fixture on Saturday, one may have begun to wonder whether Sir Alex Ferguson would regret resting the likes of Robin Van Persie, Shinji Kagawa and Antonio Valencia. However, a spell of good pressure saw the Red Devils flood bodies into the box as Nani drilled a cross-shot into that treacherous corridor of uncertainty in the six-yard box. Ali Al Habsi's save rebounded into the path of none other than Paul Scholes who had managed to ghost his way into the penalty area and score the opening goal to mark his 700th appearance for Manchester United.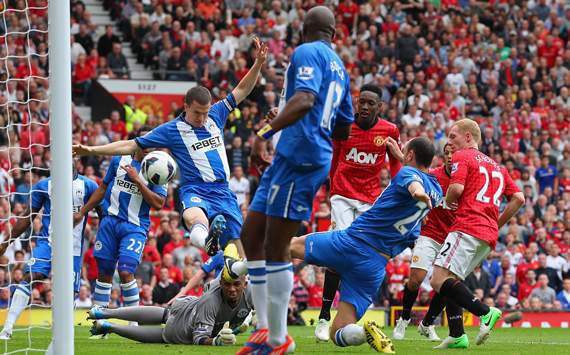 Zinedine Zidane and Xavi Hernandez are among those who rate him as the best midfielder they have ever played against. When Paul Scholes was substituted once the victory was all but secured, it signalled a change of the old guard as Nick Powell came on and took his spot in midfield for his first competitive debut in a Manchester United shirt.
United's teen sensation was signed from Crewe Alexandra for a relatively hefty fee of £4 million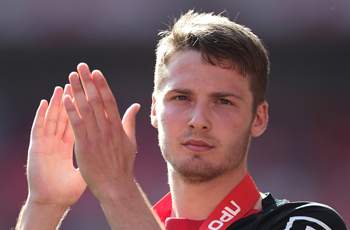 which speaks volumes of how highly he was rated by his previous employers. He has been repeatedly hailed as the best ever player to graduate from Crewe's respected youth academy which also produced the likes of Neil Lennon, David Platt, Robbie Savage, Dean Ashton and Danny Murphy.
Powell made 43 competitive appearances for Crewe last season and scored 15 goals while providing 8 assists. Although he was used behind the striker at Crewe, Sir Alex intends to deploy him in central midfield. He has made a name for himself by scoring some spectacular goals from range and he showed the Old Trafford faithful what he is capable of just ten minutes into his debut.
Running onto Javier Hernandez's lay-off, Powell shaped to strike the ball first time but with Gary Caldwell attempting to close him down, he elegantly feinted past him with a little drop of the shoulder and fired in an unstoppable shot. Head over the ball, perfect technique and it got its just reward, a debut goal at the Theatre of Dreams.
Apart from that piece of brilliance, he managed to slot into midfield with minimum fuss. He is an excellent passer of the ball and possesses an exceptional first touch that brings the ball under his spell instantly, an attribute that is vital for central midfielders and one that Scholes has always retained.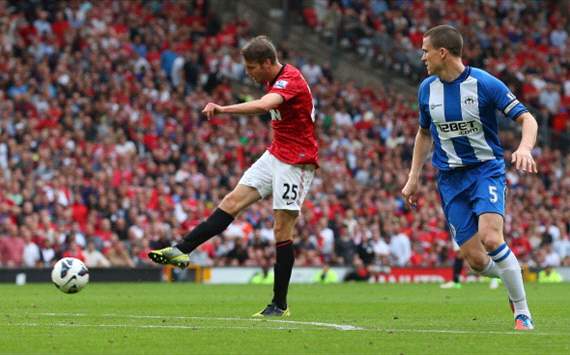 Sir Alex was very pleased with the youngsters' display and heaped praise on his latest fledgling while going on to uncharacteristically heap pressure on him as well by suggesting that he can fill Paul Scholes' boots once the maestro is out of the picture. One must believe that the experienced Scot who registered his 600th victory with Manchester United, wouldn't earmark an 18-year old to succeed one of the club's most legendary figures if he wasn't absolutely certain of the lad's ability.
However, let's not make the mistake of comparing the debutant to a man who has done it all 699 times more than him. We can't begin to compare the impact that Powell could have on a game as opposed to that of the dominating and influential presence of Paul Scholes. Although we can't draw a link between two players who are at opposite ends of the spectrum, we can do so with Powell and the player Scholes started out as.
When the ginger-haired midfielder first burst on the scene, he was very much a second striker or an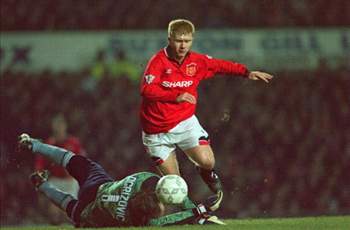 attacking midfielder, just as Powell was used at Crewe. Both players possessed a willingness to get into the box and score goals while frequently delivering the spectacular from distance with either foot. Powell's close control and neat short passing is reminiscent of Scholes' at a similar age.
By his own admission, Powell is learning from the likes of Scholes, Giggs and Carrick every time he trains with them. There's a wealth of knowledge between those three midfielders and Powell couldn't be in a better position to benefit from it. Playing alongside Scholes, whether in training or in a match, the teenager will be given a master class in football every single time. Scholes has already edged into coaching during his brief retirement so even once he does retire for good; it's likely that he will still be around to guide Powell for the foreseeable future.
United's latest midfield acquisition is determined to keep his feet on the ground and has so far shunned the limelight off the pitch, an aspect of Scholes' off-field demeanour he would do well to emulate. It's easy for an 18-year old boy to fall victim to the celebrity lifestyle overnight but Powell does well to stay close to home and even jokes that his father will definitely keep him grounded.
Powell went from playing in front four or five thousand people to playing for 75,000 at Old Trafford but held his own. He proved in the past that he is capable of producing on the big stage when he delivered a fantastic performance for Crewe in the League-two playoff final at Wembley last year.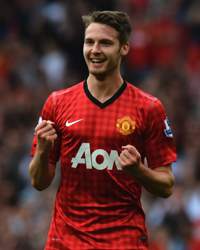 The under-21 England international is a natural finisher who always remains composed whether he's shooting from range or bearing down on goal with only the keeper in his way. He has the ability to make runs into the box under the radar much like Scholes used to do so often earlier in his career.
Manchester United have a long successful history of nurturing young players into international superstars and Nick Powell could be part of the new crop of players being harvested at United along with the likes of David de Gea, Phil Jones, Chris Smalling, Tom Cleverley, Danny Welbeck and Angelo Henriquez.
Without doubt there is vast scope for improvement in Powell's game and he will have to work incredibly hard throughout his career to fulfil his immense potential to get near the lofty standards of his predecessor. Being labelled "the next Paul Scholes" is unfair to both players. There will never be another Paul Scholes and that is a certainty, however Powell has the capacity to do a job in United's midfield once the 37-year old vacates it, maybe not the same job, but an effective one nonetheless.
How do you stay up with football when on the move? With http://m.goal.com –your best source for mobile coverage of the beautiful game.