Akarsh Sharma answers five questions at the backdrop of Liverpool's draw against Sunderland at The Stadium of Light...
Akarsh Sharma

Analysis | Premier League

Follow on
Was the performance against Sunderland a step in the right direction?
To rephrase: are Liverpool going the right way on the learning curve? Only four games into the League campaign, this is perhaps the most crucial question that needs to be answered. In a pre-season article highlighting the importance of being patient, I had written: "If you follow the Reds, ask yourself – would you prefer style over results this season? For Brendan's sake, and your own, learn to answer with a yes."
Liverpool's performance at the Stadium of Light was highly encouraging. The visitors were the dominant side with 66% possession away from home and unlike at West Brom, this wasn't ineffective possession. It led to the creation of many goal-scoring opportunities. For the majority of the game, there was fluency in attack, much better cohesion in midfield and clear tactical superiority over Sunderland. The home side was kept on the back foot with sustained pressure and relatively (to previous matches) patient and threatening passing in the attacking third.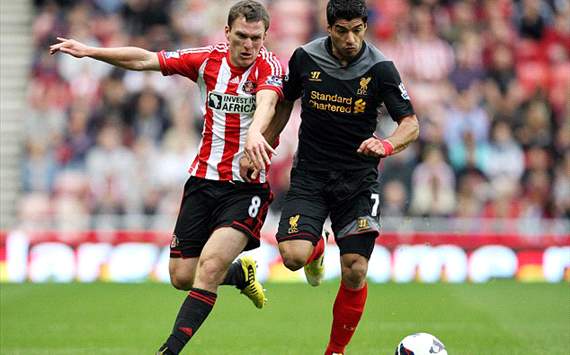 Liverpool are looking threatening with every game
In fact, it was Liverpool's best performance of the season albeit with trademark mishaps. Although the home draw against City receives a lot of plaudits, the champions were allowed plenty of room to play that day. Liverpool weren't impressive in retaining the ball around City's box and both the goals were scored from set-pieces. Against Sunderland, Liverpool finally saw a lengthy Swansea-like assertion of style and shades of Liverpool-like dominance of opponents.
There is no doubt that these should be seen as two points dropped. However, if you can look beyond the league table for now (after only 1/9th of a season) and stop yourself from a usual moan about the lack of a proper finisher (the current lot is here to stay), you'll see progress in the right direction.
Does Gerrard really pose a problem to Brendan Rodgers?
The Reds skipper has been heavily criticized thus far this season, with many questioning whether he is the right fit for Rodgers' style of play. He has indeed put in error-prone and positionally-weak performances in his attacking midfield role that requires him to be a roaming link between the midfield and the forward line.
Against Sunderland though, he was handed a much deeper role (with Shelvey being the central attacking midfielder) and he looked much closer to the Gerrard of old. Logically, this was always going to be the solution since he is a player who is used to being on the ball rather than waiting for it, playing for a club that has had the tendency of directing its play through him for years.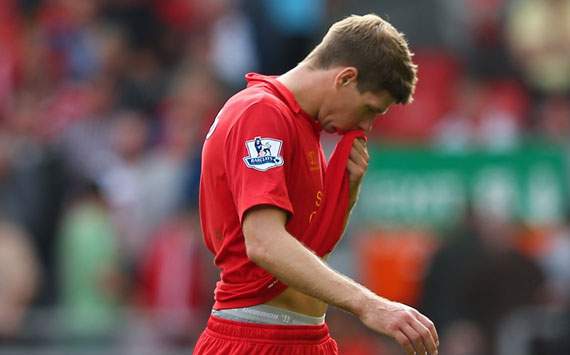 Steven Gerrard has been uncharacteristic so far this season
Why Gerrard is struggling to adapt to the attacking midfield role has definitely to do with his age and reduced mobility, but also has to do with the type of players in front of him. He was lethal in the central attacking midfielder role under Rafael Benitez because he had a striker, in Torres, who had incredible speed and preferred latching onto early through balls. Luis Suarez, on the other hand, prefers the ball to his feet and doesn't specialize in making intelligent runs behind the defence.
If Gerrard is dropped, Liverpool's midfield trio will have three of Allen, Lucas, Sahin, Shelvey and Henderson. How is it an improvement on the any combination with Gerrard in it? Gerrard isn't the source of Liverpool's problems. On the contrary, Liverpool's dependency on their one aging central attacking midfielder seems to be a source of Gerrard's problems.
The skipper was so guaranteed to flourish in his attacking role that Rodgers doesn't have anybody but Shelvey to replace him, which leaves Gerrard, Sahin, Lucas, Allen and Henderson fighting for the two deeper midfield spots. And this represents the only problem facing Rodgers regarding Gerrard; that he doesn't have the right players to allow the skipper to play a permanently deeper, and more comfortable, role.
At the back end of last season, he had scored a hat-trick against Everton in a dominant individual performance. What was his role in that game? Central midfielder in a 4-4-2.
Is it appropriate to attach all your hopes with little Raheem Sterling?
17 year-old winger Raheem Sterling has been the brightest aspect of Liverpool's season and credit must also be given to Rodgers for granting him the full opportunity. The youngster was always the go-to man of Liverpool's youth sides, often being a one-man destruction force. He has now made the step up to the senior side, but doesn't seem to have shed the burden of carrying a lot of his team's hopes.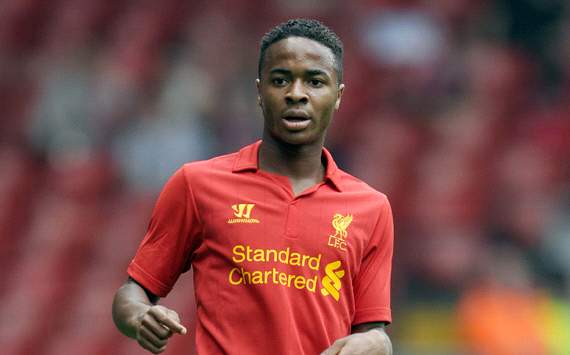 Can a lot be left on young Sterling's shoulders?
A youngster should ideally fit into a team like the last few pieces of a puzzle; that is, in a well-knit unit that has already shaped up for most of the part. Sterling, on the contrary, is part of a team that sees him as one of the best sources of creativity and flair, thereby resorting to his services on the wing as a primary route towards goal. Although Danny Rose was winning the battle with Sterling in the first half, the Liverpool winger made the difference in the second. The danger is that someday he might be overused; he might repeatedly fail and essentially burden the blame of Liverpool's losses. Not many 17 year-olds are strong enough to soak that up.
Is Glen Johnson an increasingly worrying defensive liability now?
For all his attacking endeavors, Glen Johnson needs to sharpen the primary reason of his inclusion in the team – defending. At the Stadium of Light, his half-hearted attempt at winning the ball allowed Gardner through to cross for Fletcher's tap-in. This was after Suarez, who was manning the left touchline, had been beaten which meant Johnson knew he had no cover behind him.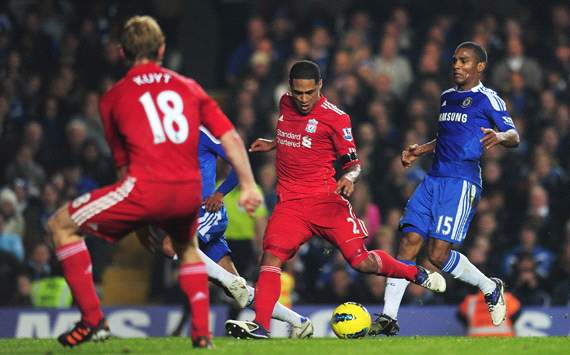 Should Johnson defend more and attack less?
Earlier in the season, Podolski had raced in front of an ambling Johnson to score the opener at Anfield, while Cazorla and Podolski took advantage of a flat-footed Johnson to score the second. Even in Man City's opener at Anfield, Johnson had left Sterling with no cover as the young winger failed to stop Tevez's cross into the box which led to Toure's goal.
The full-back is one of Liverpool's most threatening attacking options but Rodgers could do with reminding him his primary duties, especially in the absence of Lucas to cover the gaps.
Is only Suarez to be blamed for overdoing things?
On Saturday, Luis Suarez was his usual self - which these days means a frustrating, wasteful striker who keeps the ball for too long and tries to carry the ball with him too far. A lot of the times, Suarez's decision to take on 2-3 defenders in tight spaces seems bizarre, but he has repeatedly succeeded in doing so on many previous occasions. Taking the simpler option a higher percentage of times would definitely benefit Liverpool a lot, which is something he must learn to do especially when the style of play demands a simpler ball-keeping approach.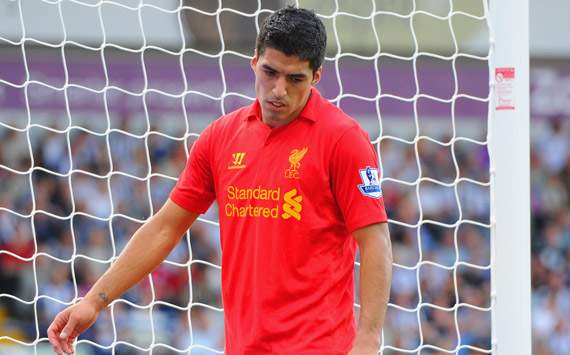 Luis Suarez should take a simple route in the game
However, Suarez's support staff seems sufficiently under-staffed as far as creativity goes. Of the four forwards (including the attacking midfielder), Shelvey is still learning, Borini has been dreadful, Sterling threatens primarily from the wings and Gerrard wasn't special in previous matches. This could explain why Suarez tries to do a lot on his own. Perhaps, a bit of faith in his teammates could go a long way in helping Liverpool's attack?
Do you agree with the above points? Write to Akarsh on twitter to discuss these issues further.