Akarsh Sharma




Analysis

|

Premier League




Follow on
When the summer transfers made by a club are assessed, there is the obvious 'value-for-money' parameter you attach with every signing based on what you perceive is the ability of the player in question. What may miss the eye is the significance of a signing in the larger scheme of things.
Take Roberto Mancini's £6 million acquisition of Scott Sinclair as an example. He was the only attacking signing the club made this summer which seems underwhelming at first glance – how can he possibly be the answer to United's and Chelsea's multiple, star-studded offensive acquisitions? But if you take into account that Sinclair's inclusion on City's wing would allow one of either Silva or Nasri to play in behind the striker (in a more influential position) rather than coming off the wing, the significance of the signing goes up a notch or two.
Manchester City*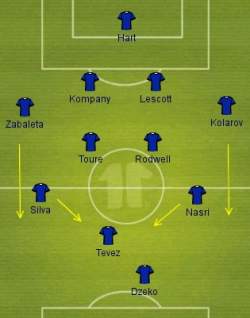 *formation as per last match
It gives Mancini a chance to line-up in better fashion when adopting the 4-2-3-1 formation, the correct deployment of which across Europe has been like striking a pot of gold. The set up was used by Madrid and Dortmund to counter-attack their way to domestic league titles, by Chelsea to shield their way to European glory, and by Manchester City themselves to put many teams to sword on their way to being crowned English champions.
But that was last season. This season Sir Alex Ferguson has switched to a proper 4-2-3-1, from the 4-4-2 he used last season (which had Rooney dropping deep), and the signing of Kagawa has been the key in the transition. Roberto Di Matteo has always preferred this arrangement, but he has added degrees, and degrees, of potency to his attack by signing Hazard, Oscar, Marin and Moses in addition to welcoming a rejuvenated Torres.
Arsenal and Tottenham have also arranged themselves in similar fashion in all the matches so far, making it 4 clubs out of the top 5 from last season to have used it in all the matches thus far. In fact, as many as 10 teams in the English League have lined-up in a 4-2-3-1 at least once this season.
So, it seems the derivations of the aforementioned formation and the weaponry on the benches of each club, to change things when required, are going to decide the outcome of this season's title race.
Roberto Mancini hasn't particularly started in firm fashion. He seems to be slightly confused on what his best shape or formation is and seems adamant to have a unique trick up his sleeve in playing three at the back, though it failed miserably at Anfield. In an attacking sense, City usually become an extremely narrow 4-2-2-2, which plays like a 4-2-3-1 with a striker dropping deep alongside unconventional inverted wingers that readily cut inside.
How is it any different from the sides put out by United and Chelsea? For starters, their number 10 (position playing behind the striker) is actually tailor-made for the job. United have Kagawa and Chelsea play Hazard (incidentally, Arsenal slot-in Cazorla), while striker Tevez drops deep to play that role for City; or in emergencies, all-round midfielder Yaya Toure is unleashed.
David Silva is arguably better in his role behind the striker than any player at rival clubs, which could have explained why Mancini is so keen on using a 3-4-1-2 had he not dropped Silva and played Nasri in the suggested role at Anfield. Could the duos of Hazard-Torres or Kagawa-Van Persie, striking the right chords in positions that fit them best, be decisive in the long run?
Manchester United*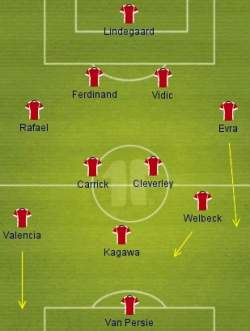 *formation as per last match
Another factor that could be decisive is the ability of the three sides to rotate things, not only in terms of personnel but the way they attack.
Man United seem to have the edge at mixing up things in offence with a splendid mix of out and out wingers or wide forwards. Antonio Valencia – the league's best winger - provides a constant threat on the right wing with his exceptional crossing or dribbling, while Young, Welbeck and Nani take up roles on the left.
United have been the highest crossers in the league with 32 crosses per game, compared to City's 23 and Chelsea's only 13. But the runners-up from last season have also made the highest number of short passes (573) per game, compared to City's 558 and Chelsea's 490. The numbers indicate how Sir Alex possesses the armoury to vary his attack in better ways than his rivals, be it going very direct and incisive or building up sustained pressure.
Both Chelsea and City don't prefer to go down the wings unless their full-backs push forward, leaving them narrow and easier to defend against at times. Mata, like Silva at City, drifts in from the right unless Ramires plays on the right, in which case the Spaniard drifts in from the left.
The lack of traditional wing play in these two sides is also due to the type of strikers in their ranks. Sturridge, Tevez, Aguero and Balotelli aren't really suited to crosses at all, whereas Torres and Dzeko combined make one good header of the ball. In contrast, United have Van Persie, Chicharito and Rooney who are good, if not excellent, headers of the ball; thereby adding potency to Valencia's crosses.
Do Chelsea and City hold the means to alter their methods of attack or change the shape of the team, if and when required?
When United were trailing to Southampton, Kagawa was taken off for Nani and Welbeck (who started on the left) moved forward to make it a traditional 4-4-2. Trailing to Everton, a little tweak in the formation meant United played with three forwards – Van Persie, Rooney and Nani – ahead of Kagawa.
United's immediate rivals seem to lack this flexibility. The signings of Sinclair and Moses may have been influenced by the presence of Valencia and Nani at Old Trafford. Take those two signings out of Chelsea and Man City; you're left with Ramires, Marin and Milner as closest matches to traditional wingers. Moses and Sinclair, therefore, will provide a valuable option for their respective managers to stretch the game, possibly go towards a traditional 4-4-2 or even a 4-3-3 in times of need.
Chelsea FC*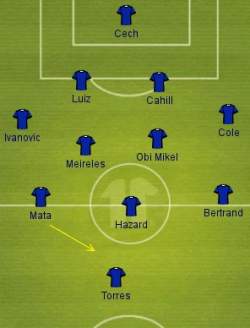 *formation as per last match
Apart from those three players, Chelsea and City don't seem to have much going for them in terms of changing the shape in the middle of the game. Mancini's favourite tactic when chasing the game is to take the shackles off Yaya Toure but keep a similar shape. Di Matteo has the likes of Sturridge and Oscar at his disposal but all of them slot-in directly into the formation rather than provide an option to change the method of attack significantly. Both these teams rely on the genius of their individual talents to instinctively outdo opponents in the final third.
But the most fascinating aspect about comparing these sides is that none of the three possess a clear supremacy over the other.
For all of United's aforesaid advantages, they lose out in a key area of a 4-2-3-1, which is the central midfield duo. Sir Alex has already started with three different pairs in central midfield – two of Carrick, Scholes, Anderson and Cleverley – but neither pairing has held up well primarily because it lacks a combative midfielder a la Darren Fletcher.
United's lack of a destroyer in midfield has been a well-documented concern and in a central midfield pairing, such a player is a must. On the other hand, in Obi Mikel, Rodwell, Yaya Toure and now Javi Garcia, both City and Chelsea have the right kind of players in those positions to not be overrun by opponents in a physical midfield battle. Could this be the decisive factor in the long run?
Even after a number of relatively high-profile late signings, Roberto Mancini has voiced his frustrations about not acquiring his main targets in the transfer window. The champions haven't played like champions thus far.
With Van Persie lending a fresh impetus to United and Hazard inspiring current table toppers Chelsea, could the new signings be the game changers? In Mancini's frustrations, may well be hidden the fear of exactly that.
How do you stay up with football when on the move? With http://m.goal.com –your best source for mobile coverage of the beautiful game.