SPECIAL
By Kaustav Bera
After Falcao almost single handedly demolished a hapless Chelsea side in the UEFA Super Cup, it was obvious that there would be stories linking him to all top sides in the world. In fact as
Goal.com revealed on Wednesday, Manchester City lead the race to sign the former Porto striker, who has a €60m release clause in his contract, when the transfer window re-opens in January.
Predictably, even after Roman Abramovich's lavish spending, Chelsea still yearn for a lethal finisher, and as Falcao so aptly demonstrated, he certainly fits that job description.
However, the real bombshell was dropped when
the Colombia international's father revealed that the attacker dreams of playing for Real Madrid
. Even though Falcao has vehemently denied those claims on Twitter, it is certainly an interesting proposition to see 'El Tigre' turn up in the all white of neighbouring Real Madrid. He would certainly be branded a traitor of the highest order by Atletico fans, as Robin van Persie found out recently after switching to Manchester United from bitter rivals Arsenal.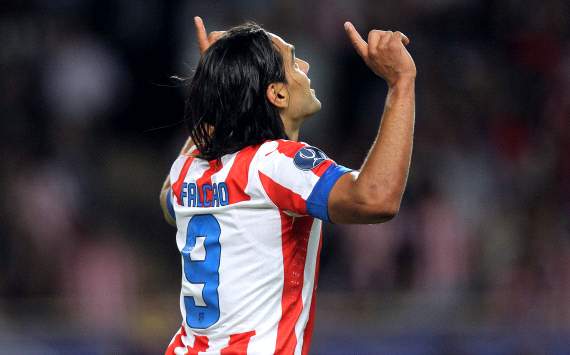 On the face of it, Jose Mourinho, has at his disposal, two of the most talented forwards in world football at the Bernabeu. And both could not be more different in their playing styles, thus giving Mourinho two entirely different modes of attack that he could employ according to the opposition they are up against. Adding a third striker to this mix would be a luxury that even European giants like Real Madrid can ill afford.
Karim Benzema had raked in 21 goals in the La Liga last time around and was decidedly first choice for the Los Blancos. Of his 34 appearances in the La Liga 26 had been starts, and he was also the preferred choice to lead the line when Real faced up against FC Barcelona in the El Clasico encounters. What Benzema lacks in positioning, he more than makes up for it with his boundless energy and quick feet. Although he plays as the lone front man in the usual Mourinho 4-2-3-1, he is hardly the classical target man. He loves dropping off to create space for Real's marauding wingers, Ronaldo and Di Maria to exploit. And with Mesut Ozil playing behind him, he thrives on through balls played to his feet, though he is no slouch at using his head too.
Gonzalo Higuain, meanwhile had scored 22 goals last season. What adds further significance to this number is that he had been mostly used off the bench, with only 18 starts out of his 35 appearances in La Liga last season. A traditional goal poacher, Higuain lacks the pace and intelligence of Benzema, but makes up for it by having a remarkable positioning sense. He is always the first to get any loose ball in the box and will always be the first player to score from a melee in the 6 yard box.
He thrives on crosses drilled into the box. However, unlike Benzema, 'Pipita' spends most of the time in the penalty area, hardly participating in any build up play and almost never tracking back. Hence you could well understand why Mou picks Benzema for the big El Clasico encounters as one has to pressurize Barcelona from the top.
What the Colombian juggernaut brings to the mix, is a combination of the strengths of both the players while dousing out their potential weaknesses. Falcao is an archetypical centre forward who is every defender's worst nightmare. He packs in Higuain's positioning and presence with Benzema's intelligence and build up play. Along with that, he adds a fearsome presence who can torment even the best defender and although he is no Theo Walcott, he possesses a rapid burst of acceleration to leave his marker dead on his trail.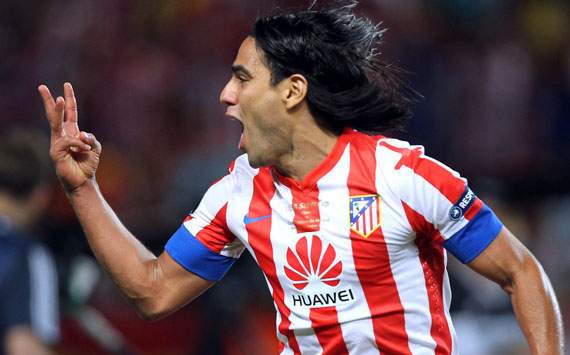 As was evident in the recent Real Madrid win in the Super Copa, that even a ten man Blaugrana side looked to be in complete control in the second half, after they had absorbed the initial wave of concerted Madrid pressure. Interestingly Mourinho had played Benzema in the first leg and Higuain in the return leg at the Bernabeu. Playing mostly on the counter attack at Camp Nou, Benzema was pretty ineffective. As for Pipita in the second leg, he did score a goal but scuffed atleast three other gilt-edged chances which would have effectively killed the game.
If it were 'El Tigre' however, he is as clinical a finisher as any and is the most well rounded center-forward in today's game. Equally devastating with both feet, as well with his head, he can be ruthless. As Chelsea found out against Atletico, Falcao is also instrumental in starting counter attacks after winning the ball deep in his own half.
With Cristiano Ronaldo and Di Maria on the wings, they would thrive on Falcao's service and Madrid's already devastating counter-attacks would now have a killer end product. Falcao can hold the ball upfront as he is physically strong and also frustrate the already edgy Barcelona defenders who often resort to short passes among them instead of just clearing the ball. Also Falcao can dribble with ease, something which isn't seen very often in strikers.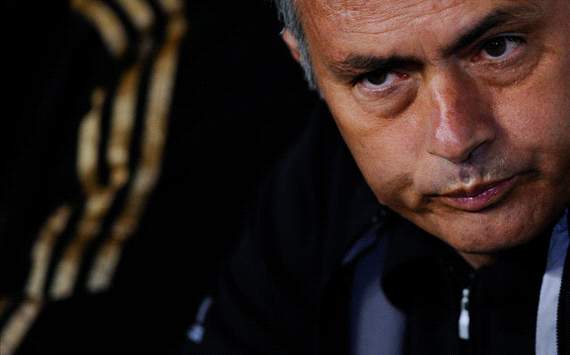 In essence, Mourinho's pre-selection headaches would be all but a distant memory with the Colombian hitman in his side. In doing the job of both of Real Madrid's present strikers collectively better than they could each do individually, if Real Madrid were to sign Falcao, they would indeed be pretty close to being invincible.
What do YOU think? Should Falcao move to Real Madrid? Do Real Madrid actually need him in the first place? Let us know...
Follow Kaustav Bera on

How do you stay up to date with football when on the move? With http://m.goal.com – your best source for mobile coverage of the beautiful game.