Sepp Blatter recently suggested that the FIFA Ballon d'Or should be presented to a Spanish player because of their triumph in the 2012 Euros. But should that really be the case?
COMMENT
By Brendon Netto

In 2010, the Ballon d'Or and the FIFA World Player of the Year award were merged and Lionel Messi won the inaugural 2010 FIFA Ballon d'Or. The Argentine bagged the accolade the following year and is in contention to win it this year as well. FIFA president Sepp Blatter feels that this time the award should be presented to a Spanish player given that they won the European Championships in convincing fashion this summer.
However, the Ballon d'Or is an individual award and although the success of the nominee's team is taken into consideration, it should not be the deciding factor. Being Spanish should not automatically give a nominee an advantage.
Xavi Hernandez, Iker Casillas and Andres Iniesta make up the Spanish contingent who are in contention for the award while the spectacular duo of Lionel Messi and Cristiano Ronaldo are the usual suspects vying for the highest individual honour in football.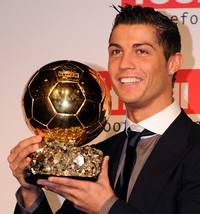 Cristiano Ronaldo Ballon d'Or 2008


Individuality is an important requirement for the winner of this particular award, something that Messi and Ronaldo are never short of. Xavi, Iniesta and Casillas are phenomenal players but none of them have really stood out for their sides domestically or internationally. Messi's incredible 73 goals and 37 assists last season established him as Barcelona's undisputed star man for yet another season but also condemned Xavi and Iniesta to supporting roles rather than that worthy of beating him to the Ballon d'Or.
Ronaldo's 60 goals for Real Madrid literally dragged them across the finish line last season when they finally beat Barcelona to win the La Liga title. Casillas no doubt played a vital role in their triumphant campaign but few could argue that it weighed more in importance than Ronaldo's contribution.
For the national side at the European Championships, if you were forced to pick the best player from the winning side, like the tournament officials were, then Iniesta would have been the most popular choice but it really was more of a collective effort from the Spanish team rather than individual brilliance. However, other teams in the tournament did have their stand out players. Ronaldo was instrumental for Portugal, Mesut Ozil consistently orchestrated attacks for Germany while Andrea Pirlo absolutely bossed the midfield in the Italian team.
One has to question then why Mesut Ozil and Andrea Pirlo aren't topping the list of nominees in place of Xavi and Iniesta. Ozil was an integral part of Real Madrid's title winning season while Andrea Pirlo played the role of midfield general for Juventus who won the Serie A without being beaten. The statistics below that analyse the performances of these four players throughout last season both internationally and domestically make for an interesting read.
Statistics for the 2011-12 season (Domestic and International):
| | | |
| --- | --- | --- |
| 60 | GAMES | 62 |
| 10 | GOALS | 9 |
| 17 | ASSISTS | 35 |
| 6 | GAMES/GOAL | 6.89 |
| 3.53 | GAMES/ASSIST | 1.77 |
It's visible now that even though Iniesta edges ahead of Ozil in the goal scoring department, the German nearly doubles the assists tally of this year's UEFA European Player of the Year award recepient. Ozil reached the semi-finals of the European Championships with Germany and as per the above evidence, he may have deserved just as much recognition as Iniesta over the past year if not more.
| | | |
| --- | --- | --- |
| 63 | GAMES | 52 |
| 14 | GOALS | 4 |
| 19 | ASSISTS | 16 |
| 4.5 | GAMES/GOAL | 13 |
| 3.32 | GAMES/ASSIST | 3.25 |
In the battle between Xavi and Pirlo, the Spaniard convincingly beats the Juventus playmaker in goals scored but the Italian maintains a better assists per game ratio than the Barcelona man. Considering that Pirlo has played over ten games less than his counterpart while operating from a much deeper role than Xavi and played for Juventus and Italy, teams that don't match up to the might of Barcelona and Spain, the Italian midfielder's statistics are perhaps equally impressive.
Pirlo and Ozil can make just as much of a claim to being this year's best player as Xavi and Iniesta. Spain's dominance is very impressive and their players have been exemplary but the Ballon d'Or is meant to be awarded to a player who's individual brilliance influences his team in a big way. Hopefully, this year the award will be presented to the most deserving player on merit without having his team's performances overshadowing those of his own.
Who do you think should win this year's FIFA Ballon d'Or and does a Spanish player deserve it more than others? Leave your answers in the comments section below..
How do you stay up with football when on the move? With http://m.goal.com –your best source for mobile coverage of the beautiful game.