Cristiano Ronaldo sneezes and the La Liga catches a cold. Real Madrid beat Granada 3-0 at the Santiago Bernabeu with Ronaldo treating the home fans to a brace but decided against celebrating on both occasions. The superstar stated in a post-match interview that he is not happy at the club and claimed that the club know exactly why. Thereafter, the footballing media has been driven into a frenzy with the growing speculation over Ronaldo's unhappiness.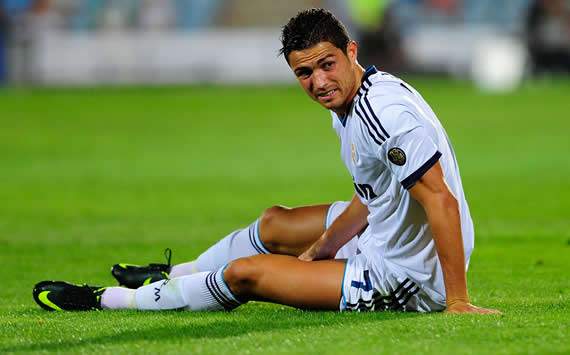 The reason for his sudden mood change is yet to be determined although there are a few theories making the rounds. A conflict over his wages has been regarded as a viable cause. The Portuguese international has scored a staggering 150 goals for Los Blancos from just 149 games but hasn't had a new deal in place after being a central figure in the club's title-winning campaign last season.
Some have attributed his sadness to an on-going rivalry with team-mate Iker Casillas for this year's Ballon d'Or. The Portuguese may feel that the club aren't backing him wholeheartedly for the accolade and that some within the club may even prefer if Real Madrid youth product and Spanish captain, Casillas wins it instead. Others opine that he has been disappointed by the club's treatment of close friends, Kaka, Ricardo Carvalho and Fabio Coentrao.
Regardless of what the reason or reasons may be, the irrefutable fact is that Real Madrid must do whatever it takes to turn Ronaldo's frown upside down and keep him at the Bernabeu.
Cristiano Ronaldo at Real Madrid
Games
149
Goals
150
Assists
47
Goal Ratio
1.01
Assist Ratio
0.32
% of team's goals involved in last season
44%
Jose Mourinho and Real Madrid have a fight on their hands now and one that they cannot afford to lose. Ronaldo is quite clearly Madrid's answer to Barcelona's Lionel Messi. He is their talisman and one that is rare to come by because he is clearly the only individual capable of keeping up with Messi who had been the undisputed best player in the league by a country mile prior to the Portuguese international's arrival.
Ronaldo has continued to smash records every season and is easily one of the best players in the world. He has been a goal machine for Madrid, scoring 34% of their goals in all competitions last season. His assists last season make him accountable for a further 10% of his side's goals.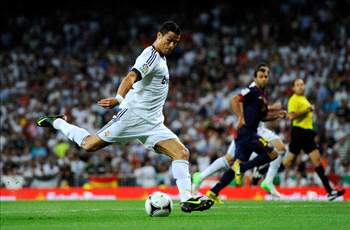 He is the kind of player who can produce the spectacular out of nothing. Without him, Madrid are still a great team but they lose that all important X-factor required to be the best. His presence on the pitch lifts the team and his goals drive them on. Absent his involvement and it's unlikely that the Madridistas would have managed to wrestle the La Liga crown away from fierce rivals, Barcelona.
It is reported that if the club are to renew the one time Ballon d'Or recipient's contract, they will have to raise his current wages of €15.5 million a year that enabled him to take home €10 million after taxes. However, with the new tax laws in place, if Ronaldo should take home an increased €15 million a year, which he feels his performances have entitled him to, then the club will have to shell out an astounding €31 million to account for the new 50% tax deduction as opposed to the earlier 23%.
The question is how much is Ronaldo really worth to Real Madrid? With all the resources the club has, it's still stretching their limits to pay such a mammoth sum in wages to one player. The club do have the option of letting his contract run out as he does have three years left on it and will be approaching the age of 30 when it expires. However, that would be incredibly disrespectful on their part to a player who has performed exceptionally for them. In addition, it probably isn't a great idea to force that on a player who is temperamental, moody and already disgruntled.
Regardless of the cost, Real Madrid will have to give in to their prized asset. If he feels he deserves to be the richest footballer in the world then they must make him so, even if in truth he may enjoy the title more than the actual financial luxury.
If the player's state of melancholy is a mere tantrum in a desperate cry for attention, Mourinho will be wise to it but will no doubt go about attempting to pacify him. Mourinho will know that Ronaldo is paramount to his ambitions to retain the league and perhaps even more importantly, lift the Champions League trophy for a third time in his managerial career.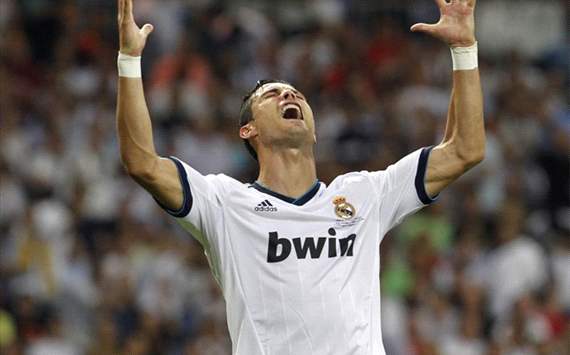 Manchester United gave into Wayne Rooney's dissatisfaction a couple of years ago because he was essential to the club's aspirations and one could argue that Ronaldo may be even more crucial to Madrid's. Had it not been for Barcelona, Real Madrid would currently be the most feared side in club football but with Ronaldo within their ranks, they are arguably the side Barcelona may fear most themselves.
The bottom line is, Real Madrid cannot afford to lose Cristiano Ronaldo and especially not at a point when they are threatening to end Barcelona's lengthy reign of supremacy in Spanish football. Madrid have to find a way to keep their best player happy and firing on all cylinders. No player is bigger than the club but some players are simply indispensable over certain periods of time and taking a stand against them would be detrimental to the club's success.
Should Real Madrid do everything in their power to keep Cristiano Ronaldo or can they do without him? Leave your comments below..
How do you stay up with football when on the move? With http://m.goal.com –your best source for mobile coverage of the beautiful game.