Akarsh Sharma puts on his thinking cap and analyses the disappointing performance dished out by the Reds at Anfield...
COMMENT
By Akarsh Sharma
'Tiki-taka' is a term that is fashionable in football today. And it is one that has naturally been used, rather emphatically overused, ever since Brendan Rodgers took over the mantle of restoring Liverpool football club's lost pride. Adopting a style as close as possible, and as soon as possible, is the ultimate objective but the defeat to Arsenal (and in truth, the previous matches as well) showed that the seeds to grow such a culture have only partially been planted.
Yes, there have been clear visible signs of implementing certain aspects of such a style – the passing out from the back and the cohesive pressing for example. But the real basis around which the whole concept works is the centre of midfield. At Swansea, Rodgers had three midfielders – Gower, Britton and Allen – whose relative positioning to each other was so exceptional that they could carve triangles all over the pitch. Liverpool 0 Arsenal 2
In stark contrast, the holes left in the centre of the field by Liverpool's midfield trio (even in previous matches) are extremely worrying. The same were exploited by Arsenal quite often, the most telling of which was when Cazorla breezed through the centre of the pitch for Podolski to score his first goal in English football. There were other occasions on which, just like last week against City, Joe Allen was left exposed by his midfield partners but Liverpool weren't punished for them.
Gerrard, especially, was the culprit for not only conceding possession too often but also putting in a sluggish defensive performance. The sight of the skipper failing to chase back and rectify his errors, projecting a lack of motivation, is hardly inspiring for a club that is used to looking at him as their messiah.
At half-time, he was Liverpool's worst passer with an accuracy of 74% (81% - third lowest, by the end of the game). That was partly because of his poor touch and partly because he was so high up the pitch at times that his only option was to thread a risky ball to the forwards. Barring Fabio Borini, he was the weakest link in the team.
One cannot emphasize enough how important ball retention in such a formation is. When a team is set up to spread play in order to maximize the area of the pitch, gifting possession to the opposition leaves you reeling with no shape; which is exactly how Liverpool are frequently getting exposed this season. There were minimal link-ups between Allen, Gerrard and Sahin; the lattermost being hugely ineffective and off the pace in his first game in English football.
How will a team retain possession in attacking areas and build up patiently when the midfield players aren't in positions to hold on to the ball?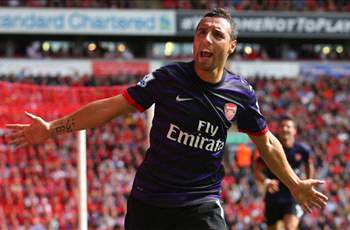 That's how you do it!
This game was especially interesting in the sense that it showed where Liverpool were lagging in direct comparison to Arsenal. Whenever the Gunners had a sustained period of possession, it was always high up the pitch, more or less in the attacking third, dictated by the brilliance of Arteta (95% pass accuracy), Diaby (91% pass accuracy) and Cazorla (90% pass accuracy).
On the other hand, Liverpool would pass the ball smoothly in their own half, dictated once again by Joe Allen (93% pass accuracy), but the team would hurriedly give up the ball in the attacking third. Four of Liverpool's top six passers (in absolute number of passes) were defenders, whereas four of Arsenal's top six passers (in absolute number of passes) were midfielders or forwards, clearly indicating the difference in the type of possession.
Incisive, threatening passes were the order of the day for Arsenal. Inconsequential, harmless or inaccurate passes became the order of the day for Liverpool and the away team was happy to sit back.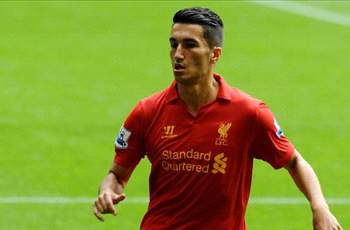 How did I fare?
Early in the half, there were glimpses of positional rotation when Gerrard dropped back as Allen and Sahin pushed on down the left. Sahin was often hugging the touchline early in the game – it could have been a deliberate ploy to put the brakes on 'the Ox' or exploit Jenkinson at right-back. However, Sahin was on the periphery of the game throughout and seemed to lack his usual poise and swagger. Late in the game, when he chose to pass in a clear shooting position, you could see that the loan signing lacked confidence.
Only after Jonjo Shelvey replaced Sahin could one see some sustained possession in and around Arsenal's box. But Arsenal quickly doubled their lead and were happy to sit back and absorb pressure for the rest of the match. Even then, penetrating football betrayed Liverpool and the home team were reduced to having pops at goal from long distances that largely sailed into the Kop.
It wasn't a terrible performance from Liverpool, nor was it one that allayed the fears of hugely negative consequences of deadline day mishaps. When Anfield looked forward to a performance that would cry out and say 'things are under control', Liverpool delivered one that has been its trademark for over a season – a disjoint and wasteful one.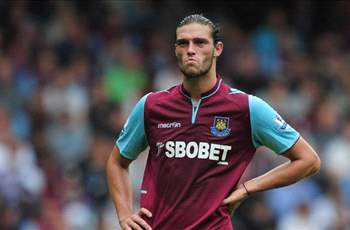 Missed me?
Luis Suarez had another one of those games where his ideas weren't particularly working and he was moaning throughout the match. The injustice of not being awarded a stonewall penalty, which also would've meant a sending off for Per Mertesacker, seemed to have got the better of him. His attempt at chipping the keeper from six yards, when simply putting his foot through the ball would've earned him a goal, summed up a miserable afternoon for a player who must surely be feeling the burden of scoring goals. With an extremely poor 68% accuracy, Suarez's passing leaves a lot to be desired especially when it is vital for him to not waste possession.
Liverpool had edged out Arsenal in terms of possession in the first half hour, but failed to be lethal in attack. Fabio Borini's decision-making in the attacking third was extremely poor and wasteful - worthy of an inexperienced 21 year-old who is still learning the game. On the other flank, Raheem Sterling was again the brightest of sparks, linking up beautifully with Jose Enrique and Allen. His physical strength to avoid being dispossessed, by one or even two Arsenal players at once, was a pleasure to watch.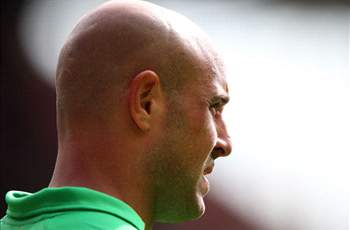 What happened?
Pepe Reina had another mediocre outing and after a mid-week howler. He no longer gives out a sense of security towards either short stopping or dealing with set-pieces.
One could sympathize with Brendan Rodgers though, who had absolutely no scope for a different plan; the club having sold their plan B to assist West Ham's plan A. From renewed optimism after last week, reality check seems to have hit the supporters hard after a dreadful last three days.
Brendan Rodgers knows he'll suffer defeats as he aims to make ninety minutes at Anfield the longest ninety minutes of the season for visiting teams. However, that will only happen when his midfield sticks together and starts dictating the play.
How do you stay up with football when on the move? With http://m.goal.com –your best source for mobile coverage of the beautiful game.