COMMENT
By Arkaprabha Chakraborty
Well, we suppose that COULD be the end of the saga. But football, as far as it is predictable, never works that way. Andy Carroll is now officially in the claret and blue of arguably the most historical club in England. Before Liverpool fans jump at us, we'd like to clear out the fact we do not equate 'history' with 'historical success'. That is Liverpool's pride and will remain so for now. Some of the stories, games and legends that surround West Ham United are just so phenomenally unique not only for the history of the game in England, but worldwide. So yes. Arguably the most historical.
And this is the club rejoining the Premier League after a one-year scramble in the Championship before eventually running out winners. Supporters would be bouyed and bullish under the management of Big Sam Allardyce, who has made some good signings and very clever ones. The bigger names include Jussi Jaaskelainen, Modibo Maiga, Matt Jarvis and of course, the big Geordie lad Carroll.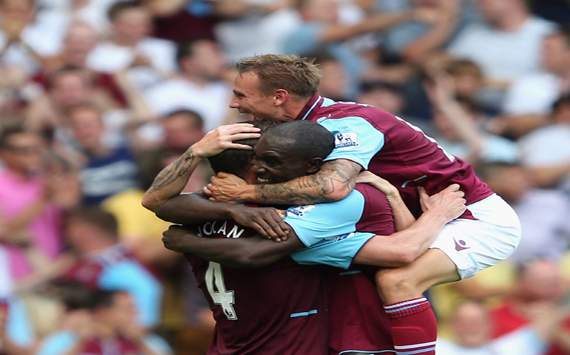 Nolan, Cole and Taylor |
Service, competition and service for Carroll at his new club
So, what's the formation? Well, let's take best case. In the win over Aston Villa, it was a 4-3-3 deployed to good effect after a bit of initial shakiness. Carlton Cole was flanked by Matthew Taylor and Ricardo Vaz Te and a midfield of Kevin Nolan, Mark Noble and Mohamed Diame had quite a good grip on the game.
With Carroll's introduction, the only possible position to take would be Cole's. It is beyond unlikely that Allardyce would play the two together even in a crunch situation. So the tip of a 4-3-3 at a side that isn't quite full of hoofball players but is quite removed from smooth, grounded attacks as well. On the plus side, this is going to be playing to Carroll's strengths and skill set.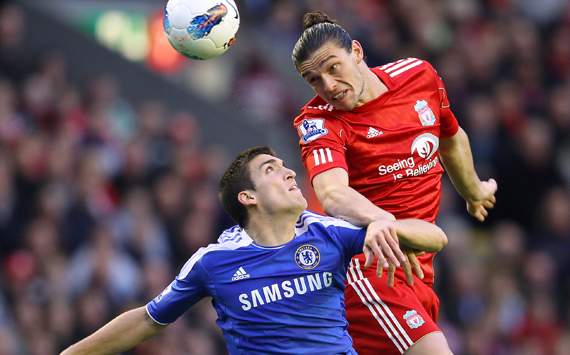 Dominating |
Carroll's skill set is of the classic No. 9, something West Ham need
A big, powerful striker with passable pace and good momentum on him, he will be a wonderful target for the midfield and wings to aim at. His aerial prowess is one of the best in the game today and he's a useful knock-down striker for his support cast as well. West Ham is certainly one of the best teams he could have gone to for playing to his strengths.
On the flipside, at the age of 24, and most people tend to forget how young he is, he will be losing a critical year in the development of a striker's skills in general. After he's 26, and that's just two season's away, Big Andy should theoretically be at his peak, but then that peak is a question of degree.
Being a striker in a system and situation he hasn't been comfortable with would be much more useful for a developing skill set than playing the same game all through. And whatever we might have to say about the clubs, Liverpool's facilities, personnel and resources have to be far and away ahead of West Ham's. It's unfortunate but true that Andy Carroll will be missing out on them.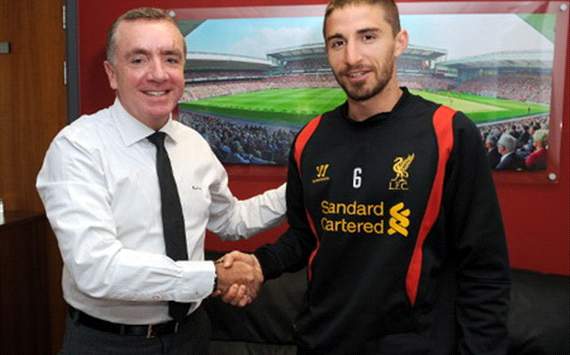 Quick Attack |
But is that the only kind of attack Liverpool can try now?
And finally, spare a thought about Liverpool as well. With this loan, Brendan Rodgers has effectively ended Liverpool's possibility of having a Plan B any more. As he tries to get the Reds into 'Swansealona' mode, he has given up their one different attacking threat for small, fast strikers who know how to pass and move.
But the point is that they are all similar. No more space for fiddling around. It could be a very effective system and time will tell, but in the two games we've seen, it hasn't been (even though the City game was more enouraging) yet. Was it really that wise to let go of Andy Carroll for the season? We wonder.
Follow Arkaprabha Chakraborty on

How do you stay up with football when on the move? With http://m.goal.com –your best source for mobile coverage of the beautiful game.