Akarsh Sharma analyses what the Turk brings to table at Anfield and also discusses as to where shall he fit into Brendan Rodgers' scheme of things...
COMMENT
By Akarsh Sharma
The importance of Sahin's deal wasn't merely restricted to the addition of a potentially world class player to the squad for a season. It also represented an important mini-win for a club and, in particular, its manager.
It's true that Liverpool offered greater monetary benefits than Arsenal did, but to influence a player like Sahin away from the appeal of playing at the topmost level of Europe required more than just a spike in wages. Brendan Rodgers' plans, ambitions and a firm commitment to a sound football approach triumphed over the player-repelling absence of Champions League football at Anfield. Staunton's View - Nuri Sahin
All of a sudden, the outlook that Liverpool could no longer attract top players took a hit. Instead, the club welcomed a midfield player with an abundance of flair; the kind of midfielders that have been few and far between at the club for more than a decade. United signed Shinji Kagawa, Chelsea bought Eden Hazard, Arsenal captured Santi Cazorla and Tottenham swooped for Gylfi Sigurdsson from under Liverpool's noses. Nuri Sahin represented the Merseyside club's capture of its own midfield maestro, albeit in a different role than the above-mentioned names.
But when Lucas pulled up early in the season, the significance of signing Sahin really came to the forefront. A long-term injury to Lucas was the major cause for Liverpool's downfall last season. Now they can replace Lucas with a better player to prevent a repeat of the same this season. For this reason alone, a little loan fee seems vindicated.
Sahin will slot-in against Arsenal this Sunday as direct positional replacement for Lucas, although not an entirely like-for-like replacement but definitely more like-for-like than Shelvey or Henderson. With Shelvey instead of Lucas in Rodgers' midfield trio, Manchester City found acres of space by stretching the game early on through the wingbacks as both Gerrard and Shelvey were frequently caught ahead of the ball.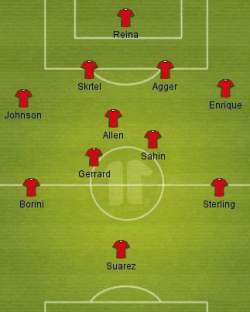 (without Lucas)
Lucas' sense of positioning in front of the defence was missed; his tackles last season (a tackle every 15 minutes) were evenly distributed across the width of the pitch. That particular feature of Lucas is likely to be missed in the upcoming matches since Sahin, although not shy of getting stuck in, is akin to Alonso in his style rather than being a robust defensive midfielder (Sahin tackled once in every 26 minutes in Dortmund's 2010/11 campaign).
Lucas' injury and Sahin's ball-playing abilities mean Joe Allen (a tackle every 26 minutes with Swansea last season) will have to assume the Brazilian's role and the Turk will have to share the burden with him.
The Turkish midfielder is virtually restarting a promising career. He had arrived in Madrid from Dortmund as Bundesliga's best player, with a career showing signs of sky rocketing to greater heights. However, a combination of injury and tough competition in Madrid's midfield meant that he wouldn't even start from the bench on most occasions and the all-conquering Sahin was nowhere to be seen.
In Germany, Sahin was the most pivotal player in Borussia Dortmund's success. A razor-sharp passer of the ball, Sahin was single-handedly responsible for his side's tempo which drew comparisons with the likes of Xavi, Pirlo and Alonso. He was the seamless link between defence and attack, with a knack of seeing and executing killer through balls. He is blessed with great technique and his dead ball specialties meant he racked up his assist count (56 of his 104 key passes came from set-pieces in Dortmund's 2010/11 campaign).
Tactically, his arrival had thrown up a lot of questions. While Lucas and Gerrard form the backbone of the team, Allen has been putting in 'Man of the Match' performances. So, who would make way? Lucas' injury means that, for now, the midfield set up would include the obvious trio of Gerrard, Allen and Sahin.
In comparison to the trio that has started the season, the new one will be more adventurous in attack with two players capable of being playmakers, but equally more susceptible in defence with none of the three being out and out defensive midfielders. This trio, though, is more technically gifted than the previous one; Sahin being a better ball player than Lucas.
Apart from a possible lack of balance in the offensive and defensive sides of the central midfield, there is also a possibility of a more direct approach (or less 'tiki-taka') than what the manager likes.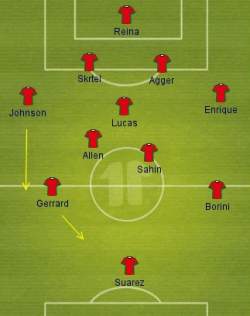 (Gerrard on the right)
Gerrard's ability to adapt to Rodgers' short passing system has often been questioned because of his love for the so-called 'Hollywood passes', a term he has made his own in England. The skipper had a terrible outing against West Brom, struggling with the manager's demand for constant movement and short passing. But against the champions, he was much better. Ironically though, it was his direct curling pass behind the City defence that almost led to a Kompany own goal and instead, led to the corner from which Skrtel thumped in a header.
The whole concept of a 'Hollywood pass' isn't particularly negative if mixed up with the right amount of short passes, which in turn depends on the player's decision making. As mentioned before, although Sahin is adept at retaining possession, his strengths lie in spotting and executing the killer pass.
In his award-winning 2010/11 season in Dortmund, Sahin made the highest number of key passes from open play (48) and attempted the most number of through balls (22) in the Bundesliga, clearly indicating his love for an incisive pass. The downside of it was that Sahin was also the player with the most number of inaccurate passes (428), most number of inaccurate through balls (14) and had a passing accuracy of only 76%.
In the player's defence though, Dortmund weren't set up to control possession and relied on quick, flowing counter-attacks. Average possession of Jurgen Klopp's championship winning side was only 52%. But both Gerrard and Sahin create significantly more chances per minute than any other Liverpool midfielder.
Thus, this method has the potential of creating more chances, but runs a major risk of conceding possession, which means conceding control (which is the current ethos of Liverpool football club). Would Rodgers, being a possession-controlling enthusiast, prefer that both the midfielders curb some of their natural instincts?
Sahin should also have an Alonso-esque positive impact on Gerrard. Sahin's dead ball expertise will free Gerrard up for headers more often – a part of his game which is underrated due to his set-piece responsibilities. And if Sahin settles in well, all the play is likely to go through him rather than through Gerrard which has been the norm at Anfield for a long time.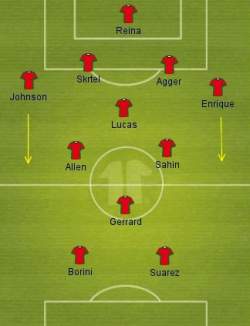 (Possible diamond formation)
While Sahin fits in straight away for now, how will Rodgers shape up when Lucas returns? Rodgers, it seems, wanted Sahin for a left-sided midfield role. This could have meant a diamond midfield of four with Gerrard at the top of it, but the manager has consistently claimed he likes to play with three central midfielders. In addition to that, his philosophy of pacey wingers also takes beating in a diamond formation and the width will need to be provided by the full-backs.
Alternatively, he could stick Lucas, Allen and Sahin in the centre and play Gerrard on the right flank as an unconventional winger. Gerrard, of course, has played there before under Rafael Benitez. In such a formation, Glen Johnson will be a key player in making use of the width while Gerrard would play more centrally than a traditional right winger. This formation would also see Sahin take up a more attacking role, while Allen and Lucas play a withdrawn role.
It is a good problem to have for any manager and it'll be interesting to see how Rodgers solves this problem over the course of the season.
Nuri Sahin is a player who is used to being under the spotlight in Germany and come this Sunday, he'll be under one again if he starts against Arsenal. It's not even early days yet, but he has brought a mighty sense of anticipation with him.
Liverpool's referral system has proven time and again how strong the bond between the club and the player usually is. Alonso urged Sahin to move to Liverpool, Bellamy urged Allen to do the same, Hyypia counseled Yesil to join the club and even the likes of Ryan Babel keep track of their old club's matches.
The Kop's voice and love earned one extra season out of Xabi Alonso. While Sahin is contracted for only one season, who knows what could happen if he too becomes a Kop Idol?
How do you stay up with football when on the move? With http://m.goal.com –your best source for mobile coverage of the beautiful game.