COMMENT
By Kaustav Bera
European Champion and a lethal finisher. No, it is not Fernando Torres even though he more than satisfies the first criteria (being double European Champion last season, both with Chelsea and Spain). However his stock at fulfilling the second criteria has taken a beating ever since he had swapped Red for Blue.
In fact we are talking here of Radamel Falcao Garcia, better known as just Falcao. Having joined Atletico Madrid from Porto last season for a record breaking €40 million which could rise to a staggering 47 million based on performance. Falcao almost instantly adjusted to life in Spain as he ended up with 36 goals in all competitions last season, including a sensational haul of 12 goals in Europe as he single-handedly led the Los Rojiblancos to the Europa League summit.
On the flipside, Torres' first full season with Chelsea had been a nightmare in terms of individual performance as he has often been second choice to Didier Drogba and could only manage 11 goals in 49 appearances for the Blues. With his partnership with Drogba non existent, Torres was often a familiar sight on the bench with the Ivorian being the undisputed first choice for Roberto Di Matteo's double winning side.
The two strikers could not be much different in their style of approaching the game. Although Torres is going through a major dip in form, both share the knack of scoring goals galore. In his Atletico Madrid days and the Liverpool tenure, Torres was unstoppable at his best and capable of scoring goals even when not having the best of games. Quick on the feet and with a dash of acceleration that could leave any defender dead in a flash. As easily as he could dribble past players, he was brilliant in the air too with an eye to score headers. Torres in full form was every defender's nightmare, as Nemanja Vidic will testify having been put to the cleaners on more than one occasion when facing up to the Spaniard. This was the same Vidic who was arguably the best defender in the Premier League for a couple of seasons running.
Meanwhile, the Colombian goal machine possesses all the qualities of a perfect target man. Big and strong, he cannot be easily harried off the ball. An expert at holding up the ball to bring his team-mates into the game, Falcao is unplayable in the air even though he is just 5ft 10 with an extraordinary leap off the ground that allows him to generate unimaginable power in his thumping headers. Not only that, Falcao might as well be a complete forward, as he revels in shooting from all kinds of tight angles and is equally proficient at taking on defenders and beating them easily. He is probably the most lethal finisher in the game right now, with this uncanny ability to manufacture a goal scoring chance from any and everywhere. He can dribble the ball with ease and is two-footed.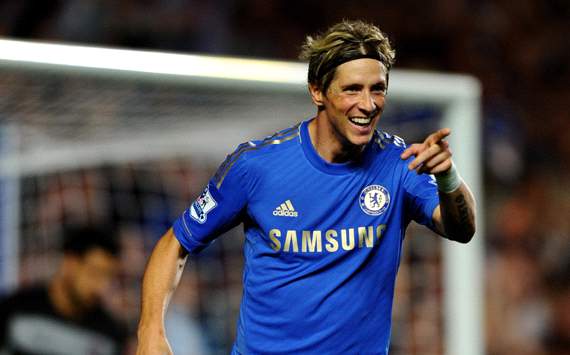 Does Falcao suit Chelsea's system better than Torres?
Fernando Torres' apparent lack of goals last season, more than the striker's individual ability could also be pinned on Chelsea's system. Under Roberto Di Matteo, Chelsea had a 'safety first' approach as was perfected during the Mourinho era. Instead of goalscoring being the first priority, they would set up in such a way so as to not concede. Playing with the philosophy of sitting back and absorbing wave after wave of opposition attacks, while trying to nick a goal on a quick counter, it paid rich dividends for the Blues as this tactic led them to be crowned the European Champions.
Under this system, Didier Drogba reveled as he played as the lone striker upfront where he was expected to hold up the ball all by himself with almost no other support in sight. He was also expected to come and help out in defense and at the same time make a nuisance of himself among the opposition centre backs.
Torres is no Drogba as was found out last season as he failed to adapt to the 'dig deep and defend' tactic that Chelsea perfected. Torres would always prosper when he could be backed up by another player and in a system that played quick passes and one twos instead of hopeful long balls and hasty clearances.
Falcao however would be the perfect Drogba replacement as the Colombian hitman possesses the necessary qualities that made Drogba a cult figure at Stamford Bridge. Moreover Falcao would be at home in the one striker Chelsea system as he could easily use his strength to hold the ball up for long, in order to bring his team-mates into play. Especially with the defensive mentality that Chelsea often assumed against strong teams last season, Falcao would be ideal as he possesses the ability to create a goal from the most unlikeliest of situations, which would certainly come in handy.
Although in the beginning of the new season, the partnership between marquee signing Eden Hazard and Torres looks to be interesting with the Spaniard already having scored 2 goals from 3 matches, but against big European opposition where Chelsea may as well look to contain rather than attack, it is doubtful how well Torres could play the isolated role of a target man. Falcao too has started the new season having scored a hattrick against Athletic Bilbao after not scoring against Levante in the first match of the season. If a swap were to happen, Falcao would surely be at home in Stamford Bridge and would certainly be more in tune with Chelsea's tactics than Fernando Torres.
What DO YOU Think? Who will come out on top in the battle of the two hitmen? Will it be Torres who once again proves his doubters wrong and justify his decision to join Chelsea? Or Will it be Falcao who just keeps on scoring? Let US KNOW...
Follow Kaustav Bera on

How do you stay up to date with football when on the move? With http://m.goal.com – your best source for mobile coverage of the beautiful game.