ANALYSIS
By Ben Hayward | Spanish Football Writer
This was not what Jose Mourinho had in mind. Three games into the 2012-13 campaign, his Real Madrid side have lost twice and drawn once. In his 12-year coaching career, the Portuguese has never made such a poor start to a season, and with just two rounds of La Liga disputed, his team are already five points adrift of title rivals Barcelona.
Never, since starting his first full season with Uniao de Leiria in 2001, had Mourinho failed to win any of his first three matches. Not at Porto, Chelsea, Inter, nor Madrid. Admittedly, the Portuguese's charges often start slowly, but seldom so sluggishly as this campaign. Only once had a side coached by Jose lost two of their opening three matches and that was with the Blues in 2006-07 - his third season at Stamford Bridge.
Now embarking on his third term at the Bernabeu, it is perhaps not a positive omen. But beyond a statistic which may yet prove irrelevant and the results against Valencia (1-1 at home), Barcelona (3-2 away in the Spanish Supercopa first leg) and Getafe on Sunday, it is the nature of those slip-ups which will cause concern more than anything else.
Getafe may or may not have merited victory, Mourinho claimed on Sunday, as he complained of a handball in the build-up to the home side's winner, but he was sure about one thing: Real Madrid had deserved to lose.
Just like in their first league match this term, a 1-1 draw at home to Valencia, Mourinho's men had taken the lead through Gonzalo Higuain - and then taken their feet off the pedal. This time, it proved even more costly.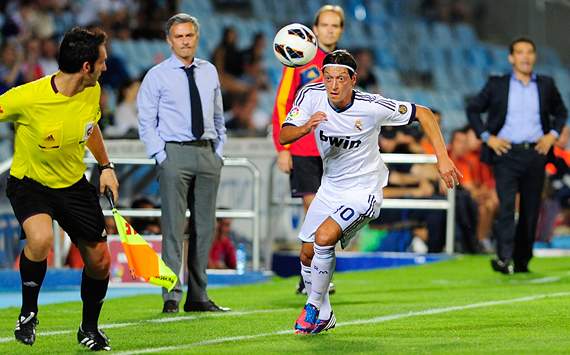 Chasing the game | Mourinho's men are already playing catch-up in La Liga


Chances came and went in a first half dominated almost entirely by Madrid. Prior to Higuain's strike (which saw the Argentine surpass the Brazilian Ronaldo's total of 104 goals for the club), Mesut Ozil blasted against the crossbar with an open goal at his mercy. And later in the half, Cristiano Ronaldo hit a shot straight at Miguel Angel Moya in an action he would surely have buried in 2011-12.
If anything, there was still a holiday feel about Madrid. Here, they lacked confidence, they lacked balance, and they lacked belief. The season may just have started, but the forwards look lethargic. Yet to reach their peak fitness following a summer which included Euro 2012 competition, Mourinho's men are currently missing the intensity with which they strangled sides last term.
For the second league match in a row, Xabi Alonso was paired with Lass Diarra in central midfield and the result only served to reinforce the idea to bring in Luka Modric. With the forwards failing, Real required added guile in midfield - but Alonso cannot do it all on his own. "We need to change this dynamic as soon as possible," the Basque told reporters after the game. The Croat, meanwhile, is said to be finally arriving in Madrid on Monday - and his signing cannot come soon enough on this showing.
Mistakes must also be addressed, however. A nervous Iker Casillas came charging off his line in the first half and was nowhere near a Getafe free kick which, luckily for him, was headed over the bar by Abraham. And seven minutes into the second period, Juan Valera rose to head home a superb delivery from Abdel Barrada. Much to Madrid's delight, the midfielder had headed the winner against Barca last term. This time, though, he had left them frustrated - especially as the goal came from another set-piece.
Two goals conceded in La Liga, both from dead-ball situations. Mourinho, naturally, was furious. "We have practiced and practiced and practiced set-pieces," he later lamented. "There is no time to practise any more. When there is an individual error, there is nothing I can do about it." So Alonso and Sergio Ramos, who between them failed to track Valera, can expect some choice words on Monday.



Real Madrid were very bad, it was unacceptable. More than a victory for Getafe, it is a deserved defeat for Real Madrid





- Jose Mourinho

But there was worse to come for Madrid. After Angel Di Maria had missed a glorious opportunity, Raul Albiol was beaten for pace by Adrian Colunga, who raced away down the left - aided by an involuntary handball - and squared for Barrada to smash an unstoppable drive past Casillas with 16 minutes left.
Madrid ended the match with Higuain, Karim Benzema, Ronaldo, Ozil and young striker Alvaro Morata all on the pitch, but they were lacking creative input further back. Nuri Sahin has left on loan, Modric is yet to arrive and Kaka appears to have played his last game for the club, amid reports in Spain of a fall-out with his coach. The Brazilian's playmaking prowess could have helped here.
It was a poor performance from Madrid, just about wherever you looked, in front of around only 8,000 fans. With ticket prices starting at €50, many Getafe fans chose to stay at home. Perhaps the surprise, however, was that Madrid's support stayed away too, instead of making the short trip across the city to get behind their side. Of those who did turn up, several told television show
Punto Pelota
later on that Mourinho must go.
The majority, of course, are unlikely to be in agreement with that sentiment and the Portuguese could yet lead the side to a third title in his tenure by beating Barcelona in the second leg of the Spanish Supercopa on Wednesday. To do so, however, they will need to be much, much better than this.
Barca themselves negotiated a tricky trip to Osasuna, where they all but lost La Liga last season under Pep Guardiola. Defeat in Pamplona back in February had handed Madrid a 10-point lead in the competition and the Catalans never recovered following a 3-2 reverse in the freezing conditions.
Mind the Gap: Barcelona & Madrid after two rounds of La Liga
This time, the cool chill was replaced by warm weather in the Navarran capital - but Barca still struggled. Outplayed in the first half and a goal down after Joseba Llorente's 17th minute strike, Tito Vilanova's side were still trailing with 15 minutes left. But Lionel Messi, so subdued for much of the evening, poked home to level and slotted in a second with 10 minutes left to seal victory for the Catalans in a game full of controversial calls.
Messi had been clear on goal when erroneously flagged offside just before Osasuna's strike, but the Argentine was fortunate to see his first goal stand as Alexis Sanchez had been in an illegal position earlier in the move. Patxi Punal was subsequently sent off for protesting, in a decision that appeared harsh and left Osasuna defending with 10 men. They were unable to hold out.
Earlier, Vilanova had been sent to the stands as well and the Barca boss criticised the officials. In the corresponding clash last season, three big offside calls had gone against the Catalans. This time, they probably got what they deserved and managed to maintain their perfect start so far: it is now three wins in a row under Tito.
Barcelona and Madrid meet again on Wednesday at the Bernabeu in the second leg of the Spanish Supercopa, a trophy Vilanova is desperate to win in order to give his tenure some early cheer. Just three games into the season, however, it is Mourinho's Madrid who need the bigger boost.
Follow Ben Hayward on