Sergio Aguero – £35m, Robinho – £32.5m, Carlos Tevez – £25.5m, Samir Nasri – £25m, Daniele De Rossi – Priceless! There are some players that money can't buy.
City's billionaire owner Sheikh Mansour, over the last two years seems to have successfully adapted to the famous tagline of the American financial services giants, only that he seems to have ignored the deep underlying meaning that helped MasterCard earn the respect in the hearts of its customers.
Daniele De Rossi's royal snub of Manchester City's bumper pay packet, last week, to stay at his boyhood club Roma, hopefully has made him understand what the television advertisement made us realize almost a decade ago. Amongst other things, when it comes to football, you simply cannot "buy" loyalty. De Rossi turns down Man City
Football today has reached such cynical heights, that players like the Italian midfielder are far and few in number. There used to be a time when players would just pledge their loyalties to the teams that made them into the kind of players they would go on to be known as, only to go down as legends – never mind the scarcity of trophies and medals in their collection. But thanks to big spending clubs like Manchester City and their new rivals in terms of financial power - Paris Saint-Germain – these footballers are a dying breed.
You can literally count the names on your fingers and this is a worrying sign for football as these legends are either at the far end of their careers or have already pledged the last contract of loyalty to their clubs with players like Ryan Giggs, Francesco Totti and Paul Scholes just to name the very few playing today.
De Rossi is the youngest of the lot, and last week by very humbly rejecting Mancini's £130,000 a week offer, has restored hope in a time where a football fan knows for a fact that come next transfer window and his very own club icon may still be playing for the club again.
Just a couple of weeks back, we saw a player of a stature as big as van Persie's, leave Arsenal for their fiercest rivals Manchester United because he was tired of not winning anything season after season with the club that, with all due respect to his talent, made him a household name in Europe. Well what's interesting here is that De Rossi is an equally great player, and probably deserves to win more than the Dutchman if you compare their contributions to their respective clubs.
While Robin had spent much of his Arsenal career on the treatment table, the Italian on the other hand, has been a fighter for his boyhood team giving in his best performances every season to turn into one of the most dependable and fiery defensive midfielder in the world, while his team kept falling from grace. In a way, he is what Del Piero was for the Juventus fans.
Now, one would have never expected Alex to leave Turin, even if he deserved to win more during his peak when instead he stuck with Juventus when they went down to Serie B. The logic is simple – the leader always goes down with the ship, only to rise before everyone's eyes.
Cartoon: De Rossi stays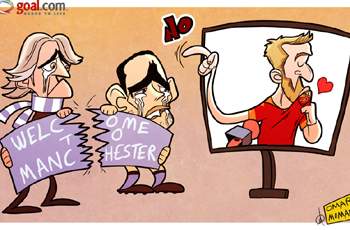 Another great servant of football and teammate to De Rossi, Francesco Totti once famously said that he would rather win a single league title with Roma than winning the Champions League with Juventus or Real Madrid rejecting offers from the various European super powers in football at the start of the millennium.
Come to think of it, and it seems fair that both went on to lift the highest honour in the game when they lifted the World Cup back in 2006. Van Persie is destined to win a lot with United but he is already a mercenary for the Arsenal faithful who have worshipped him through thick and thin. The Dutch striker may now win a lot with Manchester United, while De Rossi and Totti may never win anything again in their careers, but they are already worshipped by the fans they have been loyal to throughout, and that's the biggest trophy a footballer can win.
Win the crowd, not the game and that's how you become the best. Ask Alan Shearer, who snubbed United for his hometown Newcastle, never winning anything again in his life but is yet one of the most celebrated footballers in history.
Coming back to City, there transfer policies over the years have been a little intriguing to say the least. They are Premier League champions, no doubt about it, but can they really be forgiven for sidelining great talents like Edin Dzeko, Adam Johnson, Alexandar Kolarov and Nigel De Jong as substitutes? The club recently signed 21-year old Jack Rodwell to play alongside Yaya Toure, and the youngster will be thanking his stars , City were unable to sign De Rossi, as the Italian's arrival would have limited Rodwell's playing time on the field and he would have been nothing more than a substitute.
Roberto Mancini, despite having one of the best sides in Europe, still complains about the lack of personnel and honestly if the manager of such a talented side cribs about lack of talent of all things, one wonders what more is needed to satisfy him. He has the best strike force in England, some of the best strikers on the bench, and yet he was after Robin van Persie because he has unlimited funds from Abu Dhabi spoiling him. If one remembers, the same manager was quite a humble and quiet figure while at Inter Milan a few years ago.
Same goes for PSG, who have literally halted the careers of Kevin Gameiro, Mamadou Sakho and Nene – incidentally their best player just 4 months back – only because now they have the money to buy the likes of Ibrahimovic, Thiago Silva and Lavezzi? The three sidelines players have no takers on the market today and will be playing the role of sidekicks in a team they were once an integral part of just a little while ago. Clubs like these are upsetting the balance of power in football and apart from spoiling the careers of a lot of players, are creating space for mercenaries who have erased the word loyalty from their dictionaries.



For me it's important to say my piece. I am here at Roma, I'm happy and never asked to leave.





- Daniele De Rossi

What De Rossi has done to City, should serve as an example to the many youngsters who are yet to step into the lime light and hopefully City have learned a thing or two in the process. Another interesting thing to note here is that the common thread that has bound great players like Giggs, Scholes, Maldini, Totti, Del Piero and De Rossi himself to their respective clubs is the fact that they came up through the youth systems which explains their emotional attachment towards the club they grew up in.
Financial Fair Play (FFP) will not curb the excessive spending that clubs resign to these days - City and PSG have already proved that as they go about exploiting the loopholes in UEFA's ruling. Promoting youth players and giving them ample first team opportunities rather than sending them out to smaller clubs, definitely will. Just ask Barcelona, who today have the best team in the world and they never had to "buy" Xavi, Iniesta, Puyol or Messi – the greatest player on Earth - because the club "created" them and these players are destined to finish their careers at Camp Nou as for them there is no other way of life.
Well, on our part, all we can do is congratulate Daniele De Rossi as he has restored our faith in the fact that footballers do have an emotional side to them, and a few great men even today are priceless. Finally, someone's proved that there is more to football than just money and for that we must respect him.
"Some of it makes me laugh. Some of it makes me angry. I am here at Roma; I'm happy and never asked to leave."
How do you stay up with football when on the move? With http://m.goal.com –your best source for mobile coverage of the beautiful game.