Will FC Hollywood be able to take back the crown so rudely snatched over the past two seasons? Let's take a look at their strengths and weaknesses
| | |
| --- | --- |
| | FORMATION |
4-2-3-1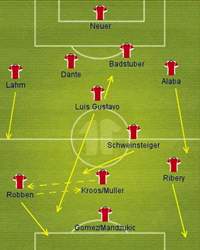 Last season was one of much disappointment for Bayern Munich but that was mostly because of profligacy and a couple of ego clashes here and there as opposed to a real tactical and personnel deficiency.
So we expect Jupp Heynckes to stick to his formational guns and stay with his familiar and effective 4-2-3-1. In terms of his new signings, only Dante and Mario Mandzukic are likely to see significant starting XI action.
The defence will mostly have old familiar faces while Dante will most likely take the place of the slightly shaky converted centre-back Jerome Boateng. The usual right back will be captain Philipp Lahm while David Alaba will most likely be his opposite full-back. The alternaive being Lahm going to the left to let Rafinha slot in at the right. In the middle we will most oftern see the partnership between Badstuber and Dante, which is likely to flourish.
The central midfield will have the extremely fast Luis Gustavo as their defensive anchor-cum-playbreaker, but he sometimes engages in lung-bursting penetrative runs through the opposition midfield as well. The other is their midfield operator, attacker, passer and playbreaker Bastian Schweinsteiger. There isn't much need to explain what he does.
The attacking midfield trio will be the usual suspects involving Ribery, Robben and Muller often taking Kroos' place at tip of the midfield. New signing Xherdan Shaqiri is a happy headache for Jupp Heynckes in the winger position.
Up front, Bayern have two wonderful and similar strikers in the two Marios, Gomez and Mandzukic. Expect much shuffling and shifting between the two, with the healthy competition keeping both in top shape.
| | |
| --- | --- |
| | THE MANAGER |
Jupp Heynckes was probably the nearly-most-successful manager in Europe last season, but ended up missing out on everything. Eventually overpowered by Dortmund in the league they were favourites for, this shift was then represented quite starkly in the DFB-Pokal final where Dortmund embarrassed the Bavarians 5-2. They lost in the Champions League final which they were overwhelming favourites to win, effectively playing a home game with the final held in the Allianz Arena.
Heynckes certainly has the squad and the brains for the challenge this season though. With players as world-class as are under his tutelage, wholesale changes are really not a necessity. Instead, with some fine tuning over the summer, the new signings will give Bayern a bit more competitive edge on multiple fronts as the season wears on. With his propensity for attacking football, his flair midfielders and offensive-minded anchor man fit perfectly into his system. If they can get it down right, Bayern will be a force to reckon with in Europe.
| | |
| --- | --- |
| | TRANSFER ZONE |
Signings made:
Bayern's signings have been quite future-oriented in general outlook, with the three big signings Mandzukic, Dante and Shaqiri so far all able to give five years to the side at least. A short term striker stopgap has been found in re-signing fan favourite Claudio Pizarro while they look to bring in more and more players from their Bayern Munich II side.
They have invested in potential after a long time, with their youth side usually turning up gems, in the signing of Mitchell Weiser from Koln. A couple of keepers have been signed to provide better cover for Neuer but they will hardly see action and their ages show it, with Tom Starke at 31 and Lukas Raeder at 18.
Potential signings for crucial positions:
Bayern have a well rounded squad but perhaps the only problem spot which they think they can solve through the signing of Javi Matrinez would be defensive midfielder who can slot in at centre back. Gustavo's strange ability to attract cards isn't the most desirable trait for his position and that is definitely a place they'd like to shore up in.
| | |
| --- | --- |
| | STENGTHS & WEAKNESSES |
Strengths:
There really isn't much wholesale change from last year and there doesn't have to be. With a squad that can reach the Champions League final without too many major hiccups (as seen last season), what do you need to look at? Their extreme point of strength is the midfield, exemplifying brutal German efficiency in passing and movement off the ball, with everyone making a run to help a team-mate.
Their strikers, Mario Mandzukic and Gomez are more than good goal poachers and are very strong in the air and with their backs to goal, a useful skill with the likes of Ribery and Robben swarming around you for knock downs or short passes in the box.
Weaknesses:
Their defence (except captain Lahm), as always, remains suspect even with the signing of Dante. One cannot help but feel it'll be a case of having to outscore opponents sans clean sheets, despite Manuel Neuer's presence between the sticks.
The addition of Javi Martinez to the side will add the much needed solidity at the back. Boateng's inconsistent form and an ability to switch off at crucial moments has come to hurt the Bavarians.
| | |
| --- | --- |
| | PRE-SEASON FORM |
SpVgg Unterhaching

0-1
Bayern
FC Ismaning

0-4
Bayern
Bayern

11-0
Trentino XI

Bayern
2-3
Napoli
Beijing Guoan

0-6
Bayern
Wolfsburg
1-2
Bayern
Paulaner XI
0-15
Bayern
Kaiserslautern
2-3
Bayern
Bayern
2-2
(4-2)
Werder Bremen
Bayern
1-0
Hamburger SV
Bayern
2-1
Dortmund
| | |
| --- | --- |
| | PLAYER TO SHINE |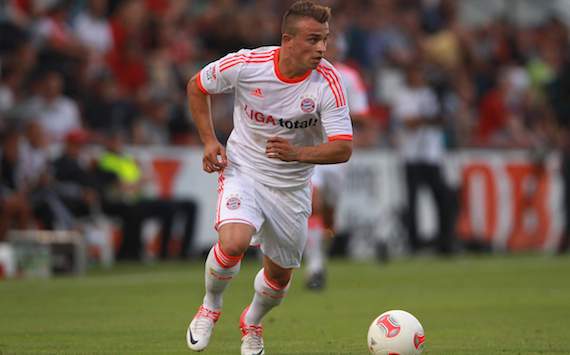 Xherdan Shaqiri's talent has never been in question right from his days at Basel. Perhaps it has never been as well documented because of the relatively smaller status of his club, but the 20-year old had been tipped for greatness from a very early age. He and Granit Xhaka, who has followed him into the Bundesliga with Monchengladbach were always destined for greater things and that has materialized.
Now that he is at a 'bigger club', he's finally getting the right kind of exposure and showing the world what he can do. He's been on fire in the pre-season and can't seem to stop scoring. With six goals in 11 games, for a winger the return more than speaks for itself. He is definitely the man to watch as an impact player.
| | |
| --- | --- |
| | FANS SPEAK |
Romeet Kadam

I think Bayern are a strong side and that reflected when they beat Dortmund 2-1 in the German Super Cup. Mandzukic's signing has been the key as we needed an able back-up for Mario Gomez upfront. I'm still awaiting the signing of Javi Martinez who is the missing piece from our squad. Our defense would look solid with his acquisition.
Anthony Noronha
Our target should certainly be to win the league this year. If you look at our recent history, we have always struggled the following season after a major tournament like a World Cup or Euro. We hope we can get rid of the demons of the past and put in a top display this season. It's important not to lose our nerve and the squad needs to start winning else they risk the chance of being branded a bunch of underperformers, which I know my team isn't.