The Reds have a new manager who hopes to bring about a change in the way they play. Will he be successful?
4-3-3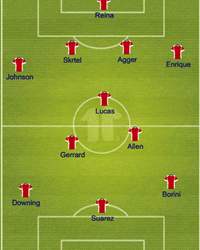 Under new manager Brendan Rodgers, Liverpool will set up in a fluid 4-3-3 formation, but if you ask Rodgers, he'll tell you that the initial formation matters little in comparison to the shapes that eventually unfold on the pitch.
Brendan's philosophy despises flat formations, all the way from defence to attack because it discourages diagonal passes, and preaches the use and creation of angles (or triangles) to make spaces and enhance overall ball retention. Another huge part of the same philosophy is Barcelona-like collective pressing, wherein you stifle the opposition in a particular part of the field and make the pitch smaller for the opposition to play in.
The defensive four will be the usual tried and tested one, but with more involvement in the build-up and an emphasis on passing the ball out from the back. The midfield trio of Gerrard, Allen and Lucas promises to be solid and effective, if not spectacular. While Allen and Lucas will play a slightly withdrawn role, Gerrard will be allowed a relatively free role higher up the pitch. Rodgers will be counting on the skipper's intelligence and he will occupy threatening attacking positions more often than he did in previous seasons.
Inverted wingers, or inverted wide forwards, will be a common occurrence in a Rodgers line-up. The front three will initially consist of Borini (on the left), Suarez (in the centre) and Downing (on the right) and all three will be encouraged to drive into the penalty area as much as possible. Suarez and Borini will indulge in a regular interchange of positions, especially considering that Suarez's movement is one of his and Liverpool's biggest assets.
Brendan Rodgers seems to have struck the right chords with the Anfield faithful thus far. He has brought in a fresh perspective and a new philosophy along with him; one which brought him universal admiration last season. That the legend Kenny Dalglish was unceremoniously sacked only four months ago seems to have been forgotten in the eagerness of seeing the club move forward and embrace a very modern style of football.
But this is Rodgers' first test at a big club with massive expectations and it remains to be seen how he copes with inevitable criticism and pressure. Till now, he has projected an image of a person who is confident, knows what he is doing and is in total control. He hopes that this positivity and self-assurance will pass down to his squad.
Signings made:
Fabio Borini (from AS Roma) was Rodgers' first signing. The 21 year-old Italian striker has previously worked with Rodgers when Chelsea had loaned the player out to Swansea City, so he would be aware of the manager's system. Borini has the ability to poach goals and comes in with a reputation of a natural finisher, but his Kuyt-like work rate will be equally important in the new manager's system. Joe Allen (from Swansea City) is another player who understands the manager's system inside out and will help dictate the same from the centre of the park. Allen's ability to pass the ball consistently and accurately to keep his team ticking over is his biggest asset, and he'll play what has come to be known as the Xabi Alonso role at Anfield.
Liverpool seem to have also wrapped up the signing of Oussama Assaidi (from Heerenveen), who is a 24 year-old with raw pace which is particularly useful on the flanks. This suggests that Rodgers does want to replicate his Swansea set up, wherein he used two fast-paced wingers as wide forwards.
31 year-old midfielder Joe Cole (from Lille) and 21 year-old forward Dani Pacheco (from Atletico Madrid/Rayo Vallecano) are returning from season-long loans. Joe Cole had a good season on loan in the French league and could've returned to France, but Rodgers wanted to keep the player since he has the characteristics to fit into his system. However, Cole is likely to be a bit-part player at Anfield this season considering that he is unlikely to replicate his form at Chelsea that made him one of the best players in the league.
Players sold:
Dirk Kuyt (to Fenerbahce), Maxi Rodriguez (to Newell's Old Boys) and Craig Bellamy (to Cardiff City) are the ever-so-reliable back-up players that have exited Anfield. The exits of these players have left the wing positions slightly barren, but Rodgers has enough his kitty in terms of upcoming youth players and potential new signings to make up for it in the recent future.
After a torrid three-year tenure at Anfield, where he saw himself play more in Turin and Milan than in Liverpool, Alberto Aquilani (to Fiorentina) finally made his permanent move back to Italy to play in Florence. Disappointingly, the move once again came at a time when it looked as if the Italian could be a very useful player for the club.
Potential signings for crucial positions:
Clint Dempsey seems to be on top of Liverpool's want list. The attacking midfielder was crowned the club's player of the season for the second season in a row, after scoring 23 goals and providing 7 assists for Fulham. If he arrives, he would provide another goal threat for a team that desperately craved goals last season. His arrival will also mean that Gerrard might have to relinquish his attacking role for a much deeper or wider one. But with the signing of Allen, the desperation to get Dempsey may have subsided for now.
Bologna midfielder Gaston Ramirez is another player who has been chased by Liverpool all summer with the Italian club refusing to budge. Ramirez, with his versatility that allows him to play on either wings or even in a central attacking role, would be an exciting prospect that would fit into the new system. His presence could provide invaluable cover for three different positions.
Apart from the above two players, Rodgers had announced the possibility of signing relatively big names on season-long loan deals. A move for Cristian Tello, a young exciting Barcelona winger who is never afraid of taking on full backs, has virtually been ruled out by the Catalan giants. On the other hand, their rivals Real Madrid are keen to send Turkish midfielder Nuri Sahin on loan and Liverpool seem to be competing with Arsenal for his signature. Sahin is another player who holds the capability of providing a much-needed spark in midfield and holds the ability to do well especially in a narrow midfield trio.
Strengths:
Liverpool's back four is currently the pillar of assurance, having held the joint third-best record in the league last season (only behind the two Manchester clubs) despite finishing a lowly eighth. Assuming Daniel Agger stays, his centre-back pairing with Martin Skrtel is extremely reliable whereas the two full-backs – Johnson and Enrique – contain the ability to mix up defence with attack. However, the departure of first team coach Steve Clarke and the arrival of a new regime with a new philosophy may affect the stability of the back four.
The potential partnership of Suarez and Gerrard is also one to watch out for, similar to the Torres-Gerrard one that flourished three seasons ago when the skipper was handed a more advanced role.
Under Brendan Rodgers, if one looks to the future, Liverpool's strength is likely to be ball retention and a consistently positive approach towards every game – be it home or away. However, there is plenty of uncertainty about how things might unfold on the pitch for Liverpool this season and with a philosophy that demands cohesion from defence to attack, a unified team, rather than a particular department, will be Liverpool's area of strength if they happen to succeed.
Weaknesses:
Liverpool's weakness still lies in the depth of the squad. There aren't reliable back-ups for quite a few first team positions. If any one or more of Gerrard, Suarez and Lucas are sidelined; it leaves a gaping hole that is near impossible to fill at present. Last season, Lucas' absence had a major impact on the team; best indicated by the fact that the defensive midfielder was the club's most successful tackler even though he missed over half the season. If Lucas' woes repeat this season, the club worryingly still doesn't possess an adequate replacement.
Suarez has been the lone source of creativity, somewhat supported by Gerrard, but apart from these two, there is a distinct lack of creative players in the squad. The recurrent problems on Liverpool's wing, it seems, are here to stay for this season as well. In fact, with the loss of Kuyt, Rodriguez and Bellamy, it may just have worsened. Downing and Sterling are the only natural wingers left in the squad.
The signing of Borini isn't good enough to suggest that Liverpool's goal-scoring woes have been dealt with. Even in defence, the centre-backs are covered by Carragher and Coates – both of whom are error prone. There isn't any cover for Jose Enrique, with Agger and Johnson having to fill in as makeshift cover for the left-back's absence, which in turn weakens other positions as well.
However, the most visible weakness of Liverpool's early part of the season is likely to be the inability to adapt to the new system. Over time, though, adaptation to the system could become Liverpool's biggest strength.
Toronto FC

1-1
Liverpool
Liverpool

1-2
AS Roma

Liverpool
0-0
Tottenham
FC Gomel

0-1
(Europa League)
Liverpool
Liverpool
3-0
(Europa League)
FC Gomel
Liverpool
3-1
Bayer Leverkusen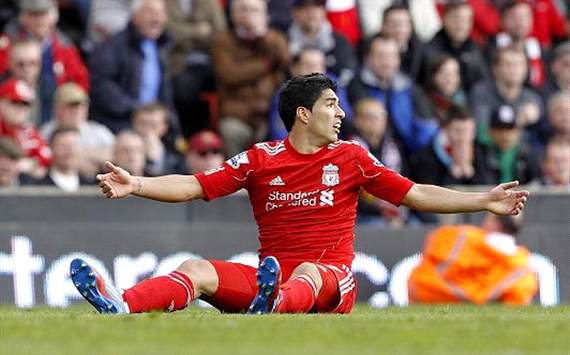 When Luis Suarez is around, there isn't a case for anyone else to shine brighter. The controversial Uruguayan has been through hard times, but signing a new long-term contract indicated that he is prepared to handle any sort of abuse dished out to him on away grounds. More often than not, Suarez is the inspiration that drives Liverpool to a win. He is at the heart of Liverpool's best displays and creates an unbelievable number of chances for his teammates. He is not only the primary goal-scorer, but also their primary creator. Last season, he was one of the most wasteful players in front of goal, but you can expect that to gradually change this season as he adds experience and maturity to his kitty.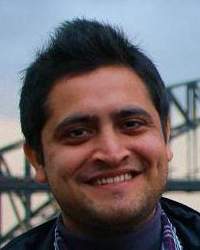 Nikhil Pandit
It's another one of those 'new starts' that we're all too familiar with at Liverpool. It is hard to tell whether I'm more hopeful than before or not, but I think this time the club and its supporters will have a lot of patience. I must admit I'm a 'Brendan believer', but it'll take time for him to make a major impact. Qualifying for the Champions League looks out of reach, this season. Hopefully, the club can make a couple of more signings before the window closes.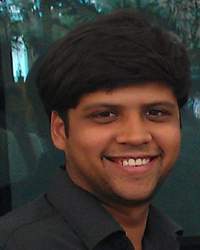 Rahul Subramanian
I have low expectations from this season, which in turn could mean I enjoy it more instead of going through the usual seasonal despair. The new manager's vibes have impressed me and I believe he is the right man for the job – calculated and self-assured. His new signings seem to be well thought-out in the bigger scheme of things as well. I'm hoping to see some delightful, ball hogging 'tiki-taka' that bores opponents to sleep and of course, see our nutmeg specialist Suarez run all defences ragged.
How do you stay up with football when on the move? With http://m.goal.com –your best source for mobile coverage of the beautiful game.