COMMENT
By Rahul Bali
The repugnance shown towards Robin van Persie by Gooners ever since his explanation on why he isn't signing a new deal at the Emirates has gone been multiplied a million times over as the Arsenal skipper finalises his move to their direct rivals, Manchester United.
The sense of dishonesty is in the air and understandably so, given that the club stuck by him when he scored a paltry 60 goals in seven seasons. Yes, he may not have started as a striker in every game in the earlier part of his career with the Gunners but there is no denial that he has realized his potential only in the last 18 months or so. While one may argue that the betrayal chants are uncalled for as Arsenal kept faith in him as they were well aware of the talent he possesses, there is little doubt that this line of thought will not make much sense even to the sanest Arsenal fan.
The Dutchman, early in July, announced on his official website that he doesn't intend to renew his deal with Arsenal for footballing reasons.
"Out of my huge respect for Mr. Wenger, the players and the fans I don't want to go into any details, but unfortunately in this meeting it has again become clear to me that we in many aspects disagree on the way Arsenal should move forward. I've thought long and hard about it, but I have decided not to extend my contract," was the statement.
Just over 24 hours before van Persie's announcement, Wenger had stated that it was imperative for the club to hold on to their star striker "at all costs" and that he expects the Dutchman to repay the faith shown in him. "I have always supported him even in the hardest times, and I hope he will end his career at Arsenal," was what Wenger had envisioned for the club and the player.
However it would be unfair to say that Wenger never knew that the player could leave the club as the London-based club did seal the transfers for Lukas Podolski and Oliver Giroud as a statement of intent. This was a path-breaking summer transfer window for Arsenal as probably for the first time, you never heard a statement from Wenger where he would mention of how he hasn't managed to find a decent player, who fits into their system, and more importantly, isn't overpriced in an inflated market, which has been a constant since the arrivals of Manchester City and Paris Saint-Germain on the scene. He did bow to the pressure from the fans to spend and decided to loosen his purse strings.
And Wenger would have learnt his lessons from the 2011 transfer window where he went into frenzied buying on the final day which was spurred by the 8-2 humiliation at the hands of Manchester United and the false hope of Samir Nasri staying at the Emirates.
The proof of the above lies in Wenger's response to Van Persie quitting Arsenal where he spoke of the replacements stating,"We already signed Lukas Podolski and Oliver Giroud."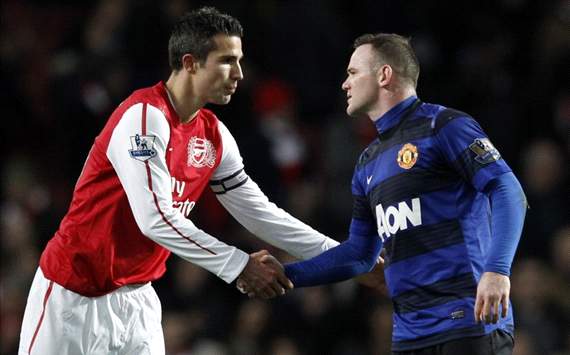 I'll join you, mate|
van Persie doesn't stay back at Arsenal as Rooney did for United

While one may have expected van Persie to do a u-turn after the addition of Santi Cazorla into the squad a la Wayne Rooney when he famously desired to want out of the Old Trafford club for their lack of 'ambition', the writing was on the wall in this case as the 29 year old was convinced that Arsenal wouldn't win trophies with their current set of policies and at his age, time wasn't on his side to be patient.
Legendary status would never be conferred upon van Persie despite his 30 goal-heroics last season which propelled the club into third spot after they were lying in the 17th position earlier in the league campaign. He preferred to chase his dream with an established club who has won 19 league titles, the most in England, rather than be the talisman for Arsenal and lead them to glory.
There has to be settling of scores between van Persie and Wenger and surely the latter would want to prove his detractors wrong by winning a trophy to end their drought of seven seasons. For the second successive season, someone was quitting Arsenal and claiming that the direction of the club under him isn't the ideal one to win trophies, which shall certainly rub Wenger the wrong way.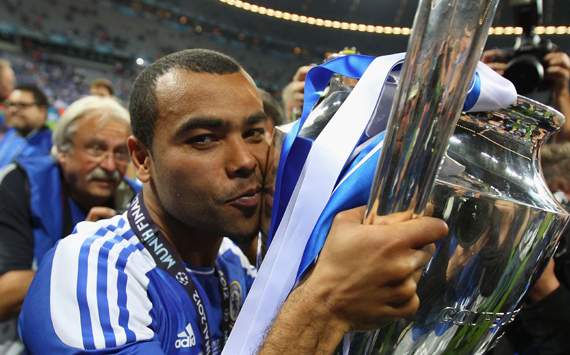 A Winner |
I have won trophies, you haven't

Players like Ashley Cole and Samir Nasri have in the past
ridiculed
their former club for not having won any silverware since their departures, which was certainly attacking the dignity and work ethics of your former manager, who played an important part in making them world class.
If van Persie does manage to win a trophy sooner than Wenger does, it would certainly absolve the Dutchman of all the wrongdoings which the Arsenal faithful fans would accuse him of.
But that wouldn't be easy as Wenger is more than determined to win a trophy this season. And if van Persie flops at United, or his early days are similar to what Fernando Torres endured at Stamford Bridge, expect him to take over the baton from the Spaniard of being the most mocked at Premier League star. Arsenal and United fans would have marked November 3 already when van Persie shall face-off his former team at Old Trafford.
So who, in your opinion, shall win trophies first – van Persie or Wenger?
How do you stay up with football when on the move? With http://m.goal.com –your best source for mobile coverage of the beautiful game.