It's revolution and not evolution at the hands of Roberto Di Matteo for Chelsea this season, but what direction are the Blues headed in?
4-2-3-1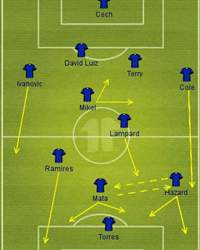 With Roberto Di Matteo getting the coaching job full-time and Didier Drogba's shadow finally away from the meadows of Stamford Bridge (although it's still debatable how good a thing that is),
Chelsea
have only gone and dismantled their Mourinho era system all but completely.
They might have made wholesale player changes to finally get a Torres-centric system, but we suspect Di Matteo to stick to his formational guns from last season. A strong 4-2-3-1 which seamlessly transforms into an effective 4-1-4-1 during attack seems to be his tactic of choice.
We will see a plain back four that now has adequate cover for an ageing Terry, who is increasingly getting shown up these days. The right-back niggle is one that needs redressal, though. In the middle of the park, Lampard has begun to redefine himself masterfully, taking on a more Pirlo-esque, although he doesn't have the same set of skills as the Italian, role as his legs begin to feel their age. He will be partnered by Mikel more often than Essien who has begun to lose his feared intercept-and-run capabilities.
The attacking midfield trio will have to include Ramires on the right as the workhorse of the team, and will probably have Mata and Hazard fluidly interchanging the other two slots as first choice.
And after having so much investment going into him and because of him, the first choice striker quite obviously looks to be Torres.
Roberto Di Matteo quite exemplifies the term 'Cinderella story'. Everyone knew that his managerial ability ranged from middling to decent after he had gotten West Brom promoted from the Championship. It is more than likely Roberto di Matteo himself never dreamed that he would be a Champios League winning manager. but after taking over the reins when current Spurs manager Andre Villas-Boas was sacked, that is exactly what happened, with an FA Cup to boast too.
He has quite unfairly been tagged as someone who emphatically believes in parking the bus, but those who have been following him in his West Brom days know that he always preferred a flair filled attack to a solid defence, wanting to try and outscore the opponent. He actually used his ultra defensive tactics in only three matches, it is just unfortunate they were the most high profile matches of Chelsea's season. His first full season at Chelsea with a whole new system will be a big challenge, though. He certainly has the backing of Roman Abramovich in the transfer market though, with Chelsea being the biggest spenders so far.
Signings made:
Chelsea have made a glut of signings in the same position of attacking midfielder in a bid to spark Fernando Torres into an unstoppable force upfront. With Marko Marin joining up after being signed in mid-April, Eden Hazard becoming a trophy signing, his brother Thorgan joining him, Oscar coming in and Kevin de Bruyne joining up with the squad for the first time, Chelsea look embarrassingly well stocked in the attacking midfielder department. It wasn't surprising that de Bruyne was loaned to Werder Bremen to gain more first team football.
The repetition of position in the signings shows how determined Di Matteo is to have someone or the other who can be the provider and help Torres complete his 'recovery'. The fact that these signings are not names to be taken lightly underlines that the Italian is looking for revolution and not evolution, to play with the words of his predecessor.
Potential signings for crucial positions:
Without (and to be honest especially with) Jose Bosingwa, who was released on a free this summer, right back is a problematic spot for Chelsea in terms of depth after Ivanovic, who has really made the position his own. At this point, after the Serb, the next recognized right backs are in Chelsea's reserve team and though Sam Hutchinson is 22, his fragile knee makes him a liability bar an emergency. Paulo Ferreira is also in the mix but he is clearly past his prime and cannot be relied upon if Chelsea aim to win silverware.
In this scenario, names which have been thrown around are Douglas Maicon and Cesar Azpilicueta, both of which make sense for opposite reasons. With 27-year old Ivanovic visibly in his prime, it would require either a developing player like Azpilicueta or a passing-his-prime player like Maicon to fill the gap. Although Maicon makes a bit more sense in terms of getting academy products in at a later time, Chelsea might end up plumping for Azpilicueta as a long term solution instead.
The Blues will also be keen to add another forward to their squad given that Torres and Sturridge are the only recognised players to play in the striker's role.
Strengths:
Bolstered by the new signings, Chelsea have a regal midifeld in terms of attack-minded players. Any four of Lampard, Oscar, Marin, Hazard, Mata or Ramires will be the names on the commentators' lips as Chelsea move up in attack. The fluidity that the attacking midfielders will offer are going to be Chelsea's grand attraction as they hope to get in quick passes and shots from the edge of the area, but only if they gel well.
Their defence is blessed with good balance, with leader John Terry at the heart of it, marshalling and stopping what he can in a more advanced area while either David Luiz or Gary Cahill do the running which the 31 year old legs aren't as good at anymore. The wing-backs are their real blessing, though. On one side they have (still) the best left-back in the world and on the other, a solid defensive right back with a great cross on him and the ability to long throw.
Weaknesses:
To be very honest, against teams with pace, the Terry-Luiz combination will be a risk that might not be worth taking. With Terry making more and more slip-ups against pacey attacks, he often leaves Luiz in very avoidable pressure situations which the excitable Brazilian often proceeds to mess up. A backline of Terry-Cahill or Luiz-Cahill is a much more sensible proposition, but it remains to be seen what Di Matteo believes is the ideal.
There is also the 'Strange Case of Dr. Mikel and Mr. Hyde' for Chelsea to deal with. Perhaps this is Oriol Romeu's season to shine?
The forward line isn't impressive as could be but in terms of pure form. Torres still remains on shaky ground although he looks to be well on the way to absolution. But then he's had multiple false starts for Chelsea. Daniel Sturridge remains unpredictably brilliant, his ability more often than not clouded by selfishness. With Romelu Lukaku out on loan, these are Chelsea's only two strikers per se. Not totally convincing.
| | | | | |
| --- | --- | --- | --- | --- |
| Seattle Sounders | | 2-4 | | Chelsea |
| Paris Saint-Germain | | 1-1 | | Chelsea |
| MLS All-Stars | | 3-2 | | Chelsea |
| Chelsea | | 0-1 | | Milan |
| Brighton | | 3-1 | | Chelsea |
| Chelsea | | 2-3 | | Manchester City |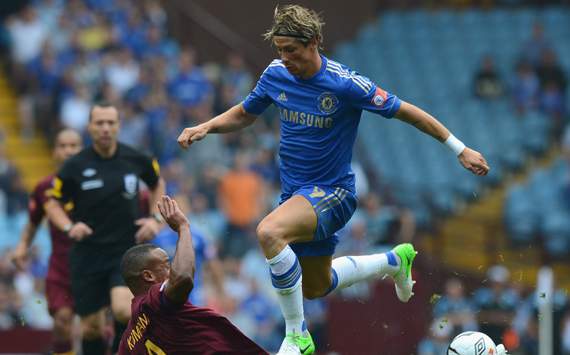 Put in very simple terms, there is no possible obstacle in Fernando Torres' path that the Spaniard can point toward (or have his fans and analysts point for him) to explain away a failure this season as well. He is in form, has won several major trophies as well as the Golden Boot at the Euros, has had his overshadowing competitor leave the club, has plenty of players behind him who can give him good service and has even gone back to being platinum blonde, for any superstitious explanations floating about.
The thing is, no one in their right minds questions Fernando Torres' ability. What they ARE questioning though is Torres' ability to currently use that talent. For reasons unknown, he had almost utterly flopped since January 2011, barring the odd flash. He gained several assists though last season, but a striker is judged by his goals.
A Drogba he might not and might never be, but he might just go back to being Fernando Torres, and that is was every single Blue wants.

Mayank Agarwal
Chelsea has just acquired a host of young, new talents this year. So I wouldn't expect Chelsea to win any silverware this season because they are a young team and the players need to get properly integrated into the team. I would consider every silverware won this season as a bonus, even though this might mean RDM's job may come under some "hazard".
Amitrajit Chakraborty

People thought Manchester United would fall apart after Ronaldo's departure, but they didn't. Chelsea face a similar situation having let go of their legend Drogba. It's definitely a new package with the likes of Oscar, Marin, Hazard and the likes, but there is no reason why RDM cannot repeat the feats of last season.
How do you stay up with football when on the move? With http://m.goal.com –your best source for mobile coverage of the beautiful game.