It's been one of the most thrilling transfer sagas since the one involving Cesc Fabregas back in 2010, which eventually lead to his inevitable transfer last year. And why shouldn't it be? After all, it involves their captain and their best player (yet again). It involves the one big name, that's been synonymous with Arsenal's class and prestige. It involves the man who proudly dons the No. 10 and the reason why season tickets are sold at the Emirates. It involves Robin Van Persie – the Gunners' last hope in their quest to unlock the trophy cabinet, last opened while at Highbury seven seasons back.
Ever since his refusal to a contract extension with Arsenal back in July, Van Persie has been linked to a host of clubs with the likes of Juventus and the Manchester clubs leading the race since day one. What drove him to make this decision will always be a mystery. One cannot help but wonder though, about the state of things had the Dutch won the European Championships back in June. Would Van Persie still have declined an extension, motivated by the unbridled joy of having won a major competition, something he's never experienced in his entire career? Let's leave that to our fantasies, but certainly the heartbreak and realization that he lost the best chance of winning an elite trophy with the national team (or with any team in that case), did play a key role here.
Can you blame him though? He's 29, and one of the best strikers in Europe today, coached by one of the greats in Arsene Wenger but plies his trade with a team that plays beautiful football all throughout the year but somehow ends up winning everything but a trophy. We'll come back to that later.
With City boss, Roberto Mancini, having given up on the chase thanks to his inability to drive out either one of Edin Dzeko or Carlos Tevez to raise funds for the move and with Juventus dealing with the 10 month suspension of their manager, once gain embroiled in a match fixing controversy, it appears that after weeks of speculations, it's going to be Sir Alex Ferguson who would have the last laugh in this saga. It's a mouthwatering prospect for the United fans, and the thought of Rooney and Van Persie leading the line every week is in itself orgasmic to say the least, but all the euphoria aside, does it make any sense both for United and Robin himself?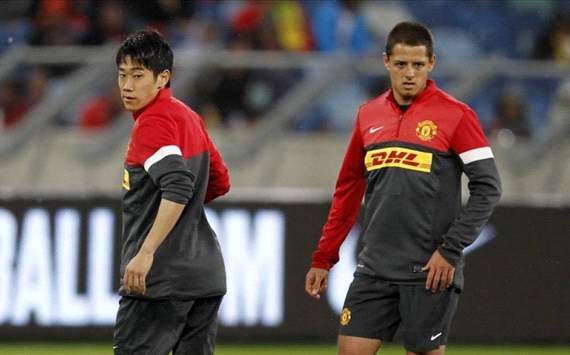 Does United need a striker?
Let's analyze this move from United's point of view first. Sir Alex doesn't need a striker at the moment. It's been ever clear that the need of the hour, is for United to find a central midfielder to replace the ageing Paul Scholes. It's astonishing, to say the least, that they let Luka Modric slip away from their hands when he was still purchasable before the Euros, as he is the only central midfielder currently on the market worthy of replacing Scholes in midfield. With Real Madrid now in the picture, he's certainly out of reach and out of question. The point here is, that United need anything but a forward today.
With the likes of Rooney, Welbeck, Hernandez and new signing Kagawa who can also pitch in as a second striker, they are very well covered upfront with the right mix of experience and youth led by one of the best forwards in the world. The arrival of Van Persie would mean that the likes of Welbeck and Hernandez will be seeing less game time, and how it hampers their growth as footballers, is anyone's guess here. Welbeck showed last season, why he is the right man to partner Rooney with some vibrant displays and with Hernandez breathing down his neck for a slot, has the right environment for his growth. Why would Sir Alex want to deprive the youngsters their chance to shine and grow and spoil the team morale which can be infectious.
Can Ferguson really afford to bench Van Persie in case he doesn't strike form in the middle of the season? Can Van Persie really play second fiddle to Rooney or vice versa, considering that both have been used to being the biggest stars at Arsenal and Manchester respectively? Detractors may argue that Rooney may handle the situation better than Van Persie thanks to his experience as a second fiddle to Cristiano Ronaldo during his time at United, but that was then and it's only after the Portuguese's departure that his true potential and importance was realized by the fans, who now worship him.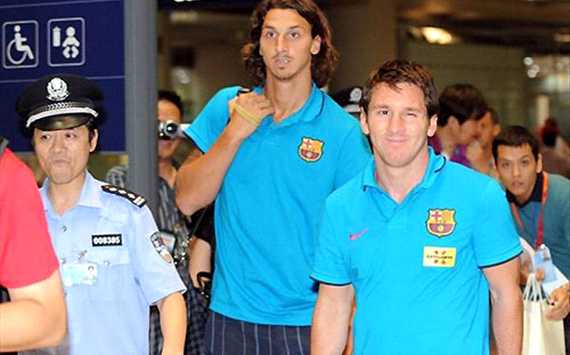 Even Messi struggled to gel with Ibrahimovic
Today he is what Van Persie is to Arsenal, and ruling out a clash of egos in the dressing room would be stupid. Rooney may have welcomed the move with open arms, but he might want to have a chat with Lionel Messi, who in a similar situation, later felt threatened by Ibrahimovic's growing influence at Barcelona during the latter's ill-fated stint at Camp Nou in 2010.
Gone are the days when the likes of Henry and Bergkamp or the likes of Sheva and Inzaghi formed incredible partnerships brushing aside their egos to carve history with their clubs. Its 2012, and the reality is that two big stars don't shine together, but collide to create darkness all over the skies. Sir Alex would be wise to put aside the transfer fee for the right man in midfield instead of acquiring a 29-year old who brings bags of insecurities in the dressing room, and isn't really required from a tactical point of view.
As far as Van Persie's concerned, he would really do well to rethink his decision and ask himself if he only wants to win trophies that can be won even in his absence, or if wants to do the same and be the main protagonist with his name written all over it ? If he chooses the former, well Old Trafford is definitely the right place to be, but if it's the latter, only Juventus can provide him with the stage to win trophies and still be the hero he's used to being at the Emirates. But with the Turin giants turning their attention to Fernando Llorente due to economic reasons, and the Serie A proving to be a step backwards in his career in terms of quality, the big question here is if he should actually chose "to stay" at Arsenal instead.
One can't help but feel sorry for Wenger who throughout his career has made many stars only to watch them leave for pastures new in search of trophies. Fabregas can be forgiven, for he was too young to shoulder such a huge responsibility and the lesser said about the likes of Adebayor, Clichy and Nasri, the better. Can Van Persie really bear the brunt of the fans, lose their respect and go down in history as one of the many mercenaries in football? If he thinks he's doing a Thierry Henry, it's high time he realizes that the former Arsenal captain totally deserved an opportunity to win the Champions League, with Barcelona after what he had achieved at Arsenal making it one of the most feared teams in Europe. That's one major reason why even today he's always welcomed with open arms and always will be. The man earned it.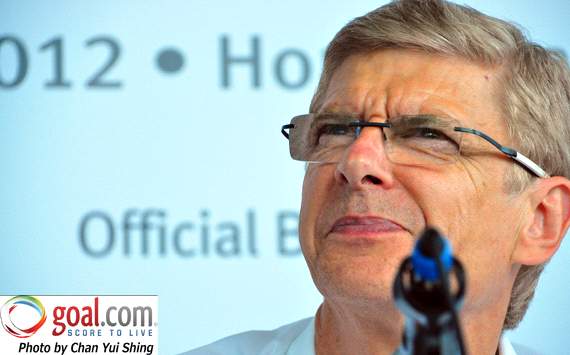 Van Persie certainly owes it to Arsene Wenger
Has Van Persie done enough to leave and still be revered as a legend amongst the Gunners' faithful? Has he done enough to repay Wenger who has actually made him what he is today? Well last season aside, the answer is NO. He may have been the best player in the Premier League last campaign, but his record with Arsenal prior to that has been abysmal by his high standards. Marred with injuries, the thirty goals last season were preceded by a mere 60 league goals in a total of seven seasons. He may have not started out as a striker and in his defense he's a great player, however, it's only last season that Van Persie finally realized his true potential and with him staying fit for most of the season, Arsenal looked deadly for the first time in many seasons, their campaign having been brought down by their disastrous start to the league last August.
Besides with the arrival of Oliver Giroud, Lucas Podolski and Santi Cazorla, the Gunners are finally letting their purse loose, and it wouldn't be wrong to say that all this is being done only to convince their captain to stay and provide credibility to the project which is hollow without him. Not to forget the possible signing of Nuri Sahin on loan, that will definitely add more depth to the squad in midfield.
Arsene Wenger will never force him to stay, just like in the case of previous stars like Fabregas and Nasri to name a few but he certainly deserves more respect for believing in his philosophy of playing beautiful football without the madness of buying players with crazy money and only Van Persie can help him get back to winning ways. Truth be told, he owes him that. Where he plies his trade will be continuously speculated until the end of the transfer window, but at the end of the day it all comes down to the player himself as to what he wants and what will be the right thing to do.
Legends steer their own ship to the finish line regardless of the difficulty of the course and the result. Mercenaries jump ships to win, but lose respect in the process. Van Persie guarantees Sir Alex with lethality upfront, but risks losing his future stars in Welbeck and Hernandez, while United will guarantee the Arsenal captain, trophies and finally make him a winner but he may never be able to go down in history as a legend, he's destined to be only in London!
How do you stay up with football when on the move? With http://m.goal.com –your best source for mobile coverage of the beautiful game.