With rumours of Maarten Stekelenburg joining Tottenham Hotspur doing the rounds, Goal.com looks at how he can fit in and thrive at White Hart Lane...
'Rome was not built in a day' is a quote which is clichéd, yet, true. It is also congruous to Tottenham Hotspur's current situation. After murky performances in the 2007-08 season, the administration appointed Harry Redknapp who consequently caste an ephemeral marvel on the team. However, aberration between the club and Harry came forth in the media and he was asked to pack his bags at the end of last season.
The management pinned down on Andre Villas-Boas, who was impressed with the Tottenham project. It should not be forgotten that Villas-Boas was unsettled during his spell at Chelsea. He endured the wrath of Chelsea's notorious recent past surrounding the timeline of established managers. Now that he is back in London he hopes to continue the good work pioneered by Redknapp, and possibly reach back at Tottenham's West London adversaries.
The new revolution for Tottenham began with the signing of midfielder Gylfi Siggurdson and defender Jan Vertonghen. The summer has been assiduous for the North London outfit and players at various positions have been linked with the club. However,
Goal.com
looks at how rumoured to join goalkeeper Maarten Stekelenburg would cohere, should he sign with them.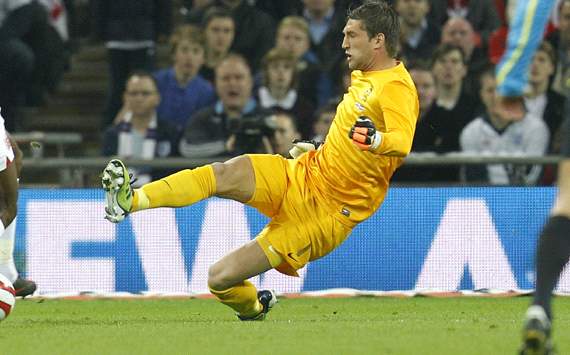 Stekelenburg has had a good international career with Netherlands

Before moving onto mainstream, we first need to discover why Tottenham is looking to address their goalkeeper woes. The squad currently boasts of three experienced campaigners in Brad Friedel, Carlo Cudicini and Heurelho Gomes. Among the troika, Brad Friedel was the consistent choice last year as he featured in all of Tottenham's Premier League matches. Friedel was bought last season and he turned 41 recently. His reflex will ostensibly be put out with the pace of the Premier League and that is the precise comprehension for Tottenham's pursuit of a younger successor.
Carlo Cudicini is also at the dusk of his career. He has already been linked with a move away from White Hart Lane to join his former Chelsea compatriot Gianfranco Zola at Watford. And Gomes who was hardly given games last season has already expressed his desire to quit Tottenham.
Reports that surfaced suggest that Tottenham have a lodged a bid for Maarten Stekelenburg. He is the current shot stopper for the Dutch national team and Italian side AS Roma. After spending almost a decade at Ajax, Stekelenburg sealed a switch to Rome at the beginning of last season. At 29 years of age and a commanding height of 6 feet 5 inches, he will surely be a colossal figure for the team. It is also said goalkeepers mature with age and a year of lessons from the vastly experienced Brad Freidel can surely make Stekelenburg the keeper to beat in the Premier League.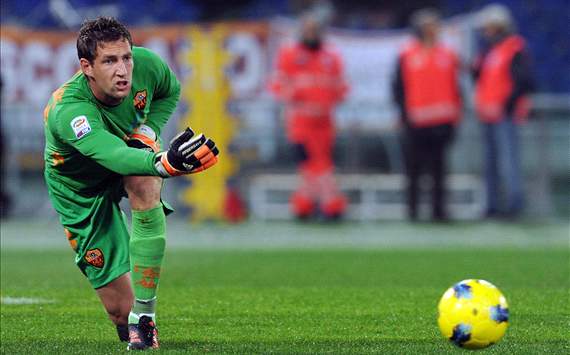 Stekelenburg has not had the best times with AS Roma
Since his time with Roma, the club in general has not been in good form. Roma failed to qualify for the Europa League group stage last season after they were eliminated in the qualifiers. Moreover, they finished 7th in the Serie A which was not good enough for participation in any European competition. Luis Enrique, the manager in charge last season and who brought Stekelenburg to Italy, resigned at the end of 2011-12 campaign.. The new manager, Zdenek Zeman, is rumoured to be looking for a new keeper after reports that emerged suggested that Stekelenburg was unsettled with life in Italy.
However, the reprehensions of a poor season cannot be borne by him alone. The high defensive line played by the manager often exposed him to one on one situations. He would still put in a brave effort by closing down on the charging opponent which made him suffer a head injury too. Continuous defensive impasse made it difficult for him to cope up with them and as a result he suffered two red cards, one which can be questioned as the opponent was accused of going down too easily.
Andre Villas-Boas used a similar strategy of using a high defense line. But by now he might have realised that it was not the best thing to do in the Premier League. His win percentage with Chelsea speaks much about the strategy in itself. A re-work on the tactics with Tottenham might give Stekelenburg some extra protection at the back. Moreover, Tottenham have also signed his former teammate Jan Verthongen from Ajax. The understanding between the defender and goalkeeper is equally important. If Stekelenburg is bought from Roma then it will be a reunion of sorts and can be an added bonus for the squad.
Stekelenburg is also a tall and strong keeper. He can easily help in preventing danger from crosses which are an integral part of the game in England. His performances at the International circuit deserves credit too. His form at the 2010 World Cup was outstanding throughout, although, the same cannot be said about the Euros this year as the team in general did not do well.
With the bid said to be around the region of £6-7.5 million, it means that Tottenham will be saving on atleast £10 million by not signing the French goalkeeper Hugo Lloris. There is no doubt on the reflex and intelligence of Stekelenburg as a keeper and the money saved by signing him will give Villas-Boas a good opportunity to bolster his strike contingent.
Follow Aayush Singh on

Do you think that Stekeleburg would succed with Tottenham ? Let us know by commenting below.

How do you st
ay up to date with football when on the move? With http://m.goal.com – your best source for mobile coverage of the beautiful game.