ANALYSIS
By Arkaprabha Chakraborty

Well, they've been calling this fixture 'The Clash of the Cash' for over three years now and for very obvious reasons. Bankrolled by benevolent billionaires, these two clubs have been joy to their ever-growing fans and the envy and grumbling of most others. But the question remains, who's worth more? Let's keep reading and take a look.

The lethal Sergio Aguero, valued at €51m, just manages to shade off the competition from €50m rated teammate David Silva to top the value charts.

MARKET VALUES | Goalkeepers
MARKET VALUE

MARKET VALUE


€25m


€1.5m
€0.5m

CECH


TURNBULL
HILARIO


HART


PANTILIMON

€23.5

m


€3.5m

€27m
TOTAL

TOTAL
€27m
(Data from transfermarkt.co.uk)

We have even stevens in the goalkeeping department but only considering Chelsea's numerical advantage in the section. Cech, although he is six years older than the 25 year-old Hart, still manages to have a higher value on him. But it's all downhill for Chelsea after that as their reserve keepers combined still fall

€

1.5m short of Manchester City's SOLE reserve keeper.


MARKET VALUE

MARKET VALUE

€23m
€21m
€17.5m


€16.5m


€12.5m
€2.5m
€1m
DAVID LUIZ


IVANOVIC


TERRY
CAHILL
COLE
BERTRAND
FERREIRA

KOMPANY
RICHARDS
LESCOTT
CLICHY
ZABALETA
KOLAROV
TOURE
SAVIC
BOYATA

€35m
€18.5m
€15m
€15m
€14.5m
€14m
€8m


€

8m


€

2m

€94m
TOTAL
TOTAL
€130m
(Data from transfermarkt.co.uk)
Chelsea have been comprehensively outmuscled in the sector, both in number of personnel and in value. With two extra defenders, Manchester City has a

€

36m advantage over the Chelsea defence. But much of this value is made up by City captain Kompany who alone is worth over one-third of the Blues' defence. For the rest, they manage to hold their own and mostly beat the City defence in player for player value until they near the bottom. There the inexperienced young Bertrand and the definitely-past-his-prime Paulo Ferreira sap a lot of potential value away from Chelsea's defence. City's least valuable player, Boyata, is worth

€

1m more and hence double of Paulo Ferreira's value.


MARKET VALUE | Midfielders
MARKET VALUE
MARKET VALUE

€40m
€38m
€30m
€24m
€20m
€19m
€15m
€13m


€

8m


€

7.5m


€

5.5m


€

5.5m


€

4.5m


€

4.5m


€

4m


€

0.5m

HAZARD
MATA
RAMIRES
ESSIEN
OSCAR
MIKEL
MEIRELES
MARIN
ROMEU
PIAZON
LAMPARD
MALOUDA
BENAYOUN
McEACHRAN
KAKUTA
THORGAN HAZARD

DAVID SILVA
YAYA TOURE
NASRI
MILNER
DE JONG
ADAM JOHNSON
BARRY
MICHAEL JOHNSON


€50m


€36m
€25m
€21m
€13m
€10.5m
€10m


€

1.5m

€239m
TOTAL
TOTAL
€167.5m
(Data from transfermarkt.co.uk)

In sheer, bloody-minded number of players, Chelsea seem to have dismantled Manchester City in the department, leading them by
€
72m. However, number of payers is the key word here. Chelsea currently have on their roster enough midfielers to make a cup game with 11 players and five substitutes! It is then perhaps sobering for City to think that David Silva alone is worth a almost a third of their total value. This thanks to a sharp disjoint between Michael Johnson's value and the usual suspects ending with Barry. Chelsea have a more smooth tapering down of values with no sharp falls as such. Encouraging for Chelsea will be the high value put on their 25-or-under category, implying that these can only increase.
Both of Man City's prime midfielders (i.e. valued above
€
30m) beat and are shaded out by their direct rivals at Chelsea but they are also playing in their prime. Man City could possibly do better in filling out a smoother drop near the bottom, but they never seem to buy small anymore. Michael Johnson, City's least valued player is three times the value of his Chelsea counterpart Thorgan Hazard, but it doesn't count for much as the actual monetary difference is only
€
1m.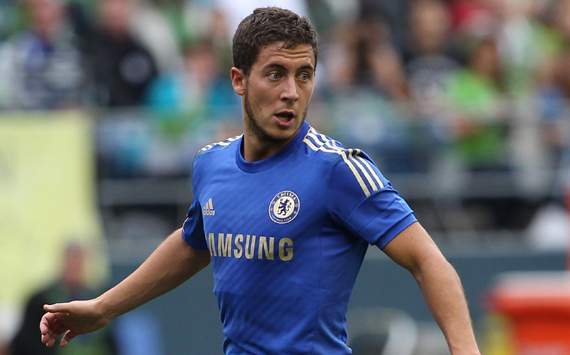 Hazard to your pocket | The new signing tops Chelsea's value charts
MARKTWERT
MARKET VALUE

€35m
€16m
€14m


TORRES
STURRIDGE
LUKAKU


AGUERO
BALOTELLI
DZEKO
ADEBAYOR
TEVEZ
GUIDETTI
SANTA CRUZ

€51m
€32m
€29m
€25m
€22.5m


€

7m


€

4m
€65m
TOTAL
TOTAL
€170.5m
€425m
FINAL TOTAL

FINAL TOTAL
€495m
(Data from transfermarkt.co.uk)
Well, it's tit for tat in the strikers department now. With SEVEN recognized strikers, Man City have pulled far away from Chelsea, being almost 2.5 times their total value
. Unsurprisingly, City's top scorer last season, Sergio Aguero is far and away at the top, valued at
€
51m. Much more surprising is the fact that Fernando Torres is still worth more than
€
30m.
The only encouraging sign for the Blues is that the value of 23 year-old Daniel Sturridge has tripled from what they bought him at and that the severely inexperienced 19 year old Romelu Lukaku is valued at
€
14m. The Citizens have an embarrassment of riches in the sector, although the impermanence of names like Adebayor, Santa Cruz and maybe even Dzeko should not go without mention.
With a total squad value of
€
495m, Manchester City have a comprehensive value advantage over
€
425m rated Chelsea, but only at face value. Aging entities like Lampard who are still performing have a deceptively low value attached to them, while several highly rated youngsters bought or bled into the first team recently need to break into the Premier League properly for a substantial increase in value.



Did you know ...





…while Sergio Aguero and David Silva are 6th and 7th in the most valued players in the world list, Chelsea's highest is Eden Hazard at 12th place



Going by market values, the verdict is that Manchester City should just shade it out. There might be a

€

70m difference in the sides, but with such high total values, larger amounts automatically diminish in worth. While Chelsea have more potential in their side, Manchester City's Mancini is doing wisely with the philosophy of 'if it ain't broke, don't fix it'. He has a team which has gelled well, with most players in their prime and has concluded that it is unnecessary to delve into the market so far. With 29 players, Chelsea have three more than City's 26, but those three players in the midfield are primarily surplus to requirements. It will be interesting to see this clash of potential against prime on Sunday. Don't forget to tune in.



How do you stay up to date with football when on the move? With

http://m.goal.com

–
your best source for mobile coverage of the beautiful game.