This summer is proving to be a frustrating one for Manchester United and their fans. After enduring a lengthy and unsuccessful pursuit of Eden Hazard earlier on in the transfer window, Sir Alex Ferguson and company have now suffered a similar fate while chasing down Brazilian starlet, Lucas Moura. Sir Alex seemed to have wrapped up the deal as revealed by Moura's agent but big-spenders, Paris Saint-Germain swooped in to snatch the youngster away in the nick of time with an absurdly lucrative offer.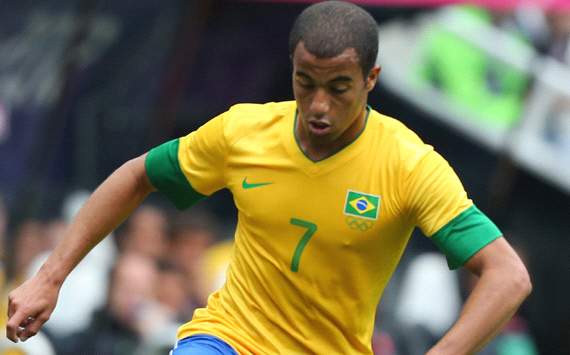 The latest star to snub Manchester United
It's not the first time that United have had to stand by and watch helplessly as one of their transfer targets slipped through their fingers because of their lack of financial muscle. In fact, it's become a frequent occurrence in recent times. Failures to sign Karim Benzema, Wesley Sneijder, Samir Nasri and the aforementioned Eden Hazard have served to expose United's frailties in the transfer market.
Manchester United have the largest fan base and according to Forbes magazine, they are the richest club in the world while also being one of the most recognized brands in sport. However, they do not have the kind of financial strength that the likes of Manchester City, Chelsea, Real Madrid, Barcelona and most recently PSG have at their disposal.
In Moura's case, it's hard to attach any blame to United for not securing his signature. When a money-splashing entity like PSG shows up and tables a €45 million bid for an unproven 19-year old, you can't find fault with United for failing to challenge them. The likes of Nasri, Hazard and Moura will always be lured away by the prospect of embarking on a new 'project' with the more lavishly spending clubs and there's not much United can do about it.
The Glazer Effect:
The Glazers took over Manchester United in 2005 and subsequently inflicted a massive £500 million debt on the club, which at one point rose to over £800 million. The debt may not have shackled United's spending in the transfer window but has undoubtedly restricted it to an extent. During the Glazers' regime, several Premier League clubs have overshadowed United in the transfer market.
Manchester City and Chelsea have quite noticeably led the pack in that department but even the likes of Liverpool and Tottenham have managed to eclipse United's spending power. A look at the table below gives us a fair idea of the extent to which the Red Devil's have been dwarfed in a financial aspect within a league they have dominated over the past two decades.
Dealings in the transfer market and league points 2005-2012

| | | | | |
| --- | --- | --- | --- | --- |
| Team | Transfers In | Transfers out | Net Total | Points Gained in the PL |
| Manchester City | £541.42 | £133.8 | £407.62 | 417 |
| Chelsea | £386.20 | £147.2 | £239.00 | 563 |
| Liverpool | £344.78 | £235.83 | £105.78 | 485 |
| Tottenham | £259.20 | £192.25 | £66.95 | 423 |
| Manchester United | £236.70 | £184.10 | £52.60 | 603 |
It's worth noting that in the seven years that this well-documented debt has hovered over the club like an enormous dark rain cloud, United have gone on to win four Premier League titles, one Champions League and three League Cups while never finishing outside the top two in the league.
Modern day footballers:
The priorities of the modern day footballer are being repeatedly questioned of late. Despite their attempts at employing sophisticated and reassuring words (that were probably recited to them by their agents behind closed doors) in their statements to justify their decisions, they still fail to sound convincing.
Players used to join clubs based on their level of prestige, accomplishments or to fulfil a boyhood dream. With the increasing involvement of agents within the game, young footballers can be manipulated at times into making decisions that benefits their agents rather than their own footballing careers.
A lack of ambition or success is not the reason why Manchester United consistently fails to land some of the most sought after talents in world football. The fact is that they have never enjoyed a more successful spell in Europe than the one they have in recent years.
Three Champions League finals and one semi-final in the last five years is not an achievement that should be taken lightly. This spell exceeds all their past accomplishments in Europe. But somehow, despite watching United feature on the biggest stage of club football on a regular basis, players still choose to snub them in favour of more lucrative deals.
United will always compete:
Regardless of the signings they may or may not make Manchester United's insatiable desire to be the best never seems to evade them. Time and again the club have been written off in the face of adversity only to respond and silence their critics.
At the start of the 2010-11 season, their 'ordinary' looking side was expected to tussle for a Champions League place but eventually went on to win the league. Last season, they were written off after losing 6-1 at home to Manchester City but responded in the second half of the season to take the title race right down to the wire despite enduring a calamitous time with injuries that consistently involved several key members of their first team.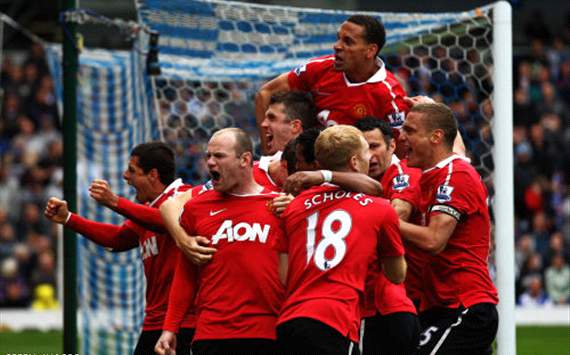 Manchester United never give in
Their failures to attain the players they so desired this summer will unquestionably attract banter from opposing fans. The embarrassment will prick away at Manchester United's ego but rest assured it will also serve to fuel their already intense desire to succeed. United's attitude can be interpreted as arrogant at times but regardless of the circumstances, they always exude confidence. They believe they are the best, they believe they will win the title and they always believe, no matter what the clock says, that they can score that crucial goal. United simply believe.
How do you stay up with football when on the move? With http://m.goal.com –your best source for mobile coverage of the beautiful game.