The FIFA world rankings are something every football fan checks out once in a while, but sometimes they do leave you confused about how they're actually calculated. When England's latest rankings were announced this time around (they moved up to third), many readers were left gobsmacked and wondered whether there's any logic to these rankings at all.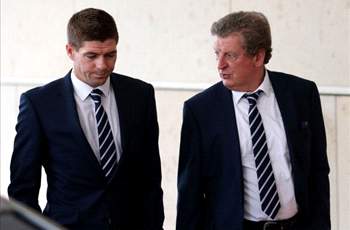 Job well done by England?
Here's a brief explanation of how FIFA determine which team is the best in the world. The new rankings, which were started in 2006, are updated every month, and were implemented right after the World Cup in Germany. One of the biggest changes in the new rankings was that instead of taking the last eight years' performances into consideration, the period would be halved to just four years. Also, the number of goals scored, as well as home advantage, have no bearing on the rankings whatsoever now.

Let's try and break this up and have a look at how it's done.
The ranking points for any team are calculated by adding:
a) The average number of points scored in games over the past 12 months
b) The average number of points scored in games more than 12 months ago (weightage decreases every year)
So first let's get to how a team scores ranking points in a given game. There are four main parameters upon which the number of points scored by a team in a match is determined.

1) Firstly, points are awarded for the result. Three points for victory, one for a draw, and none for defeat. In case of penalties, the winning team gains two points, and the losing team gets one. This factor is called M.

2) Then comes the importance of the fixture. We call this factor I. Here's how this factor takes its value:
Friendly matches - 1.0
WC Qualifier & Continental Qualifier - 2.5
Continental final competition and Confederations Cup - 3.0
World Cup final competition - 4.0
3) This factor gives importance to the strength of the opposition. As an exception to the formula, the team at the top of the rankings is always given the value 200, while the rest are calculated as per this formula:

(200-Rank)
Which means that if someone is playing a team ranked 10th in the world, they would have this value equal to 190. However, if the opposition is ranked 150th or below, this value is kept at a minimum of 50. This factor is called T.

4) This gives importance to the strength of the confederation. If an inter-continental match is being played, the value that's taken into consideration is the mean value of both confederations' strength factors. These values are calculated based on the number of victories for their confederation's teams in the last three World Cups. We'll call this C. The current strength factors for various confederations are:

UEFA/CONMEBOL - 1.00
CONACAF - 0.88
AFC/CAF - 0.86
OFC - 0.85
Taking these four factors into consideration, the total number of points amassed by a team in a match is calculated. The total number of points gathered by a team in one game can be given by:

Total Points (P) = M x I x T x C

The points amassed per match don't decide the net score alone. An average score of all matches played in the last 12 months is calculated.
Now, the average score from the last 12 months is added with averages from games held over a year ago, which are devalued as time goes on. The weightage given to games in the last four years decreases with each year:
i) Match average in past 12 months – 100%
ii) Match average in previous year – 50%
iii) Match average from year 3 – 30%
iv) Match average from year 4 – 20%
v) Match average from games over 4 years back – 0% (Scores are not counted)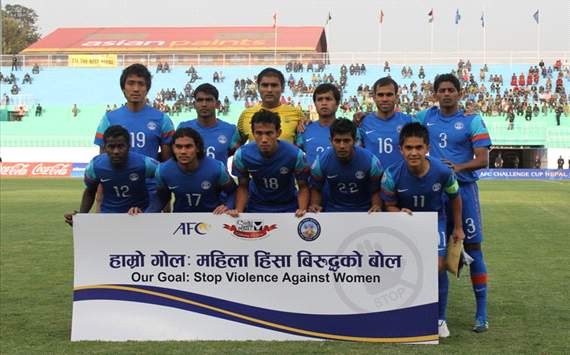 How does India rank 168th in the latest FIFA Rankings?
For example, let's take the SAFF Cup final between India and Afghanistan, and calculate how many points India scored in that game.

For that match:

M = 3 (India won 4-0 in regular time)

I = 1.0 (These matches are counted as friendlies)

T = 50 (Afghanistan were ranked 178th in the world at the time)

C = 0.86 (Strength factor of AFC is 0.86)

Therefore, the total number of points amassed by India in that game was:

(3 x 1 x 50 x 0.86) = 129

That's hardly a high number, as the maximum points a team can gain from a match is 2400!

Hence we can see how winning tournaments like the SAFF Cup barely affect our rankings in the long term. Also, with the lack of games for the national team in recent months, it's no surprise that we have dropped to 168th in the latest rankings.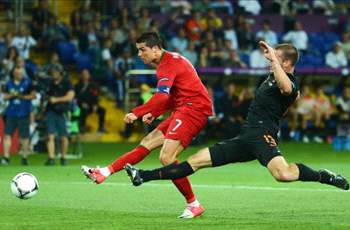 Over to Portugal and Netherlands...
On the other hand, let's take a look at an example where more points were scored in a game – Portugal v Netherlands at Euro 2012.

Netherlands lost and scored zero points.

For Portugal:

M= 3 (Won in normal time)

I= 3.0 (It was a match at the European Championships finals)

T = 200-4 = 196 (Netherlands were ranked No.4 at the time)

C = 1 (Strength factor of UEFA)

Total Points = (3 x 3 x 196 x 1) = 1764
It makes perfect sense, then, that Portugal jumped from 10th in the rankings to fifth after the Euros. Netherlands failed to score a single point at the tournament, and dropped to eighth in July.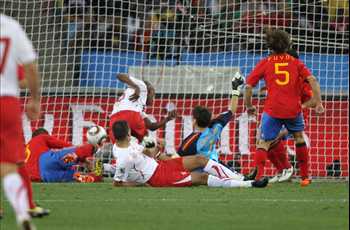 The goal worth 2376 ranking points...
An example of when a team scored close to maximum points in a game is Switzerland v Spain from World Cup 2010, when the Swiss upset La Roja in the group stage, scoring a whopping 2376 rankings points using the same calculation.
But what of England? Why do we see them up in 3rd place when they didn't do anything of note at the Euros?
The Three Lions were 6th before the Euros started, on the back of an impressive qualification campaign, as well as some decent results in friendly matches during Capello's reign.
The teams immediately above England in the rankings before the Euros were Netherlands (4th) and Brazil (5th), both of whom didn't score any points during June. Netherlands lost all three games at the Euros, while the South Americans lost 3-4 to Argentina in a friendly. With England winning two and drawing one in the Euro group stage, they moved up, almost by default.
They ended up in 4th place, one place behind Uruguay. But how did the English pip them to 3rd in the August rankings? It's simple, if you look closely. The Uruguayans gained a lot of points last year at the Copa America, which they eventually won. However, during the month of July this year, time since that famous triumph has crossed 12 months, due to which the weightage given to the points scored in that tournament has dropped to 50%. As a result, Uruguay's net score has decreased from 1297 to 1236, and again, England have moved up by default, despite staying on the same number of points (1294).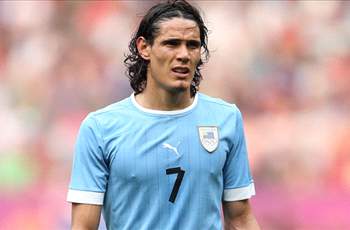 You get how England pipped Uruguay?
It is complicated in certain ways, but if you look at it closely, the rankings do make sense, and take important factors into account. Hopefully that makes the entire process a tad clearer to some of you who might not have known much about it till now! It's like going back to math class, isn't it?
Atishay Agarwal is the Editor of 90 Minutes, a pan-India monthly football magazine...
How do you stay up with football when on the move? With http://m.goal.com –your best source for mobile coverage of the beautiful game.