COMMENT
By Kris Voakes | Italian Football Writer
After Zlatan Ibrahimovic and Thiago Silva were sold to Paris Saint-Germain, many AC Milan fans gathered at Milanello to air their concerns about the lack of a potential challenge from their side over the coming Serie A campaign. They represented what appeared to be the majority view, but still there were some diehard supporters who were sure that the club would still be able to fight for the Scudetto.
Now, following Wednesday night's 5-1 destruction by Real Madrid at the Yankee Stadium, there has to be a fair amount of fear among those who had retained full belief in the outfit's ability to fight for a 19th title in 2012-13.
Yes, it was just a friendly, but it was also just a friendly to Real Madrid, and they were simply on another level. Rushed off the ball with consummate ease, the Rossoneri were left chasing flies for a large percentage of the game, and their defending was nothing less than abysmal at times as straight-forward, one-touch passing carved them open.
One magical moment apart, when Antonio Cassano's pass was touched on by Antonio Nocerino for Robinho to poke a shot home first time, Milan were simply not at the races, and Massimiliano Allegri and the Diavolo board have a serious amount of work to do to ensure that there is not further embarrassment in the season ahead.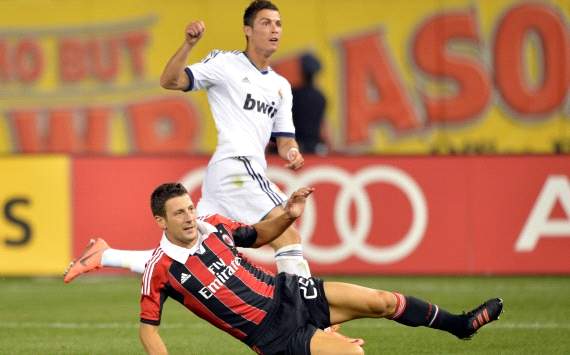 Crash, bang, wallop! | Ronaldo slams home Madrid's second

Milan need to remember that they are a huge club with massive expectations. Yes, they may be a little unrealistic at times, but those expectations are well placed. This is not Pescara, Torino, Sampdoria or Chievo. Not even Lazio. This is Milan, who have prided themselves over the last quarter of a century on their ability to play fine football and rub shoulders with the very best.
Sadly on Wednesday, they couldn't get close to the shoulders of the Madrid players, and that is a huge concern. In 2008, Milan headed into the new season on the back of a 5-0 humiliation at the hands of Chelsea in the Russian Railways Cup, but that came in significantly different circumstances. The side were missing several strikers, and were left with Massimo Ambrosini leading their line, providing an unrealistic barometer for the campaign to come.
This feels very different, and it is not something that the additions of Cristian Zapata and Kaka will fix alone. Zapata is a very accomplished defender, but became known during his Udinese days for long periods of inconsistency. And Kaka feels like nothing more than a cosmetic signing for a club who really should be doing more constructive things with the little money they have available. His capture may well prove futile if the gaps between the line in defence are not fixed.
As things stand, Milan will struggle in 2012-13, with their hammering at the hands of Madrid only serving to prove that there is a long, long way to go before they can hope to provide the challenge their fans have so vocally demanded.