The reason for Italy being such a sought after tourist haven can be manifested by
Alberto Aquilani
's adventurous career so far. His tour diary begins from Rome. Being the capital city, Rome's history and culture is peerless and Aquilani's seven year chore with Roma is an attestation of that fact. Fatigued and bored, he made up his mind to explore Liverpool, the cultural capital of England. For a year he witnessed the abhorrent English weather and was later told that there was still more to navigate in Italy. So he moved to the automobile capital of Italy, Turin. After being done with all the driving, he took a sojourn to Liverpool once again and after two months the fashion capital of Italy, Milan, reached out to him. And there are no prizes for guessing what Aquilani bought back to
Liverpool
from his now enriched experience at Milan; anyways the answer lies in the picture below: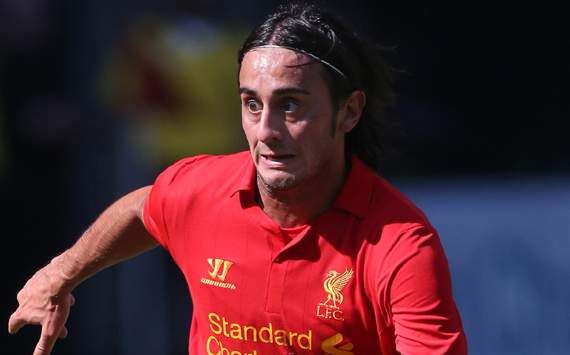 Aquilani in Liverpool's fancy new jersey
However, setting all humour aside, Aquilani's recent move to Fiorentina, Italy, has got fans wondering how he has been used as a replacement.
Aquilani in Liverpool F.C., Liverpool
Aquilani always was on the radar of English clubs Arsenal and Chelsea. Having established himself at Roma, he finally answered the call of an English club, Liverpool. The Merseyside club bought him in 2009 and the announcement of his arrival and Xabi Alonso's departure on the same date is ironical. Although initially thought to be a replacement for the Madrid bound Alonso, Rafa Benitez, the then manager of Liverpool, claimed that Aquilani would be given a more attacking role than the Spaniard.
Hitherto, Aquilani was still callow and was given time to harmonize himself with the pace of the English Premier League. He wouldn't get a start for Liverpool until a few months later and it was only by the second half of the season that he started getting regular playing time. However, he did put in a few match winning performances, but a long-standing thigh injury plagued him at various intervals of the season; and by the start of the new season, new Liverpool manager Roy Hodgson felt that Aquilani needed match-fitness to feature in his side and subsequently loaned him to Juventus.
Aquilani in Juventus F.C., Turin
Aquilani missed out on the Serie A with Juventus

He was featured throughout the 2010-11 season but there were very few games in which he would last the full ninety minutes. Despite a few decent displays, Juventus didn't consider the clause of possibly buying him at the end of the season. Liverpool had reportedly spent €20 million on him and were looking for some return on a failed investment. The price quoted was too high and after a dismal European and domestic campaign, Juventus were looking for someone who could instantly turn around things.
Marchisio, the home grown midfielder, had statistics identical to Aquilani. So Juventus turned their back on Aquilani and went ahead with Andrea Pirlo, someone whose craft and experience was something that the former Roma midfielder could not contest.
Aquilani in A.C. Milan, Milan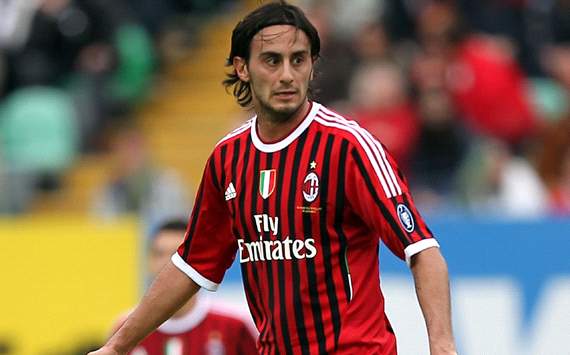 Aquilani did not settle in with Milan

His return to Liverpool was at a time when the club was operating under a new manager, Kenny Dalglish. Dalglish, who had money at his disposal, dug former Blackpool captain Charlie Adam from the transfer market. Adam was bought in as a deputy to Lucas Leiva and Steven Gerrard.
Having allowed Andrea Pirlo to leave Juventus as a free agent, defending Serie A champions A.C. Milan wanted a deep lying playmaker, a responsibility that Aquilani can said to be essentially made for. Sensing that Liverpool's new firepower would mean warming the bench for him, Aquilani penned another loan deal, this time with Milan. This was even though he was the best player for Liverpool in the pre-season. The Serie A giants were obviously aware of Aquilani's contribution to Juventus in the previous season and felt that with time he could continue the success for them.
Little did they know that Aquilani would be not be in prime condition to play consistently; and having Mark van Bommel, Clarence Seedorf and Antonio Nocerino in their squad, they did not hesitate to put him on the bench. However, the season went by was disappointing for both Milan and Aquilani; for Milan because they could not defend their Serie A title against Juventus and for Aquilani, because he did not get enough time on the pitch and also the fact that he was no longer a part of the newly crowned Italian champions.
Meanwhile, the medical lab at Milan had assessed Aquilani's ankle-injury; their report suggested that a permanent switch for the Italian would indeed be a bad investment. And Milan with all their financial troubles didn't want to take a risk.
Aquilani in ACF Fiorentina, Florence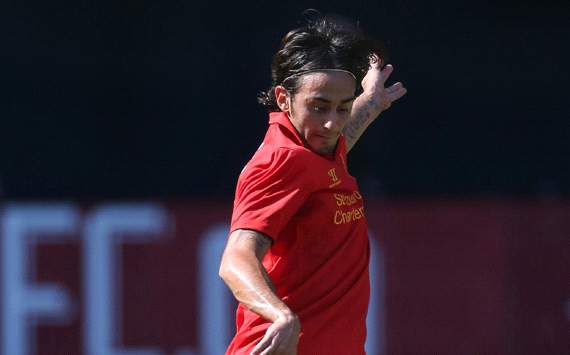 Aquilani before moving to Fiorentina

Aquilani returned to Liverpool again and yet again found a new manager in Brendan Rodgers. He trained with the first team in pre-season camp and featured in one of the games in North America. Despite his agent claiming that Aquilani would remain as an Anfield player, he recently secured a perpetual move to Italian side Fiorentina.
The midfield trouble from last season has forced Brendan Rodgers to look within the Premier League for a new playmaker. With Charlie Adam's form and Lucas Leiva's injury in question, it is perceivable why Rodgers doesn't want Aquilani to be a part of his squad.
However, a scapegoat was found in Aquilani once again. This time by Fiorentina after their star midfielder over the years, Riccardo Montolivo departed for A.C. Milan, who were still in search for Pirlo's replacement. At 28 years of age, he is currently Fiorentina's only midfielder to taste football at the highest level and can be an important part of their starting line-up.
Aquilani's story so far has been that of a falling star. However, he continues his tour to a new city, Florence, birthplace of the Renaissance period. Will the city inspire him to kick-start a renaissance in his career? Or will he continue to be used as a proxy for departed players? The questions will only be answered as time wears on.
Follow Aayush Singh on

What do you think of Aquilani's career? Let us know by commenting below.

How do you st
ay up to date with football when on the move? With

http://m.goal.com

– your best source for mobile coverage of the beautiful game.