With Sir Alex Ferguson ready to make a move for Baines, Goal.com ponders on whether the move for the left-back makes sense...
Leighton Baines, the ever-dependable left-back from Everton, has been on the radar of Manchester United for a long time now. However, it's clearly evident this summer that Sir Alex Ferguson wants him more badly than ever. A number of factors have contributed towards this need for a left-back. The most important of them is Patrice Evra's poor run of form for the last two seasons.
Having joined United from Monaco in 2007, Evra adapted to the physical nature of the Premier League quite well, and established himself as the first-choice left-back. Two years ago, he was irreplaceable and the most consistent player in United colours, along with Wayne Rooney. However, circumstances have changed drastically since then.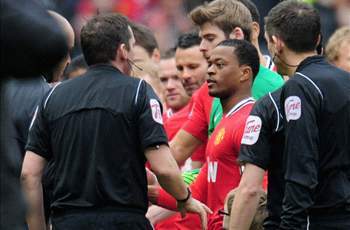 How's it going, Evra?
Evra has since been involved in controversies which have harmed his reputation. The revolt he was an integral part of against the coaching staff of Les Blues, as the captain of France, during the 2010 World Cup will remain a blot on his career.
He received a lot of stick from former players and politicians for his actions, and was suspended from the French national team. The over the top celebrations after the 'handshake' fiasco with Luis Suarez at Old Trafford weren't in the best spirits.
These incidents have quite clearly affected his on-field performance too. The defensive mistakes have been particularly costly in. Bad positioning in the Champions League final against Barcelona in May 2011 cost his team the first goal, and the same mistake let Dirk Kuyt in for the winner in the FA Cup in March 2012.
Even while venturing forward, his crossing has been poor off late. Evra took 34 shots on goal in 2009-10 season as compared to just 24, in the same number of matches, in 2011-12.
BAINES AT EVERTON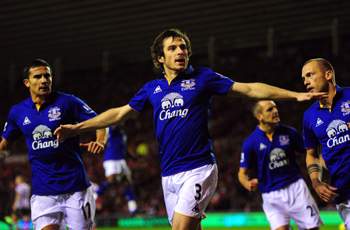 His 351 crosses in the 2010-11 season helped Everton create 74 goal-scoring opportunities
Baines, on the other hand, is in his prime. His crossing has been brilliant, and is never afraid to venture forward. His 351 crosses in the 2010-11 season helped Everton create 74 goal-scoring opportunities.
Since United's main source of chances are the crosses from the flanks, he could play a vital role in United's campaign. If he does sign for the Red Devils, his link-up play with Ashley Young and Nani could be fruitful.
And defensively, he has been solid thus far. His blocking of crosses and tackling has been impressive, but it is his defensive discipline, where he might win the race against Evra. Baines also provides United with an added option as a left-footed set-piece specialist, with four of his 15 goals in 202 appearances for Everton have come from free-kicks.
At Old Trafford, Baines would certainly feel at home, since United's style of play suits him perfectly. Though being a consistent performer for Everton, he didn't win any trophies there. So the offer to join United would be certainly exciting for him. Also, establishing himself at a club like United would do wonders for his international career. He could be the natural successor to Ashley Cole in the Three Lions setup. However, the gain of one would lead to the fall of the other.
So what does it mean for Evra if Baines does join the Old Trafford club? Well, the dire consequences could include Evra having to play second-fiddle to Baines and watch most of the matches from the bench.
Evra has been the first choice left back since his arrival, this certainly wouldn't go down well with the stand-in United captain, and might even lead him to leave the club.
Well, for all this to happen, one thing is certain. Sir Alex would need to flex his monetary powers and meet the asking price put up by Everton at €22m. Till then, Evra can breathe a sigh of relief.
How do you stay up with football when on the move? With http://m.goal.com –your best source for mobile coverage of the beautiful game.