Spain have been dumped out of the Olympics after losing their first two games. Goal.com lists five reasons as to why this shocking outcome came about..
Spain suffered a second shock defeat in the span of three days when they were beaten 1-0 by Honduras. Still reeling from their disappointing encounter with Japan against whom they lost to by an identical scoreline, the Spaniards were caught on the backfoot as their opponents struck early in the game. Spain tried in desperation to at least salvage a point and keep themselves in the competition but their efforts went unrewarded owing to the frame of the goal and a couple of dubious refereeing decisions. Here are five reasons that may have contrubuted to Spain's early exit from the Olympics -
I. Beating around the bush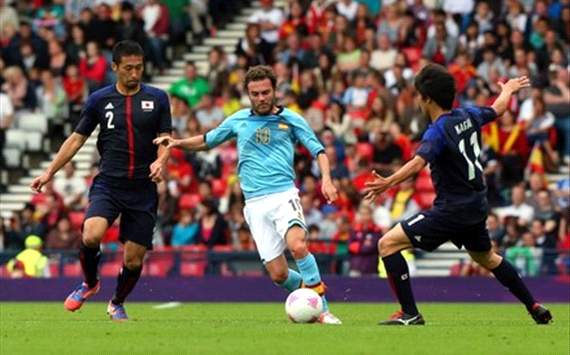 Spain were guilty of over-passing on several ocassions
The Spaniards have often drawn criticism for dilly dallying in possession. Sometimes they played far too many passes when the ball should have gone in the box earlier. It's almost as if they passed themselves into a corner at times and then had to go all the way back and get started again. The style in which they move the ball around, poking and prodding at defences, is a clear advantage to them but it does come with its disadvantages as well. Playing those few extra passes in a move allows the opposition time to get bodies back and defend. It eradicates the advantage the attacking team has of being able to play an early cross into the penalty area and catching the defence off guard. Here's how Honduras beat Spain - cross, header, goal, 1-0. Spain could derive a vital lesson from the Hondurans' simplicity in attack because they do tend to over complicate things.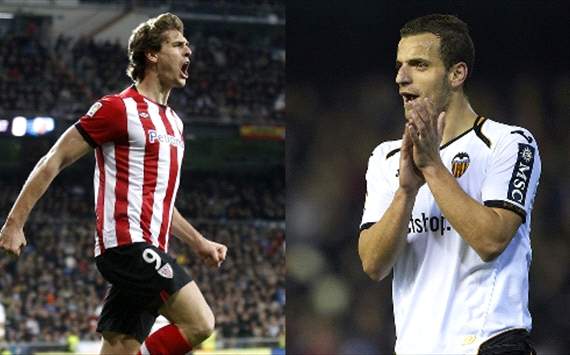 Spain missed an experienced head - like Llorente or Soldado
The choice of personnel must be questioned. The squad selected was amazingly inexperienced. Their over-age players were Javi Martinez (23), Juan Mata (24) and Adrian Lopez (24). Perhaps Luis Milla could have used at least one of those slots to accomodate a more experienced head. Certainly their attack was crying out for an experienced centre forward who could find the back of the net. Fernando Llorente's inclusion should have been a nailed on certainty. He has performed remarkably for Athletic Bilbao last season and is a clinical finisher. The 27-year old also has the added advantage in the air that his 6 ft 5 in frame allows him. He played no 'active' part in Spain's Euro triumph so there was no question of fatigue. Roberto Soldado may also have been considered given that he didn't make the Euro squad. Santi Cazorla could have brought some experience to the midfield, even Mikel Arteta perhaps.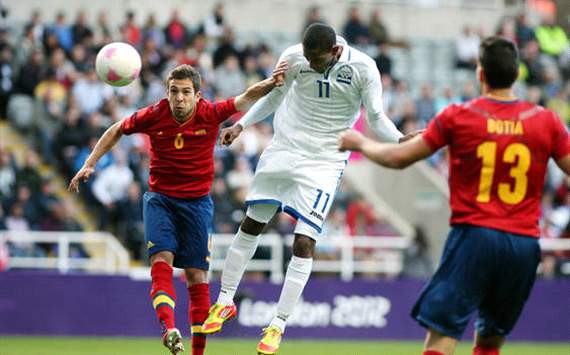 Spain continue to struggle with aerial attacks
The Spanish have always been found wanting in the aerial department and things weren't any different this time around. Perhaps their extreme focus on keeping the ball on the ground has inadvertently hampered their ability to compete in the aerial challenges. Height has always been at a premium in Spanish national teams in recent years and unsurprisingly, it was again. Javi Martinez along with the two centre-backs, Alberto Botia and Alvaro Dominguez were the only players in the starting line-up on Sunday who broke the six-foot barrier. Both goals they conceded in the tournament came from aerial balls into the box. The organization to deal with such situations is clearly not worked on enough. It is an area that they need to address in order to regain their 'invincible' tag.
Thiago Alcantara was sorely missed in midfield
Thiago Alcantara suffered an injury shortly before the Olympics and was ruled out of the tournament. For a technically gifted team like Spain, the absence of one player may not seem a viable reason for their demise but Thiago has the vision and passing ability that the rest of the squad just don't possess. The senior squad has been found lacking ideas when in the absence of Xavi for whatever reason. Similarily, Thiago was the midfield general for the Olympic side and his unavailability was a crucial set back. Even the likes of Juan Mata, Isco and Iker Munain can't rival the vision and awareness Thiago has. The midfield seemed to be loaded with attacking midfielders but the player who orchestrates everything ahead of him from a deeper role was missing.
The entire campaign was riddled with complacency
It's a harsh accusation but it must be made. Spain's entire Olympic campaign has had complacency written all over it. From squad selection to tactics, the Spanish have been careless in their approach. Luis Milla opted not to include more experienced players, perhaps implying that they were technically too good for them to even have the need to draw on the wisdom or composure of older players. Tactically, Spain were too stubborn to employ any strategy other than their possession-centered one that insists on passing their way through a team. The inexplicable decision to omit Fernando Llorente was brought to the fold again as Spain toiled to find an equalizer in the dying moments of their defeat to Honduras. The Athletic Bilbao striker could have been a real asset as a target man in the final few minutes. They were notably wasteful with their opportunities, almost as if they expected the next one to be right around the corner. When a team aren't afforded many chances, they tend to make the most of the ones that come their way and Spain, being at the other end of the spectrum, were probably wasteful out of a habitual belief that they would get their next chance soon.
How do you stay up with football when on the move? With http://m.goal.com –your best source for mobile coverage of the beautiful game.