Back in August of 2007, incumbent European champions, AC Milan proudly announced the signing of a 17 year old from Internacional for a staggering €24m and wasting no time in branding him as the next wonder kid.
The world waited with baited breath to see this curly haired Brazilian to make his official debut in a Rossoneri shirt as he seemed like the perfect addition to Milan's long known fetish for some Samba magic. To everyone's disappointment however, thanks to FIFA's rule for non-EU minors, Pato was only allowed to officially mark his debut in Serie A in January of 2008 after turning 18, but boy it was some debut!
In a 5-2 defeat of Napoli that winter, Pato scored and proved exactly why the club didn't hesitate to splash a sum as exorbitant as that on a 17 year old, who was yet to show his mettle on a bigger platform. 'The Duck,' as he is fondly called by his fans, did not disappoint from there on, as he followed his debut with a breathtaking brace in a 2-0 victory over Genoa eventually finishing the season with nine goals in 20 appearances.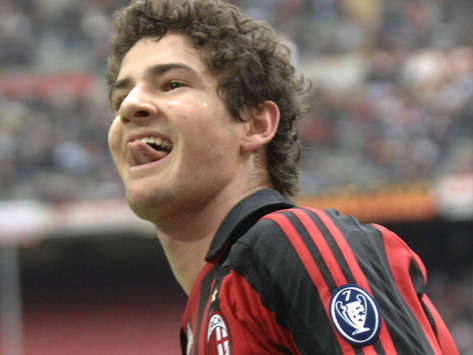 The taste of success got better in time...
After a terrific start to his career in Milan, Pato kept getting better with every match, finishing as Milan's top scorer in the 2008-09 season with 18 goals, in a team that boasted of proven goal scorers like Kaka, Pippo Inzaghi, Ronaldinho and a past legend who had just returned on loan in Andriy Shevchenko. The fact that Milan did not vacate the no.7 shirt for a hero like Shevchenko was in itself a big statement to Pato's importance to the side.
It's difficult to forget, how in October of 2009, Pato single-handedly finished off Madrid at the Bernabeu, with a brace that lead a very much depleted Milan side to one of their most famous victories in the Champions League. The fans in Madrid stood up and took notice of this young man, just like they did for Ronaldinho when he single-handedly finished the Los Blancos during his Barcelona days. Pato finished of an amazing year, winning the 2009 Serie A young player of the year award to continue his exponential growth in football. A star was born! Or at least, that's what it looked like at the point of time.
Just like Ricky Kaka, Pato married his girlfriend Sthefany Brito – a Brazilian actress – at a very young age, but unlike the Brazilian legend who was often held in high esteem for his simplicity and astute lifestyle, his marriage ended in just less than 10 months with Brito citing his excessive partying as the reason for their split. The high end nightlife and the blinding lights of Milan had gotten to him and with that AC Milan and football slowly started losing one of the best young prospects since the emergence of Lionel Messi and Cristano Ronaldo.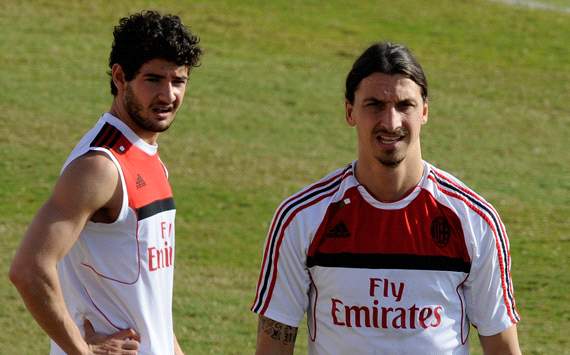 When Pato started falling a few steps behind...
His profligacy in front of goal had started to show, but was going unnoticed with the arrival of Zlatan Ibrahimovic who had started carrying the forward line for the Rossoneri. The sparks were flying with reports often suggesting that the two forwards couldn't play together due to Ibrahimovic's proven ego and Pato's burning desire to prove he was still the best. It eventually did show when in April of 2011, the Brazilian very openly decided against passing the ball to the Swede, to score a magnificent but selfish goal on his own, against Napoli. It was as if to prove that the boy had grown up and could stand up to anyone in the hierarchy at the club.
The constant injuries throughout the season were not helping and more frustrating was their recurrence that puzzled the doctors at the Milan Lab, considered to be the best in world football.
It was in August of 2011, however when Pato made headlines off the field, when he officially got into a relationship with club owner Silvio Berlusconi's daughter Barbara, also amongst the board members at the club. It was a highly controversial association between a senior board member, and one of the star players in the team five years younger, generating concerns all over the via Turati which was very much valid. After all, Pato was now considered as an indispensible member of the squad with his close relationship with Berlusconi's very own daughter and the future president of Milan, and it showed in his attitude throughout last season.
Difficult times bestowed upon him...
Having started the campaign brightly in Ibra's absence, scoring one of the fastest goals in the Champions League against Barcelona, Pato finished the campaign with a meager return of four goals in 17 games - his lowest and the poorest return since his debut four and a half years ago.
It's true that his injuries were constantly depriving him of time to get back to his best, and he was not to be blamed completely for his decline in form as a player. But in the limited time that he was fit, his complacency no longer deemed him as a serious threat to the opposition, so much so that Milan were just a signature away from offloading him to PSG finding it too hard to resist an offer that could have cleared the path for Carlos Tevez's arrival at Milan.
Having rejected a €50 million offer from the same club back in June last year, so desperate were Milan to offload a player, once considered as a future Ballon d'Or winner, for €15 million less than what was offered before. Clearly his reputation had declined, and this prospective move obviously showed that the top brass at Milan no longer had faith in him.
Many suggest that it was Barbara who was the reason behind rejecting the offer, with their relationship being the obvious reason and it was a heavy price the club had paid as months later they would be forced to ship off two star players for a hefty sum close to €65 million to Paris. Had he been sold back then, Tevez would have probably lead Milan to their second Serie A title in as many years and perhaps, Milan would not have sold Thiago Silva at least, considering the inevitable move of Ibrahimovic due to his high wages.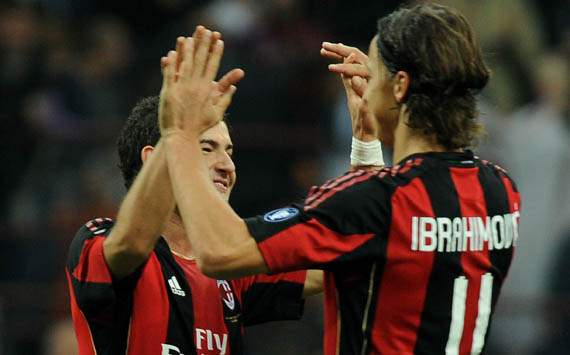 One of the last celebrations with Ibrahimovic...
Pato's niggling injuries and off field antics have hurt many a fans over the last one year, but with Ibrahimovic's departure and Milan's inefficiency to find an apt replacement for their star striker, time is right for Pato to claim his rightful place as the club's star player.
Lionel Messi had to adjust his game according to his body when he was young, and it takes grit to go against the demands of one's own body with the Barcelona man the perfect example to young players all around the world. Come what may, at the end of the day, it's Pato who knows what's best for his body and how much it can take, adjusting his game accordingly which he really needs to.
It's a new season all over again, and it's time to start everything letting bygones be bygones. Pato owes a lot to his fans, and the news that he has officially given up his number 7 jersey for the highly prestigious number 9, might just be a signal in the right direction that he is finally ready to mantle a larger role in the future.
He succeeds a proven goal scorer and a legend in Pippo Inzaghi, who repaid every bit of faith that the Rossoneri had in him all throughout his career at Milan and its high time Pato follows the lead, and proves that the real solution to Ibrahimovic's departure is at home itself.
All over to you now, Pato!
How do you stay up with football when on the move? With http://m.goal.com –your best source for mobile coverage of the beautiful game.