''He can't actually play football," Johan Cruyff once said of Inzaghi. "He just always seems to be in the right place."
No one has ever dared to question the Dutch legend's assessment of the Italian striker because he had his judgment spot on. But no one can take away from Super Pippo, as he is fondly called, the amount of respect he has garnered over an illustrious career spanning over two decades of goals, goals and only goals. He never had the dribbling skills of a Ronaldo or the creative vision of someone like Alessandro Del Piero, neither did he possess the pace of the Henrys and the Vieris of his era, but if there's something that he did better than anyone else, despite being deemed tactically inept to play football, it was the art of scoring goals.
He only scored goals, weeks in weeks out, because that's all he was good at and this, probably, was one reason why no one actually cared to lend any credibility to Cruyff's remark about Inzaghi, who has finally decided to call time on his career, going down in history as one of the greatest goal machines the world has ever seen.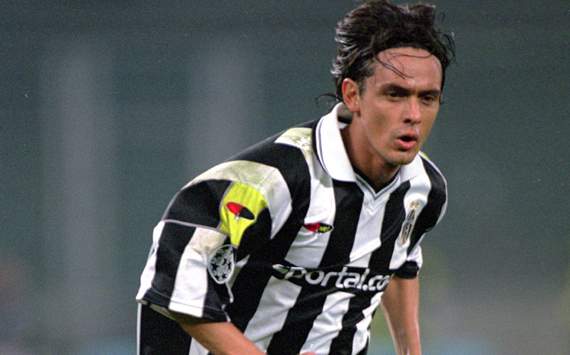 After A Great Season With Atalanta, Inzaghi Joined Juventus, Where He Yet Again Shone...
Having started his career with Piacenza back in 1991, Superpippo had to wait for another four years to finally make his debut when he was signed by Parma in 1995. He was a flop having scored only 2 goals in 15 games (one of those against Piacenza, which made him cry) and was immediately shipped off to Atalanta where he was officially recognized as the next star of Italian football. Scoring 24 goals that season, he was rightfully crowned the Capocannoniere (Serie A's top scorer) grabbing a goal against every side in the league. His exploits at Bergamo, caught the eye of the big boys at Juventus who wasted no time in getting his signature where he would eventually end up teaming with legends like Del Piero, Zinedine Zidane and Edgar Davids to name a few, forming a formidable partnership which would go on for four seasons, in what is till today considered as one of the best in Juventus' history.
It was here, that Pippo, finally tasted blood in Europe and never stopped scoring till the fag end of his career. He won his first Scudetto in 1997-98 at Turin scoring a decisive hat-trick against Bologna, and would go on to lose a Champions League final to Real Madrid before losing out in the semi-finals to eventual champions Manchester United the following season. During his four years he scored two hat -tricks in the Champions League, which back then was a record and earned him reputation of being the most feared striker in whole of Europe as he was very difficult to mark.
However with the arrival of David Trezeguet, and sacking of Carlo Ancelotti at Juventus, Inzaghi was often benched in favour of the Frenchman by their new manager Marcello Lippi, and in 2001, he was amongst the two players Juventus sold to raise close to € 107 million to usher a new era in their history. While Zidane was shipped off to Real Madrid for a sum close to around € 70 million, Inzaghi was sent across to Milan for another € 37 million, where he would link up with his former manager, Ancelotti, once again to embark the most successful chapter of his career.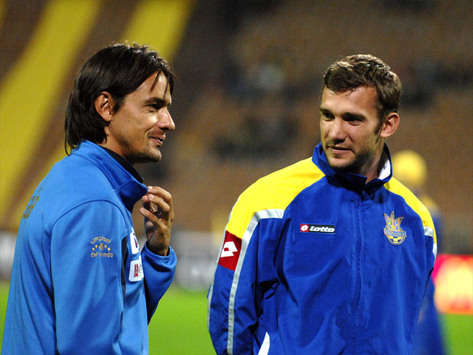 The Duo Formed A Potent Partnership At AC Milan...
It was at AC Milan, that Inzaghi was the most successful as he was given the reigns of leading the team along with another legend in Andriy Shevchenko and the pair would go on to terrorize defenses all over Europe for the next four seasons. In just their second season together, the duo lifted their first Champions League trophy at the expense of Juventus at Old Trafford in the 2002-03 season, which proved to be Inzaghi's most productive season till date as he went on to score 30 goals in 49 games, 12 of which coming in the Champions League itself.
But if he had an undying knack for scoring goals, he was also extremely prone to injuries and this was discovered the following season in 2004, when he spent most the time on the treatment table trying to recuperate from consisted knee injuries so much so that it threatened to end his career at the ripe age of 31, having missed almost in entirety the 2004-05 season. While Milan were looking to move ahead with the likes of Hernan Crespo, Jon Dahl Tomasson and Christian Vieri, Inzaghi spent almost two seasons in Belgium in the company of legendary tennis star Kim Clijsters who was undergoing treatment for a similar injury and he credits her for changing his mind, as being a woman she was strong enough to make a comeback and comeback, he did.
Declaring himself fully fit for the 2005-06 season, Inzaghi entered the folds again making himself available for selection amidst competition from new star Gilardino, a legend in Vieri and the irreplaceable Shevchenko in a season where everyone had their eye on getting selected for the World Cup. Benched for the better half of the season, Inzaghi however, took advantage of Sheva's injury in the latter half, when he played like a man possessed scoring 12 goals in 22 games, and 4 in the Champions League making it a total of 16 in 26, which eventually lead Marcelo Lippi to unexpectedly call him for the World Cup in 2006, which Italy would eventually go on to lift.
There was no looking back, as with Sheva's departure to Chelsea the following season, Inzaghi was the to-go man for Milan and along with Kaka formed a formidable partnership rounding of the next season with a brace in the 2006-07 Champions League finals against Liverpool avenging the cruel defeat to the same team two seasons back at Istanbul, in what has been touted as undoubtedly the crowning moment of his illustrious career.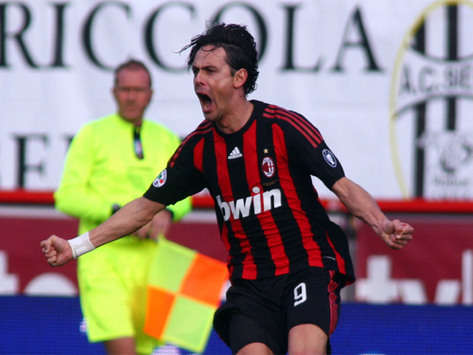 Even At The Age Of 35, Inzaghi Continued To Score Goals For Fun...
Even at the age of 35, his love for goals only grew season by season, as he would go on to break the legendary Gerd Muller's record in Europe to be crowned as the man with the most number of goals in European Competitions, a dream he had nurtured as a child. The fact that Ancelotti trusted him with leading the forward line whenever he was fit to do so, even at that age, speaks volumes about a player who so early in his career was deemed unfit for the beautiful game, and he did not disappoint by repaying the manager, he has considered as a father-figure throughout his career, with goals until his departure to Chelsea in 2009.
It was only after Ancelotti's exit, that Inzaghi was deemed surplus to needs at the Via turati as new coach Leonardo tried to usher in a new era in Milan's history building the team around Marco Borriello, Alessandro Pato and the legendary Ronaldinho. He was pushed to the fringes for most part of the season and this in all reality started the beginning of the end of a remarkable career where he had given so much to the club and became the most loved player amongst the fans.
With the arrival of Zlatan Ibrahimovic the following season, it was all but over for Super Pippo but not before he tried his hand at another comeback even at the age of 37. Raul had just overtaken him as the leading goal scorer in Europe and he desperately wanted his record back and he did under the most unexpected circumstances. In a home game against Real Madrid, with Milan down by a goal, he came off the bench for the sluggish Ronaldinho and scored a brace inside 10 minutes to give Milan the lead, and with that he had overtaken Raul once again as the King of Europe, leading Jose Mourinho to comment that it was Inzaghi he feared the most even at that age, as he was the only player on the pitch who score goals at any time during the match.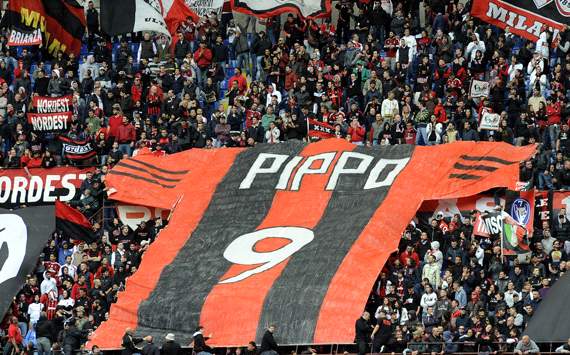 The Crowd Favourite Was Given A Fond Farewell By The San Siro Faithful...
There were calls from Ibrahimovic to make Pippo, his regular striker partner ahead of the likes of Robinho, Ronaldinho and Pato, as he was an epitome of passion and professionalism. But it was unfortunately not to be, as another gruesome ligament injury all but ended his season in what was the saddest moment of his entire career, just as he was ready to give that final push before he could retire.
A fringe player on an honourary contract for the better half of last season, Inzaghi finally played his last game for Milan and ended his career in the most beautiful way possible by coming off the bench and scoring the winner against Novara on May 13, amidst emotional scenes where the fans just couldn't stop singing "Oi Oi Oi Pippo Inzaghi segna per noi", the song they've sang every time he's scored a goal and celebrated like a little boy as if it were his first, for the last and final time.
A great servant to Italian football, Inzaghi was a legend even in the national team having scored 25 goals in just 57 appearances going down in history books as a World Cup Winner representing Italy in three World Cups and a European Championship. Even at the age of 39, he was not short on offers from as far as England and Spain, but he just couldn't stay away from Milan, eventually calling time on his career to become the head coach of AC Milan's Allievi Nazionali (under-17) team.At a time when Milan are going through their worst time in history, the Rossoneri faithful will hope that he could instill every bit of his passion in these young lads who one day will rise up to the occasion just like he has throughout his career and represent Milan and the national team to launch a new era of success.
With his retirement, the game has just gotten poorer, and goal posts all around Europe will certainly miss a legend like him, best explained by Ancelotti, who once said that the goals love him more than he loves them and his 316 career goals are a testimony to that.
Ciao Super Pippo! The greatest goal poacher in the history of football.
How do you stay up with football when on the move? With http://m.goal.com –your best source for mobile coverage of the beautiful game.