Goal.com's Kishen Patel takes a look at all the potential stars that could join the first team from La Masia...
Barcelona can boast having one of the finest youth academies in the world. The famed 'La Masia' has been the breeding ground for some of the most talented and skilled football players in the world. Some of the recent talents emerging from Barca's youth academy are Andres Iniesta, Lionel Messi, Sergio Busquets and Thiago Alcantara. Old horses like Xavi, Carles Puyol and Victor Valdes have also graduated from La Masia. As Barcelona continually look forward to its academy to provide the first team with technically brilliant players, La Masia is quickly becoming a cornerstone of the Catalan's playing regime. La Masia has never let down the first team ever and doesn't look to upset any time soon with lots of talented players being "nurtured."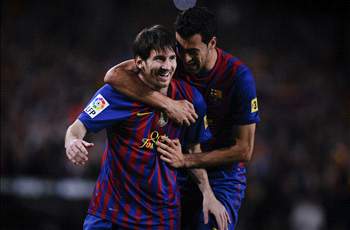 La Masia is an integral part of Barca's recent success

Goal.com has a look at some of the budding stars that are knocking on the first team door for Barcelona and how they will fit in the squad.
| | |
| --- | --- |
| | Marc Muniesa |
Name: Marc Muniesa

D.o.B.: 27 March 1992

Nationality: Spain

Position: Defender (Left/Centre)

Joined: 2009
Marc Muniesa has been added to the first team squad for the 2012-13 season. The youngster joined Barcelona's academy as a 10 year old . He had rumours linking him to Chelsea FC when he was 15 years old! Muniesa featured regularly for the B team till 2011-12. One of the most promising defenders around, a lot of hype surrounded the lad during the off-season with lots of former players backing him to be included in the first team squad.
Strengths:
Muniesa is a versatile defender who can play on the left as well as in the centre of the defense. His main strengths are his pace, heading ability and positional sense. He can be a threat when going forward as he possesses a sweet left foot and dangerous prowess from set pieces.
Weaknesses:
However, Muniesa will be new to the La Liga and his inexperience on the big stage can be weakness.
Recent performances:
The young lad from Lloret de Mar was a regular starter for the B team and played 24 matches, scoring one goal in the Segunda Division. He featured thrice for the first team coming on a as a substitute in two Champions League matches and once in La Liga. He was mainly a used when the starters were plagued by injuries. A lot of rumors have linked him to a temporary move to Ajax Amsterdam.
Where he will fit into the squad:
With a defense plagued by injuries last season, Tito Vilanova promoted to defenders from the B team to add depth to the first team squad. Muniesa can play on the left as well as in the centre so he'll be used a backup for either Gerard Pique or Jordi Alba in a three man defense. With a lot of uncertainty over Eric Abidal's future after his medical illness, Muniesa will face stiff competition from Adriano and Jordi Alba for a starting place and he may well fancy a loan move to Ajax. He may get to feature in a few games early on when Jordi Alba is away on Olympic duty.
"He has played a lot of matches in the Segunda Division and I have seen DVDs of him. He has a good left leg and will fit well in the squad."

| | |
| --- | --- |
| | Martin Montoya |
Name: Martin Montoya

D.o.B.: 14 April 1991

Nationality: Spain

Position: Right Back

Joined: 2009
Martin Montoya joined the Barcelona youth setup at the age of 9. Gradually rising through the ranks, he was promoted to the B team in 2009. The right back made his first team debut against RCD Mallorca on 26 February 2011. He suffered a broken clavicle towards the end of the 2010-11 season and spent the majority of the 2011-12 season with the B team. He did get the taste of first team action again as he featured in the Copa del Rey tie against Osasuna and he played the full 90 minutes against Bilbao in the final of the same due to an injury to Dani Alves.
Strengths:
Montoya plays as a right back. His strengths are his pinpoint passing and crossing abilities as well as the movement and pace required from a full back. He's always running around and provides a lot of energy on the right, courtesy of his stamina. He can deliver inviting balls from corners as well.
Weaknesses:
Montoya isn't the strongest of defenders around and he can be bullied by physically stronger opponents. He sometimes lacks the determination to do the extra bit for the team.
Recent performanceS:
He was a regular starter for the B team as he featured in 21 games last season. He also made 10 appearances for the first team during the last season mainly as substitute or a replacement for the injured Dani Alves. Montoya was also selected to the Spain squad by Vicente del Bosque for the matches against Chile and Liechtenstein. Montoya is fast becoming a reliable presence on the right and may find himself a starter in the near future.
Where he will fit into the squad:
With Dani Alves the only recognized right back at the club, a reinforcement was necessary for this position and it saw Martin Montoya being promoted to the first team squad for the coming season. He'd be featuring more often since last season as any injury to Dani Alves would hand him a chance to start. He can also start a few domestic Cup games as well. Montoya has a bright future ahead of him.
"Guardiola has been the most important coach for me. He gave me the chance and he was the one who decided that I'd be a part of the first team next season."


- Martin Montoya on Guardiola
| | |
| --- | --- |
| | Cristian Tello |
Name: Cristian Tello

D.o.B.: 11 August 1991

Nationality: Spain

Position: Winger/Forward

Joined: 2010
Cristian Tello joined Barcelona at the tender age of 11. He progressed through the ranks and joined the B team from 2010 after a brief spell at Espanyol's youth setup. The Sabadell born youngster plays mainly as a forward or a winger. Tello has been a revelation for the Catalans during the 2011-12 season and impressed on his debut in the Champions League.
Strengths:
Tello's main strengths are his pace and dribbling skills. The youngster is full of stamina and hence keeps on moving around to confuse the defenders. He also possesses some creativity and is always tidy with his passing.
Weaknesses:
Tello isn't known for his strength or physical capabilities and hence has been easily brushed aside by stronger defenders at times. He isn't much of a help from set pieces either and is sometimes criticized for
lack of concentration and composure in front of goal.
Recent performances:
Tello featured 22 times for the senior team last season and has seven goals to his name. He also played 16 games for the B team and scored five goals. Tello, along with teammate Isaac Cuenca, were given starts for the first team last season due to injuries to David Villa and later to Alexis Sanchez. The latter's injury also allowed the young Tello to start the return leg of the Clasico in the La Liga. He however missed two glorious chances to score. He scored a brace against Leverkusen on his Champions League debut and opened the scoring the following weekend against Real Sociedad.
Where he will fit into the squad:
With an injury to David Villa and a dip in form for Pedro Rodriguez, Guardiola was forced to look towards his academy for inspiration. Tello stepped up to the plate to deliver when his team required. With Alexis Sanchez, David Villa and Lionel Messi as the preferred forwards, Tello will have to be satisfied with substitute appearances and playing time when the former are either injured or rested. Tello is a lively winger and can become an important element down the line whilst adding depth to the squad at the moment.
"He is a wide player who can tip the balance, he adds a lot of depth and can adapt to any of the positions in attack."


- Eusebio (Barcelona "B" coach)
Follow Kishen Patel on


How do you stay up to date with football when on the move? With http://m.goal.com – your best source for mobile coverage of the beautiful game.