Manchester United's performance last season was listless and lacked the extra zeal. That was largely due to the lack of creativity in midfield. The signings of Shinji Kagawa and Nick Powell have to a certain extent reduced this problem. However, Manchester United needs another young gun in the attack to give them a superior hand over their local rivals. What United needs is a good playmaker who can not only accomplish passes but can also help in retaining possession.
The Red Devils have been heavily linked with São Paulo's Lucas Moura, a player who is known to have a gift for creating chances. Moura is said to be a top notch player, with the pace, power, trickery, skill, and technique. What the player lacks in experience, he makes up for in skill.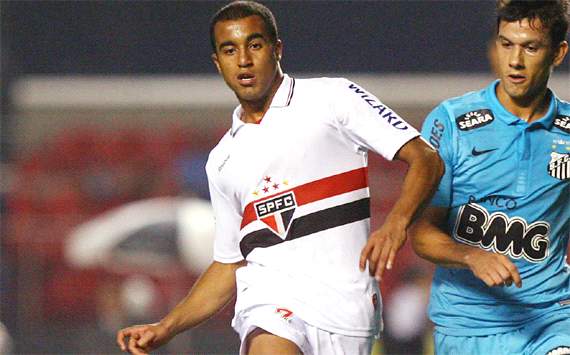 That is precisely why Manchester United should not give up on this tiresome chase for the Brazilian. His acquisition will give United the cutting edge, after a comparatively unglamorous last season. He is exactly what the club needs to make it get the extra points to upstage City, do well in Europe as well as domestic cups and get its hands back on silverware.
Lucas Moura has come through Sao Paulo, a club widely known for its highly-rated youth programmes, which has also produced Kaka. Moura has starred for Brazil at Under-19, Under-20 and more recently for the senior national team.
Moura has a commanding pace for a midfielder. His overall speed allows him to swiftly get down the field and be a hazard to opposing defenses. His quick feet give him the dubiousness to weave throughout the defense and go into the striking distance. What Lucas follows it up with is either an assist to a player who is in a better position than himself to score, or having a shot at the goal himself. (However, he has been criticized for not exploiting his teammates well enough, and being "selfish" at times.)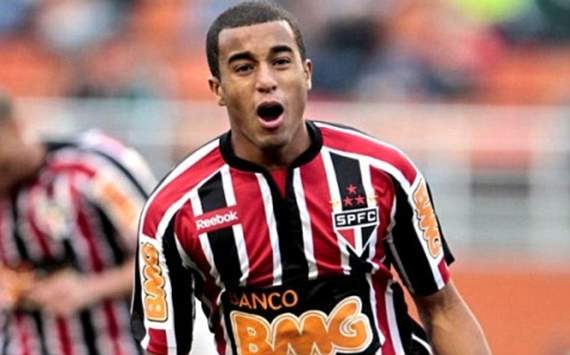 Last season itself, Moura played 36 games scoring 9 times and assisting 8 goals. In total Moura has played 104 times for São Paulo and has 26 goals and 22 assists to his name.
The 19-year-old from Brazil has also shown that he is a serious threat. His enormous vision allows him to spot open teammates, even from across the field. His strength and size allow him to disrupt transitions and take the ball back for his team.
Manchester United has a young team, and Moura would seem to be a good fit for the team. He would add to the powerhouse attack led by Rooney and ably supported by Hernández or Welbeck. His speed would allow him to move up and down the field, and both his attacking and defensive skills would help the Red Devils be more successful in the midfield which again is exactly what they require at the moment.
Lucas gets the ball in a deep position and then makes destructive runs at the defenders. He has an inconceivable amount of pace and has a ridiculous array of step-overs. Fundamentally, Moura is the kind of player who is an absolute treat to watch. Sao Paulo and Brazil consistently pump out top talent, and the 19-year-old Lucas appears to be the latest one.
He has a natural gift for coming up from the midfield and attacking. The Brazilian has great on-ball skills, is an effective passer and is powerful on the ball. In spite of his attacking inclination, Moura is also a competent defender and doesn't get beaten in the middle of the field often.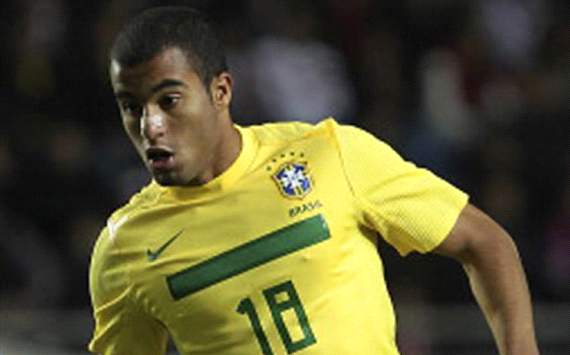 A move at Old Trafford would help him mature as a player and realize his full potential and would bring the much-needed and missing energy to the Red Devils' squad. He plays with much ardor, like many of his national compatriots, and United could really use some of his skill.

It would be a team to watch out for; one suddenly boasting the likes of both Kagawa and Moura, and Manchester United could be just that, provided they spend a little "over-the-top". Moura is worth that "over-the-top" money, because he is young, versatile and immensely talented. He is an investment for the future and has everything needed to be football's next sensation.
How do you stay up with football when on the move? With http://m.goal.com –your best source for mobile coverage of the beautiful game.