Manchester United
has always been considered one of the best clubs for youth talents to prosper. Ever since their famed 92' batch of youngsters from Carrington who developed to be the backbone of the all conquering Manchester United side under Sir Alex Ferguson, there has been no looking back.
In recent years however, the Red Devils have failed to produce someone of the caliber of David Beckham or Ryan Giggs. The last batch of youngsters graduating had shown promise to match that fabled batch but with Paul Pogba not getting enough chances to prove his mettle and Tom Cleverley being mostly injured after showing some initial promise in his loan spells, the potential never transformed into performances. Then there was the curious case of Ravel Morrison. Once considered the most naturally gifted midfielder out of England after Paul Scholes, he was shipped out to West Ham United due to continuous disciplinary difficulties.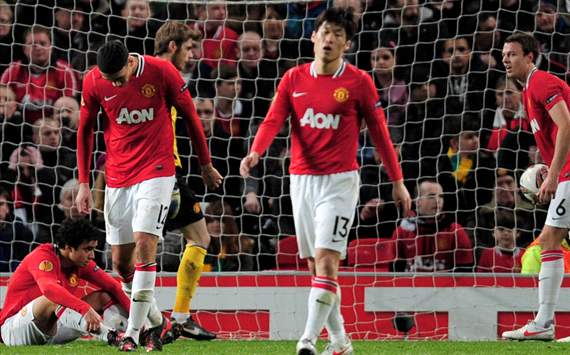 The past season has been a difficult pill to swallow for the Red Devils
The past season has been a painful one for Alex Ferguson and his team as his swashbuckling side ended trophyless. Crashing out of the group stages in the Champions League was compounded by failing to make a mark in the 'lowly' Europa League. What hit them the worst was losing the Premier League to upstarts and bitter rivals, Manchester City on the last day of the season.
With the incoming transfers of Bundesliga star, Shinji Kagawa and 18 year old Nick Powell, Manchester United still have not brought in players to cover the positions where they are most vulnerable, namely the central midfield as well as the left back position especially with the woefully out of form Patrice Evra.
Goal.com has a look at some of the budding stars that could make the cut to be selected in the first team and allow Sir Alex to have the freedom of ending his transfer dealings this summer.
| | |
| --- | --- |
| | |





Date Of Birth : 14 Jan 1992
Nationality : England
Position : Defender/Winger(LB/LM)
Joined : 01 July, 2008






Robbie Brady, traditionally a left winger was part of the new season's plans quite prominently as Sir Alex Ferguson himself spoke of the impressive 21 year old player from Dublin. He had played for the Manchester United's first pre-season match against AmaZulu Brady had joined United in 2008 as a schoolboy. Although injury did halt his rapid progress, Brady was a key part of last season's reserve side as they beat Manchester City in the Manchester Senior Cup.
Strengths :
Originally a fast and tricky left winger, Brady has made the left back position his own after he was put there by Warren Joyce (Reserve team coach). His impressive spell at Hull City on loan has also helped him to grow as a player.
Weaknesses :
Brady's versatility is also a weak point as being a traditional winger, he has the instinct of pushing up at will and thus often leaves the side with numbers short at the back. Coming up against a world class winger might as well trouble the young star.
Recent performances
:
Brady started in United's pre season match against AmaZulu FC and gave a good account of himself as he was good while tackling and bold while going forward.
During the 2011-12 season, on loan at Hull City, Brady impressed all turning up for them 39 times and also scoring 3 goals in the process. After returning to the reserve side at the end of the loan stint, he was part of the side that won the Manchester Senior Cup. Brady has also been simply outstanding for the Republic of Ireland U-21 side. In fact his performances brought him the 2011 U-21 International Player Of The Year Award.
Where he will fit into the squad :
Robbie Brady can easily prove to be Patrice Evra's understudy this season and Sir Alex's confidence in him might mean that he would refrain from bringing in Leighton Baines into the team. Moreover, with Patrice Evra completely out of form, the young Brady might as well break into the first team.
"Left-back is an area which we're paying attention to. Patrice [Evra], in the last five years has played an average of 45-50 games. It's phenomenal. I don't know if anybody else has achieved that. He's still a fit lad and has the same drive and ambition. He's a fighter. That's why we're trying Robbie Brady at left-back."


- Sir Alex Ferguson (Manchester United coach)

| | |
| --- | --- |
| | |





Date Of Birth : 5th October, 1991
Nationality : Italy
Position : Central Midfielder
Joined : 9th March, 2009.






On Federico Macheda's insistence the young Italian, Petrucci joined Manchester United from Roma, amidst much uproar. He went on to become one of United's hottest youth prospects

Strengths :
Davide Petrucci is just 20 years and has all the signs of being a complete midfielder even at this age. Armed with a silken touch and great balance Petrucci is the playmaker that Manchester United need. On top of this, he does not shy away from his defensive duties too and is a force to reckon with in the heart of midfield.
Weaknesses :
Frequent injuries have always been a hindrance to Petrucci's development which have kept him on the sidelines of almost the entirety of the 2009-10 season.
Recent performances
:
Petrucci has been instrumental in leading Warren Joyce's Reserves side to both the Reserves League and Manchester Senior Cup triumph. In the 2011-12 season, he was a regular in the reserves side and scored 8 goals in 25 appearances. During his youth tenure he was part of the Youth team to lift the Milk Cup in Northern Ireland.
Where he will fit into the squad :
With United's apparent lack of a complete central midfielder with the notable exception of Michael Carrick, Petrucci might as well get a look in this season. Anderson's incosistency, Darren Fletcher's continued absence due to illness and Paul Scholes' age all point to the fact that Sir Alex might as well give the youngster a senior team debut this term especially if his midfielders pick up some injuries or otherwise. Blessed with a quick feet and a sharp mind, Petrucci like Scholes can pick out those passes which others can only dream of.



"Davide is an all-round midfield player. He does a bit of everything: he can win the ball, distribute it well, a good range of creative passing and he has a hell of a shot on him. He likes to shoot as well and he has the potential to score plenty of goals from midfield, either with a long range shot or bursting into the box to score with his feet or from a header."

- Paul Mcguiness (United Youth Coach)

| | |
| --- | --- |
| | |




Date Of Birth : 30th December 1992
Nationality : England
Position : Central Midfielder
Joined : 1 July,2009.






Ryan Tunnicliffe was versatility re-defined when he turned up for the United Youth team as he slotted in every position his manager wanted, even at right back. However, his natural position where he fits in perfectly is in the heart of midfield.
Strengths :
Just 20 years of age, Ryan Tunnicliffe is the perfect all round central midfielder. He is as adept at tackling as well as intercepting loose balls, as he is going forward to join the attack. Moreover he is headstrong and is definitely the engine to drive the team forward even when nothing is going for them.
Weaknesses :
His grit and determination can also be considered as a source of potential weakness as he is pretty hot-headed. He was sent off in the Dallas Cup Final for showing dissent. His passing still needs some work to mould him into a midfielder that can form United's backbone for many more years to come.

Recent performances
:
A loan move to Peterborough United managed by Darren Ferguson (Sir Alex Ferguson's son) sharpened up the youngster's skills. After he returned he was a mainstay of the double winning reserves side. In the recent pre season friendly against AmaZulu FC too, Ryan in his short role as a substitute showed enough to impress the United faithful as he was composed on the ball and made some killer passes.
Where he will fit into the squad :
With Paul Pogba reportedly leaving for Juventus, the need to infuse young blood into the team is ripe. Given a chance, Tunnicliffe might as well stake his claim to be a permanent part of the senior side, no matter how inexperienced he is. A hard tackling and no nonsense midfielder, he will certainly be a good addition to the first team, that might save Sir Alex Ferguson the need to spend in the transfer market.



"Woke up smiling after my debut for united , up there with the happiest days of my life! Hopefully more games to come! Off to the safari now! "

- Ryan Tunnicliffe (After the AmaZulu Game)

Follow Kaustav Bera on

Which other players DO YOU think can break into the first team this season for MUFC? Lingard, Vermiji, Blackett...Let us know...
How do you stay up with football when on the move? With http://m.goal.com –your best source for mobile coverage of the beautiful game.