Liverpool laboured through a strange season last year. Their form in the league, particularly at home, was disappointing to say the least but oddly enough, they found themselves progressing nicely in the two domestic competitions. The Reds reached the finals of both the FA and the Carling Cups while managing to lift one of those trophies. They beat Cardiff City on penalties in the Carling Cup but were undone by Chelsea in the FA Cup final.
The worrying factor for Liverpool was their inability to break down sides. In the absence of the injury-troubled Steven Gerrard, Luis Suarez was by far their most creative player and at times their only creative player. However, a few youngsters have dazzled onlookers while playing for the reserve side last season and their introduction into the first team squad may provide the Liverpool attack with the cutting edge it's been lacking.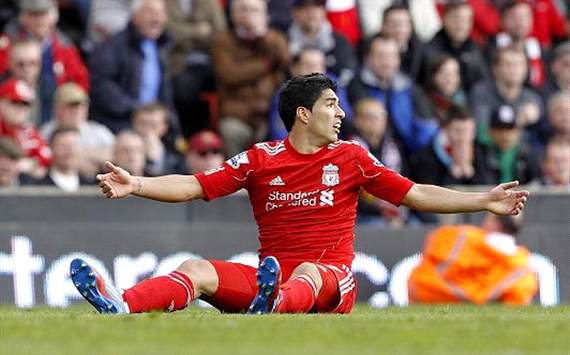 FRUSTRATED | Suarez was often left with too much to do upfront
Liverpool's reserve team enjoyed a decent season last year, finishing second in the Premier Reserve League although a fair way behind champions, Manchester United.
Goal.com has a look at some of the budding stars that could make the step up to the first team squad.
| | |
| --- | --- |
| | |
Name: Raheem Shaquille Sterling

D.o.B.: 8th December 1994

Nationality: England

Position: Winger (LW/RW)

Joined: 2010
Raheem Sterling is a young player of whom every Liverpool supporter has heard of and is excited by. He is easily the most talked about player from the reserve side. The flying winger was brought to Anfield by means of a £600,000 initial fee that enabled his transfer from Queens Park Rangers. Moreover, the fee could rise to £5 million depending on the number of appearances he makes for the first team. The sheer obscenity of those figures involved in securing the services of a 15-year old speaks volumes of the boy's ability.
Strengths:
At a height of just five feet and seven inches, Sterling possesses a low center of gravity that enables him to jink his way past defenders. He is lightning quick, often speeding away towards goal and leaving defenders in his wake. He is also blessed with a vast array of tricks which he uses to good effect to bamboozle his opponents. The 'step-over' and 'nutmeg' are two of those tricks that he frequently employs and which often yield results. Ultimately, what makes him a real threat is his ability to produce an end product. The youngster knows where the back of the net is and consistently sets up his team-mates as well. His crossing and finishing sets him apart from players who only have pace to burn but not the technique to go with it.
Weaknesses:
Sterling's diminutive frame hinders his ability to compete in a physical challenge. The winger operates almost exclusively in the attacking half and hence will not offer much support for the full-back playing behind him.
Recent performances:
The pacey winger has gone from strength-to-strength ever since he arrived in the red half of Merseyside. He played 19 games for the reserve team last season and bagged six goals while providing seven assists. He featured for England in the 2011 FIFA U-17s World Cup where he scored two goals. His performance in the Youth Cup at Anfield where he scored five goals against Southend United back in February 2011 is still fresh in the memory of the Liverpool faithful.
Where he will fit into the squad:
Sterling should see a decent amount of time in the first team for Liverpool. Dirk Kuyt's departure opens up a slot while Stewart Downing's performance's have been barely average. Sterling has already made three appearances for the senior side last term should certainly go on to better that tally significantly this time around.
"To score goals is massive for any player and he is a player with a lot of potential, everyone can see that."


- Kenny Dalglish (Former Liverpool manager)
| | |
| --- | --- |
| | |
Name : Conor David Coady

D.o.B.: 25 February 1993

Nationality: England

Position: Midfielder (CM/DM)

Joined : 2001
Conor Coady is a name that may have slipped under your radar unless you follow the Liverpool reserve side or pay attention to the younger England squads. Coady captained the England U-17s to European glory two years ago and has captained the U-18s at Liverpool as well. At present, he regularly features for the reserves side and the England U-19s. The youngster initially started out as a defender but gradually grew into the midfield role. His energetic performances in midfield have drawn on understandable comparisions with Liverpool captain, Steven Gerrard.
Strengths:
Coady is a great tackler and is somewhat of a midfield enforcer for his side. He breaks down attacks and starts them for his own team. He is capable of scoring from range while his work ethic ensures that his presence is felt in midfield. He retains some of the attributes of a centre back. He brings plenty of steel and muscle into the midfield while he is commanding in the aerial challenges as well. He has a decent turn of pace which enables him to get back quickly in the event of the opposition launching a counter-attack. Apart from his physical attributes, he is also a natural born leader and regularly leads by example on the pitch.
Weaknesses:
The youngster has been known to give away possession cheaply at times. He has a tendency to lose his cool.
Recent performances:
Coady played 22 games for the reserves last season and bagged himself five goals. His performances have suggested that he may be ready to make the step up to the first team. He also featured five times for the England U-19s.
Where he will fit into the squad:
When Liverpool have a fit squad, their midfield slots are pretty well occuppied. Steven Gerrad, Charlie Adam and Lucas Leiva should be the first choice trio. Alberto Aquilani, Jordan Henderson, Jonjo Shelvey and Jay Spearing will be lined up behind them in the pecking order and Brendan Rodgers has made moves towards signing another midfielder as well. However, Conor Coady may well be able to challenge the likes of Shelvey and Spearing to move up the ranks and get himself some playing time in the first team against weaker oppositions. Meanwhile, his versatility allows him to compete for a place in central defence as well where the number of contenders are significantly less.
"I've seen and known these boys for a while now and their progress has been pleasing."


- Kenny Dalglish (Former Liverpool head coach) on Conor Coady and Jack Robinson

| | |
| --- | --- |
| | |
Name: Jesus Joaquin Fernandez Saez de la Torre

D.o.B.: 19th November 1993

Nationality: Spain

Position: Midfielder (AM/CM/LM)

Joined: 2010
In Suso, Liverpool have managed to find themselves a real gem. The little Spaniard snubbed offers from La Liga giants, Real Madrid and Barcelona to make the trip to Anfield after being convinced by former manager, Rafa Benitez that Liverpool was the club for him. Suso's performances since arriving in England have made a case for his inclusion in the senior squad for the new season.
Strengths:
Much like Liverpool striker, Luis Suarez, Suso has the uncanny ability to wriggle out of tight places and make space for himself. His dribbling often prompts defenders to back-track towards their own goal and his vision enables him to pick out clever passes to cut through the opposition. He possesses a wide range of passing and is quite accomplished in playing the long diagonal balls to good effect. He has a neat left foot and isn't afraid to have a go from range. He comes alive in the final third with his penetrative passes to set up his team-mates and he chips in with an impressive tally of goals as well.
Weaknesses:
The Spaniard is not a very strong player and as a result, he may find it hard to cope with the physicality of the Premier League. He is not a strong tackler and almost never wins an aerial challenge.
Recent performances:
Suso has been turning heads in the reserve league over the past two seasons. Last season he appeared in 17 matches for the reserve team and notched up five goals and three assists. He played a friendly match for the Spain U-19s as well. He has formed a formidable understanding with the likes of Raheem Sterling and Nathan Eccleston. Together, the attacking trio have terrorized defences in the reserve league.
Where he will fit into the squad:
Luis Suarez usually plays in behind a main striker and is easily Liverpool's most creative player in the final third. The Uruguayan will have to be rested for some games during the course of the season and Suso just may be the lad to step in to deputise. His stop-start style of running with the ball and his incredible close control bears an uncanny resemblance to Suarez's style and may fill the creative void in the team when the Uruguayan striker doesn't feature. In addition, the 18-year old is also comfortable on the left flank and may get a few opportunities out wide owing to the lack of options available to Rodgers in those areas at the moment.
"He is a midfielder with extraordinary talent. He has great quality, a good shot, his vision is great and his passing his outstanding. He has a bit of everything and I think they have signed a real jewel."


- Quique Gonzalez (Cadiz youth team coach) on Suso joining Liverpool

How do you stay up with football when on the move? With http://m.goal.com –your best source for mobile coverage of the beautiful game.