While there is certainly an excitement around
Chelsea
this summer given that they won the Champions League and the FA Cup last season, these are also dangerous times. With the threat of European expulsion becoming a very real fear as the first period of Finacial Fair Play (FFP) monitoring comes in from this season, it would be wise for Roberto di Matteo to look for a bit of home grown comfort.
Contrary to popular belief of how Chelsea 'buy' all their success, their academy is in fact bubbling over with talent all over the pitch. Names like Islam Feruz, Patrick Bamford, Todd Kane and Matej Delac are in future going to be some of the most easily recognized named in Europe, maybe even the world. But whether Chelsea will tap into their ability or they will shine somewhere else depends wholly on the club...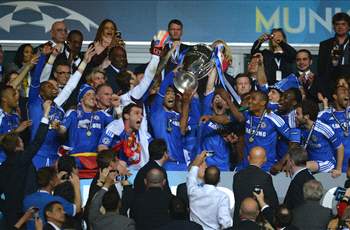 Exciting times... But there's a financial catch

Will Chelsea's academy products take the world by strom in the near future? With the ever improving facilities, it looks increasingly likely.
Goal.com has a look at some of the budding stars that are knocking on the first team door for Chelsea and how they will fit in the squad.
| | |
| --- | --- |
| | |
Name: Samuel Edward Hutchinson

D.o.B.: 3 Aug 1989

Nationality: England

Position: Defender (CB/RB)

Joined: 1999
Sam Hutchinson is a story any club would be proud to have in their history. But woe to anyone who think's he's nothing more than a story. He was and continues to be one of Chelsea Academy's finest defensive products since John Terry. A part of the academy since he was seven years old, he rose through the ranks and was always too valuable to be loaned out. He made his debut at the age of 17 when he came on as a substitute against Everton. But he had his share of personal demons to overcome.
His debilitating and continued knee injury forced him to retire in 2010 at the age of 21. He was aiming to go into coaching but with Roman Abramovich having paid the cost of treatment for his injury, he signed a one and a half year contract with Chelsea in December 2011, captaining the reserves for several games before that.
Strengths:
A solid and strong defender, a good crosser and a capable organiser of the defence. He has a good clean, intelligent game about him.
Weaknesses:
He isn't the quickest on the pitch, but Chelsea will be used to his pace as it is similar to Branislav Ivanovic's. More importantly, he can rarely complete an intense 90 minutes thanks to his knee. Could be a very unpredictable factor if say all substitutions have been made and he gets injured.
Recent performances:
Because of his condition, he has to be managed very carefully. After coming out of retirement as early as last December, he's been on the pitch twice. The first time was against QPR when he came on for Jose Bosingwa and then started and finished the final game of the season against Blackburn Rovers. Both his performances were defensively solid but neither game really required him to exert himself much. Stronger tests may await him this season.
Where he will fit into the squad:
Right back is exactly where Chelsea have a problem this season. With the release of Bosingwa, the only other right back available is the much aged, much weary Paulo Ferreira. We can almost be certain that if Chelsea don't sign anyone this transfer window, 'Hutch' as they call him will be the second choice right back. He's a like-for-like replacement for Ivanovic, a right-back who prefers to be a centre-back. With pretty similar talents, all Chelsea would miss in Hutch is Ivanovic's exprience and his freakish ability to never get injured.
"The club looked after him because it was an emotional time for him and his family. At 21, with a place in the first team within touching distance, his career was over."


- Neil Bath (Chelsea Academy manager)
| | |
| --- | --- |
| | |
Name: Ryan Dominic Bertrand

D.o.B.: 5 Aug 1989

Nationality: England

Position: Full-back, midfielder (LB, LW)

Joined: 2005
Ryan Bertrand is possibly the luckiest and unluckiest young left back alive. Lucky to be behind the best left-back in the world, learning and taking in all the tricks of the trade from the best. Unlucky to be behind someone he just doesn't seem to be able to dislodge from the position. Ashley Cole has got to be his best friend and worst enemy at this point. But age is really not on his side and so perhaps it is time to anoint a successor. The 22-year old Southwark born lad seems a more than capable and long term replacement for Cole. He had no less than FIVE loan spells at various clubs before finally being deemed too important to loan out in 2010-11. He got himself an assist on his league debut against Birmingham after replacing Cole. He crossed for Malouda to head in the last goal in a 3-1 win.
Strengths:
He's not quite the fastest but still has a decent burst of pace on him. A real attacking left-back, he has strong technical ability and is good in link-up play up front. But when instructed to do so, he can really defend his heart out for the team.
Weaknesses:
While he really does not have any PLAYING weaknesses in position, his play has quite often been one dimensional. When asked to defend, he offers nothing in attack and when asked to attack he has quite often left his fellow defenders exposed. With a bit more experience, maybe even this will pass.
Recent performances:
He really came into his own last season though, picking up two man of the match awards in two games (one was fans' choice the other was the official Barclays award), the first against Wigan and the second against Arsenal. The fact that his Champions League debut was in the final against Bayern, playing out of position on the left wing over the vastly more experienced Florent Malouda is a marker of how much trust Roberto di Matteo puts on him.
Where he will fit into the squad:
He will be the backup utility man on the left side. Any injury, rotation or resting will see him get first team action. And rotation there will definitely be. With Chelsea playing AT LEAST 48 games in the season (assuming that they get knocked out of the FA and League Cup in the first round of their entry), it's depth of squad that will define Chelsea's level of competition on these fronts.
"We have a lot of youngsters ... and Ryan did well last season. They will all be here pre-season with us. I'll be looking at them and see how they are developing and progressing. It's down to them."


- Roberto di Matteo (Chelsea manager)
| | |
| --- | --- |
| | |
Name: Gustavo Lucas Domingues Piazon

D.o.B.: 20 Jan 1994

Nationality: Brazil

Position: Midfielder, Forward (CF, AM, LW, RW)

Joined: 2011
Lucas Piazon is one of the better talents of the current generation of Brazilian midfielders, a type that has become all too common these days. But the former Sao Paulo player has quite the skills and is very much a flair player. Possibly Chelsea's most talented young player at the moment, he has been putting in stellar performances in the reserve games and had a lead role in securing the FA Youth Cup this season for the Chelsea U-18. Did we mention he is just 18 years old this season? The media have been quick to compare him to Kaka and not just because he looks like the Brazilian playmaker. His technical ability and finesse have been all to similar to ignore. Perhaps Chelsea will have finally fulfiled their desire of having a Kaka-figure in the advanced midfield through Piazon.
Strengths:
Powerful shooting, precision free-kick, reading of the game and the passing ability to act upon that vision and to round it off, clinical finishing are just a few of the abilities he's shown in his dream run in the reserve and U-18 teams.
Weaknesses:
As an attacking midfielder, he does not seem to have any weaknesses, except perhaps for the fact that he has sometimes lingered on the ball a bit too long too far up the pitch, but with the player himself saying how he likes to pass and move, we can put this down to inexperience more than anything.
Recent performances:
His top performances for Chelsea saw him win the club's Young Player of the Year award as he guided them to win the FA Youth Cup final.
Where he will fit into the squad:
To be very honest, he really won't be anything more than a bit part player, seeing how disgustingly well stocked Chelsea are in the attacking midfielder/winger department, but he will definitely make more appearances this season.
"Unfortunately, he had no opportunity to enter, but has done a great job in the reserves team. He is a player that we have high hopes for."


- Andre Villas-Boas (former Chelsea manager, current Tottenham manager)
How do you stay up with football when on the move? With http://m.goal.com –your best source for mobile coverage of the beautiful game.